This content has been archived. It may no longer be relevant
While many people are still home-based, there is an entire segment of our readership back in the office and can't go to work in a matching loungewear set. 😉
It's hard to believe that it's been exactly one year since the last time I published a true Wear to Work post, so it seems fitting that today, we jump back in.
And since it's been so long, a little introduction on how these posts work:
Wear to Work is a series posted every Wednesday highlighting workwear. The featured pieces range from better basics to stand-out splurges, all with specific directions on how to wear them and use them to add value to your wardrobe.
Most often, it's a post like today, where I take a key piece and show you how to wear it multiple ways.
What makes this series (and really this website) different is that I intentionally reuse pieces I know you have in the inspiration outfits. So when I structure these posts, I take the perspective of a stylist working with a client. I use to send emails to my private clients like this, providing suggestions for how to wear the new items in their wardrobe, with the pieces I knew were hanging in their closet.
That's how you build a functional wardrobe. Considering every purchase and knowing how to wear it before you bring it in.
As always, you'll find both inspiration and recommendations in these posts. Before you purchase anything, look in your closet to see if you have something similar, and if you decide you could use something new, you can look at these offerings as an option.
Today, I'm featuring a fantastic navy blazer ($30 at Old Navy) and showing two ways to wear it in the spring. If you need something that fills the space between formal and casual business layer, this is a wonderful option.
Classic Ponte-Knit Blazer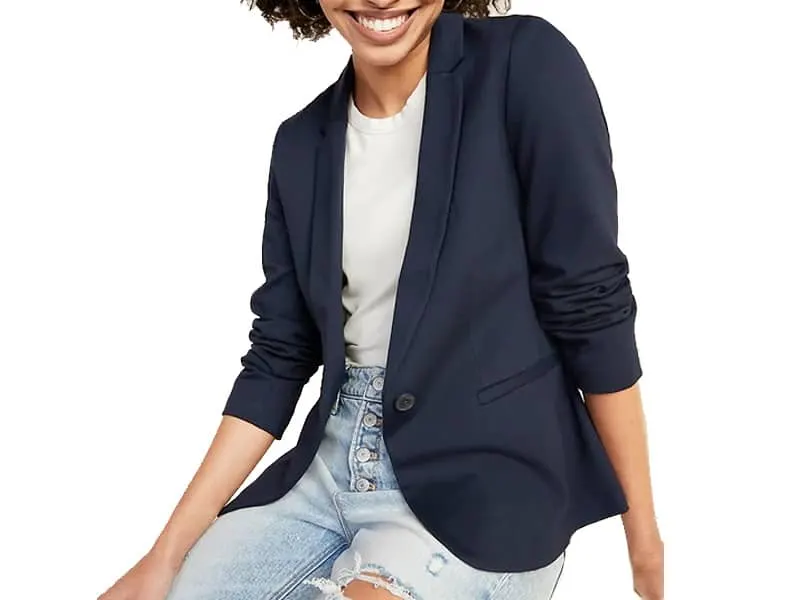 Blazer, $34 Sizes XS – XXL here, and 1X – 4X here
Please note, sizes and prices are accurate at the time of publication and subject to change.
A navy blazer is a staple in any wardrobe. I'm showing you two ways to wear one today, but the reality is you can wear this a dozen different ways all season long and never get bored.
Over the last few seasons I have found so many gems at Old Navy. From their Stevie Ponte pants (on sale for $15), to this cowl neck sweater I lived in all winter. And one of our top selling items of ALL TIME is there 3/4 sleeve knit dress in grey.
So it's no surprise that I love this blazer, done in the same Ponte fabric as the Stevie's. It has some weight and stretch making it a fantastic layer for Spring.
Let's dive in.
Over a Dress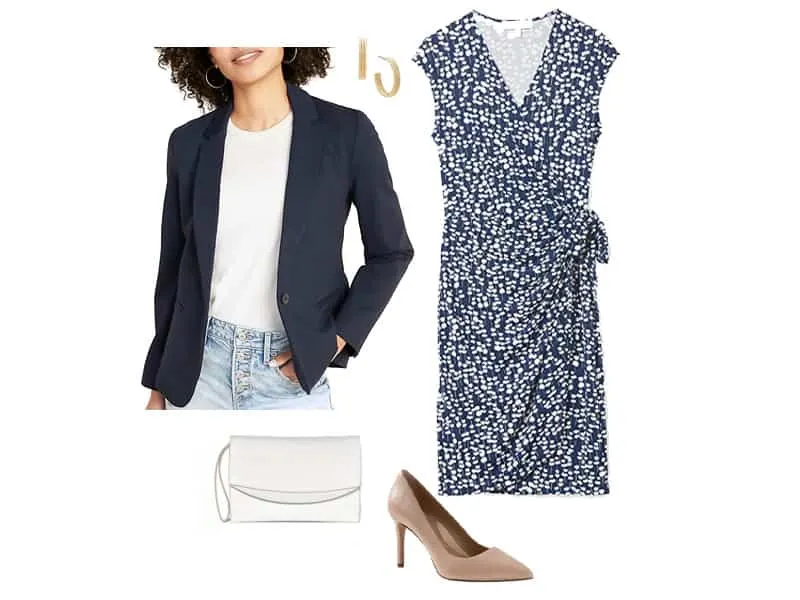 Dress, $40 | Heels, $94 | Clutch, $20 | Earrings, $35
You're not alone if you feel like COVID wreaked havoc on your waistline. Many of us do. But don't be discouraged and fall into the habit of wearing oversized clothes. There are many options to wear now, at affordable prices to help you get to work and feel like you pre-lockdown self.
Lark & Ro is an Amazon brand I discovered a few years ago. They have a collection of dresses in jersey stretch that check all the boxes: fit, quality, and style.
I ordered this navy and white print for myself. The v-neck and side tie are both flattering and helps "hide" anything that may make you feel uncomfortable.
I love the versatility of it. It looks lovely under the blazer because their fabrics complement each other. But you can just as easily throw it on to go to dinner outside in the warmer weather.
The 12-Hour Madison pump is another Reader Fave on sale for under $100. They are a solid, neutral workwear heel. You could also wear a sandal or flat, depending on your preference.
I found this crisp white clutch for $20 at Target that is worth highlighting. It's very slim, with only enough room for your phone, a cardholder, and some lipstick. You could carry a structured tote to the office and slip this if you can run and grab a drink with a friend after work.
Finally, these large woven hoop earrings come in gold and silver-tone. I like the bit of drama and movement they provide.If you have something similar in your jewelry box, think about pulling them out.
Over Basics with a Twist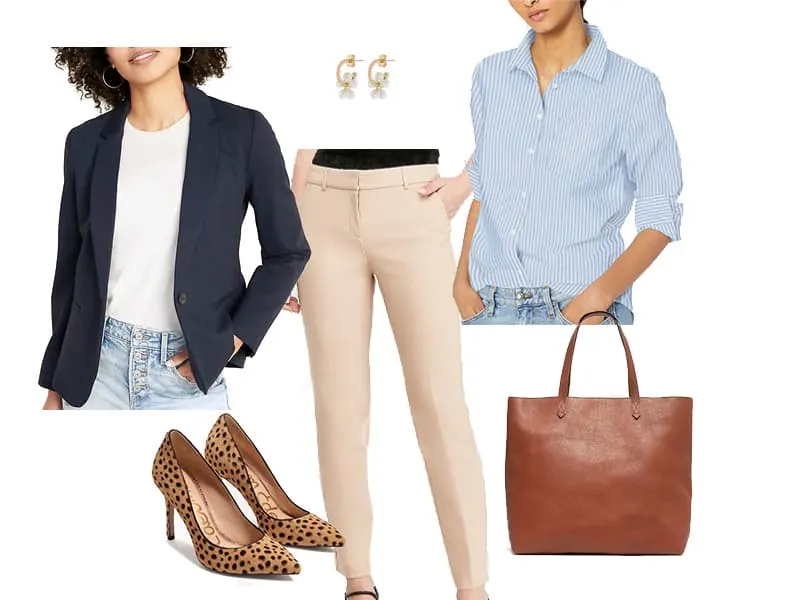 Pants, $50 | Shirt, $21 | Heels, $150 | Earrings, $95| Leather Tote, $188
Generally speaking, I'm not a fan of khakis. But I thought this was a great opportunity to show how you can take a boring piece in your closet and zhush it up with some modern basics.
I'm using a pair of tan ankle pants from Express for the bottoms, but you can use any tan bottom you already have as long as it fits well and has a slimmer line to the leg if you have these Wit and Wisdom jeans in beige in plus size here.
Then I paired it with this French Blue Strip button-down we featured a few times already (also from Amazon). I own this and adore it.
Next, leopard print heels. Remember, leopard print is neutral when used in small details. If heels aren't your thing, achieve the same look with a pair of flats, the Rothy's leopard flats would work perfectly.
For earrings, these huggies are a fun twist on a traditional pearl earring.
Finally, grab a tote, like this leather option from Madewell, and you're on your way.
Our Style Content is Inspired by Our Readers
Our readership inspires all of our posts and is not sponsored or paid for by brands or retailers.
Recommendations are based on my experience as a personal stylist and wardrobe consultant for over a decade. I worked with busy, down-to-earth women who wanted to look chic and feel confident but were often confused by so much of retail.
Some links are affiliate links, which means if you purchase via our site, we receive a small commission.

If you enjoy our content and would like to help us grow, please follow on Instagram and join our Private Facebook Group to access more advice and exclusive in-depth conversations with other like-minded women.
Learn about our mission to help women look and feel their very best, every day, here.
Get on The INSIDER Waitlist for Spring/Summer 2021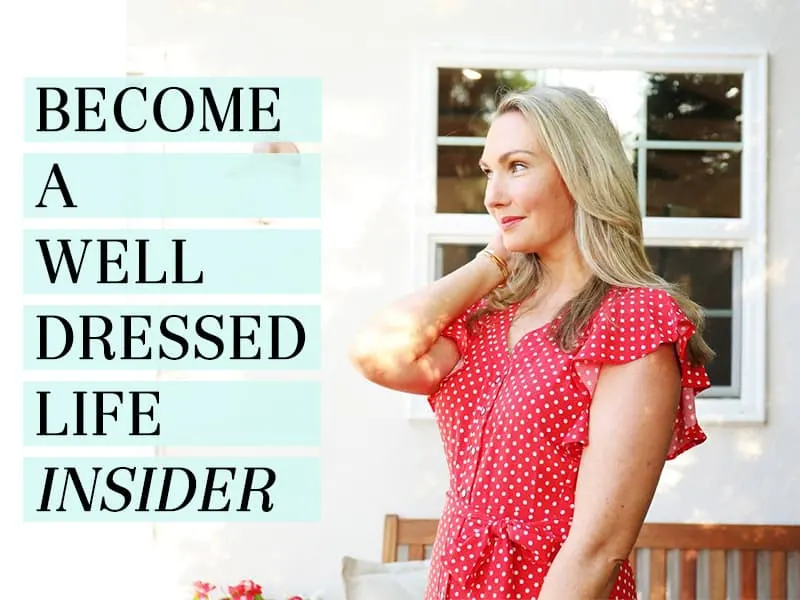 Sign Up for Daily Content and Receive Our Free Classic Wardrobe Checklist