At this point in my life as a mother, all I want for Mother's Day is a quiet morning to catch up on sleep, and a latte and scone from the local coffee shop in bed. If there is a Real Housewives of New York marathon to watch on Bravo, even better. I don't want to hear bickering, or fighting over of the Xbox controller, and I want bedrooms picked up and laundry put away without having to go into international level negotiations. I'd like to not have to get dressed and rush out the door, maybe read a book in the afternoon, take a long walk and go to a low key dinner in the neighborhood so I don't have to touch my kitchen. That's it. Simple, easy and affordable.
Gifts are lovely too but not necessary. When my kids were little I lived for their school made presents. Especially the "all about my mom" papers that would come home, telling me that I love wine (I do), my favorite thing to do is go to Target (it's not), and I'm 24 years old (lol).
When I select a gift for any occasion, I try to come up with something a little indulgent, thoughtful, personal and, most important, usable. We've done gift guides for years, but never for Mother's Day. So this year Lauren and I decided to come up with a list of things we actually want to help inspire your wish list, because how many framed pictures of your kids do you really need?
Our Mother's Day Gift Ideas for 2018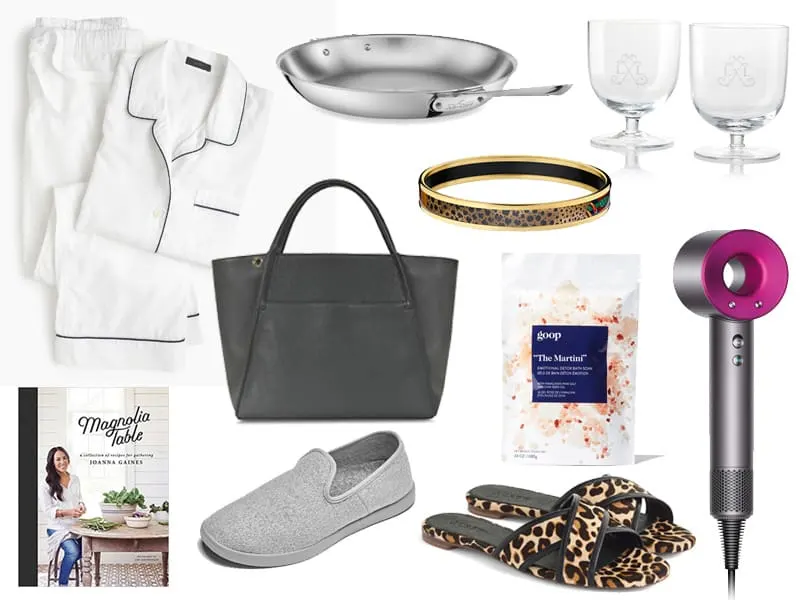 Pajamas, $95 | Fry Pan, $194 | Bangle, $430 | Short Stem Wine Glasses, $29 | Tote, $465 | Bath Soak, $35 | Hairdryer, $399 | Cookbook, $18 | Wool Lounger, $95 | Sandals, $80
Pajamas, $95: I love pajamas but I only ever buy them twice a year, once at Christmas, and once in the summer, so I have something decent looking for our time at the shore. Over the years I've gathered a few I love, my favorites are all from J.Crew. Their vintage men wear inspired pajamas are cozy and wash well. For a few extra dollars, you can have them monogrammed. I mean, how chic is that?
Fry Pan, $194: Last year I replaced my 15-year-old pots and pans set from my wedding registry with a gorgeous stainless steel All-Clad set. It was an investment, but I love to cook and decided a few months ago I was going to learn proper technique. The set came with enough to get me started, and I like the idea of collecting pieces with time, like this 14″ fry pan. When you are coming up with a gift, think about what the recipient is into and go from there. Thoughtful gifts are often the most practical.
Bangle, $430: Lauren and I are obsessed with these enamel bangles from Hermes. Do we have them? No. Are we getting them for Mother's Day? Also, no. But it's nice to dream.
Short Stem Wine Glasses, $29: Such a sweet and affordable gift for mom, your friend getting married, or just for yourself. They have a charm to them that makes me want to sit on the front porch on a sunny afternoon with a bottle of rose. Obviously, opt for the monogram.
Tote, $465: This tote we featured last week has been incredibly popular and a great gift for moms in any season of life. It can be used as a diaper bag, work tote, or weekend travel bag. The options are pretty much endless.
Bath Soak, $35: For the mom who loves her nightly baths, these salts by Goop are incredible. Aside from the pretty packaging and clever names, they are also filled with all sorts of good stuff to help detoxify and hydrate your skin. Complete the gift with an extra fluffy towel or robe and some much need alone time.
Hairdryer, $399: As someone who has spent a small fortune on a hairdryer, I'm here to tell you they are worth every single penny. I bought my T3 several years ago, and now Dyson, (yes, the same as the vacuum), has come out with an even better option. If you have long, and/or thick hair, the process of blow drying can be incredibly time consuming. These power dryers cut that time in half, are lightweight, packable, and are high quality, so you'll have them for years and years.
Cookbook, $18: Nothing is better than a cookbook you can read in bed like a magazine and who better to spend time with than the always lovely Joanna Gaines. Personally, I wish she would write a book on how to have five kids and still kick it at business, but I'll settle for her fried chicken receipe while I wait.
Wool Lounger, $95: From our new favorite brand All Birds, it's a slipper and a casual shoe all in one. Throw them on to take the kids to school, walk the dog, pick up your mail, even go to the grocery store and not be embarrassed when you run into someone you know. Leave them by your back door so you can slip them on and go.
Sandals, $80 A little leopard print in your look is always a good thing and these J.Crew flat sandals are perfect for summer. Pair them with jeans and a cute tee shirt, or wear them with a bright sheath for a night out. Also available in a go-with-everything neutral color tan.