If you're on the hunt for a new work bag this season, we've got you covered, in fact we have five chic and functional bags for work . Admittedly, I am sick to death of the usual suspects. (I'm looking at you MICHAEL Michael Kors, Kate Spade, and Coach.)
For today's post, I wanted to showcase bags specifically designed with working women in mind rather than a mainstream designer's tote-of-the-moment.
It's exciting to see companies take a narrow focus and provide actual solutions to the challenges women face trying to stay organized and looked pull together. Many of these bags are not only gorgeous but thoughtfully designed by companies that are actively rewriting how retail is done.
From price transparency, ethical manufacturing, and women owned and operated, it's nice to know you're doing good and getting more than what you need.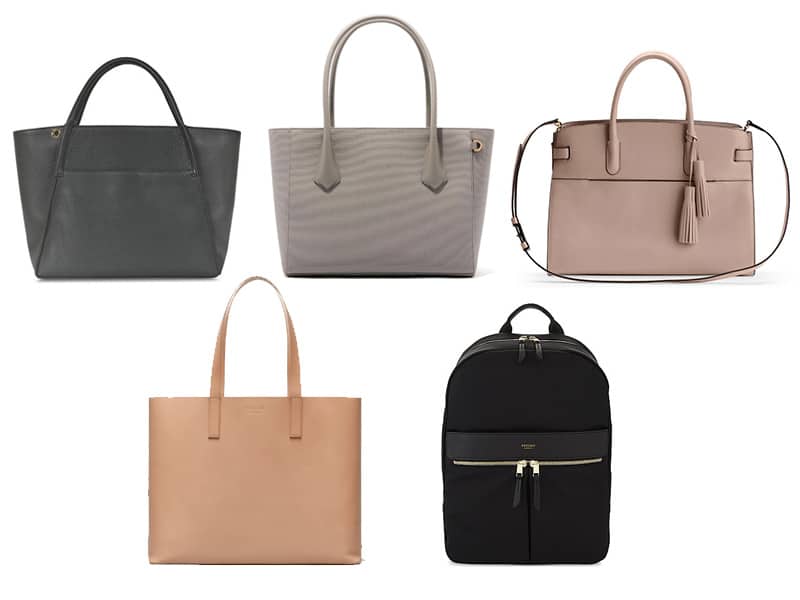 Top: One, $465 | Two, $265 | Three, $475 | Bottom: Five, $165 | Six, $175
I geeked out so much for this genius, albeit expensive, concept. First, select the style bag you like. I featured the Main Squeeze Tote in gray; it's also available in dusty rose and a deep navy.
It features a comfortable top handle, adjustable shoulder strap and full zipper closure. It's crafted from Italian pebbled leather and is scratch and weather resistant. That's amazing.
The inside is lined fully with durable nylon. But that's not all.
You may also purchase an organizer customized for your bag in several options allowing you to decide how many, if any, compartments and slots you need to best manage your day-to-day.
I like the Chief of Staff; it has just enough dividers without micro-organizing. You can choose from the Chief of Staff, the Momager or the Senior Associate.
How great are the names?
What I like the most is that this bag and its inserts are available exclusively on the Etsy shop Sofia Fima. So you're getting quality craftsmanship, created by hand in Maine and you're supporting a female owned business. I don't know if it gets better than that.
Dagne Dover was recommended to me by a former client years ago. It's pretty much everything you want in a simple, straightforward, yet chic work bag.
I featured the above bag because it's a non leather option, while still having shape and structure. This one, in particular, is the largest size available. It will fit your 15″ laptop, a notebook, your water bottle and even a pair of flats.
Don't need so much room? The same style is available in small sizes here and here.
Available in three other colors.
Cuyana is like the handbag equivalent to the Container Store. You know you really don't need so many things to put other things in, but gosh does it look pretty.
They have everything from a leather case to keep a single lipstick, to the "femme pouch," which is just a fancy name for a pocket to hold a tampon. You can also get just about anything monogramed.
But what Cuyana does best, aside from hiding my OCD in blushed colored leather accessories, is gorgeous, structured handbags, like this work satchel. It's sophisticated in it's shape and function.
Going back to my must haves for an office bag: top handle, adjustable shoulder strap, zip closed center for added security and enough (but not too many) pockets and compartments. Bonus points for the feet on the bottom of the bag.
Everlane is one of my new favorite brands. It's like the grown-up version of J Crew, leaning a little more classic and a little less trendy. Their clothes and accessories are streamlined and straightforward, like this everyday tote. I have something similar and use it all the time, I take it to the gym, run to the grocery store and can throw my laptop in it for a quick, casual meeting.
What I like the most about Everlane is their ethical approach to labor and price transparency. There is no reason for a tee shirt to cost over $100. Everlane tells you the exact costs, markup, and profit. It's also important to know that the people making your clothes are being treated well and make a fair living.
It's a win-win all around.
Last month, we featured our favorite backpack for work, the Tumi Voyageur Halle Backpack. Tumi is a high quality and sophisticated option but is definitely an investment. KNOMO is a London-based design company that focuses on style, organization, and technology at reasonable prices.
This backpack is just as streamlined as the Tumi, made with durable nylon and features RFID technology, which help prevent identity theft for about half the price.