This content has been archived. It may no longer be relevant
If you would like some updated loungewear to ring in the New Year, today we have some fantastic options to consider, all at equally fabulous prices.
But before we jump in, a quick aside, this will be one of our last holiday-focused shopping posts. Although there is still plenty more content scheduled.
Inventory and shipping issues are causing headaches everywhere. Since my goal, first and foremost, is for our content is to provide value, it's not very helpful when the pieces I recommend either don't have size inventory or won't arrive until January.
So today, it seems appropriate to start to wind down with loungewear.
Whether you're staying at home and plan to rest and recharge or you're visiting family for the extended break, loungewear sets are where it's at.
I don't know about you, but something about a matching set makes me feel like I have my life in order. Like I'm the main character of a Nancy Meyers film, even though nothing could be further from my reality.
Right now, there are so many options, in full-size ranges, all on sale.
Let's go shopping.
6 Affordable Loungewear Sets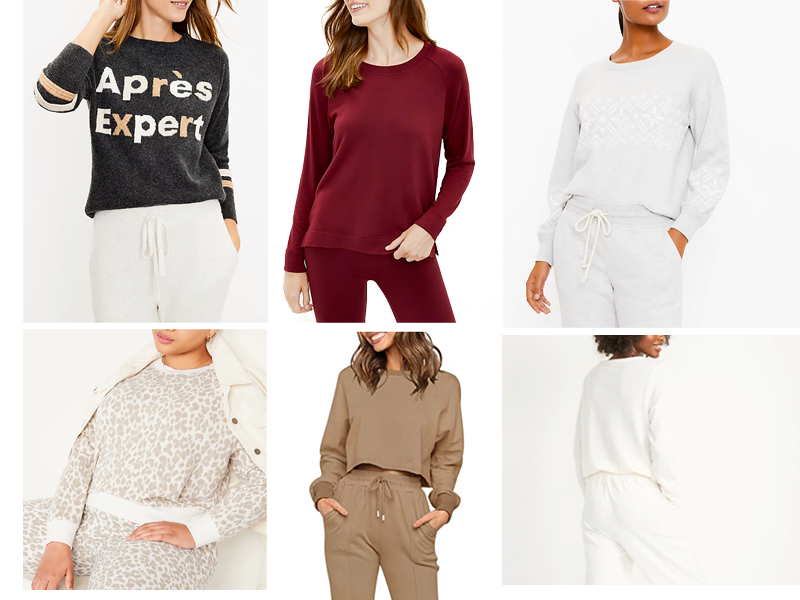 Please note that all of these are sold separately except the Amazon option, which is sold as a set.
Items from Old Navy and LOFT currently have discount codes listed below.
Thermal Lounge Set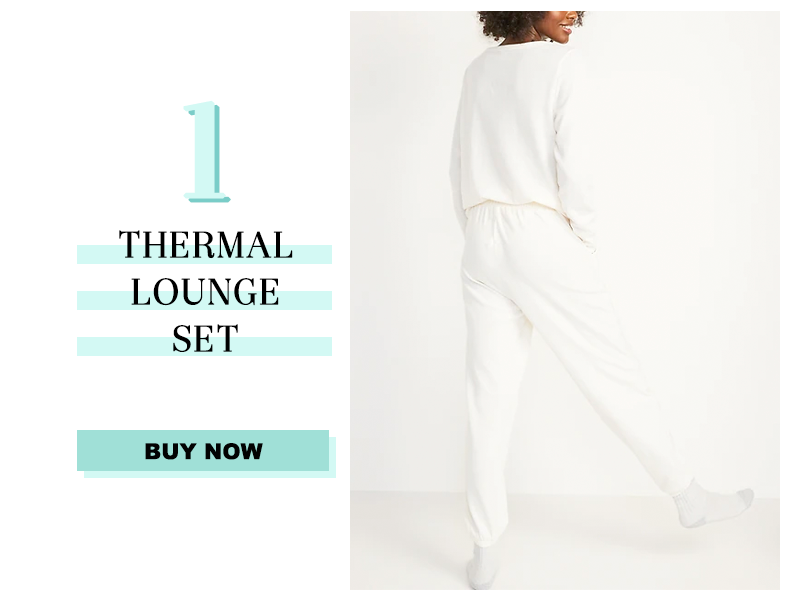 High-Waisted Thermal Jogger Lounge Pants , $29.99 | Long Sleeve Thermal Henley, $19.99
This buttery soft set, with some stretch, in ivory is classic and feels formal, even though it's sweats. I would add a fun slipper, like these popular fuzzy ones on Amazon to look like a woman without a care in the world.
Available at Old Navy in regular and tall sizes, XS – 4X, in four colors. Take an Extra 30% Off with Code HURRY.
Vintage Lounge Set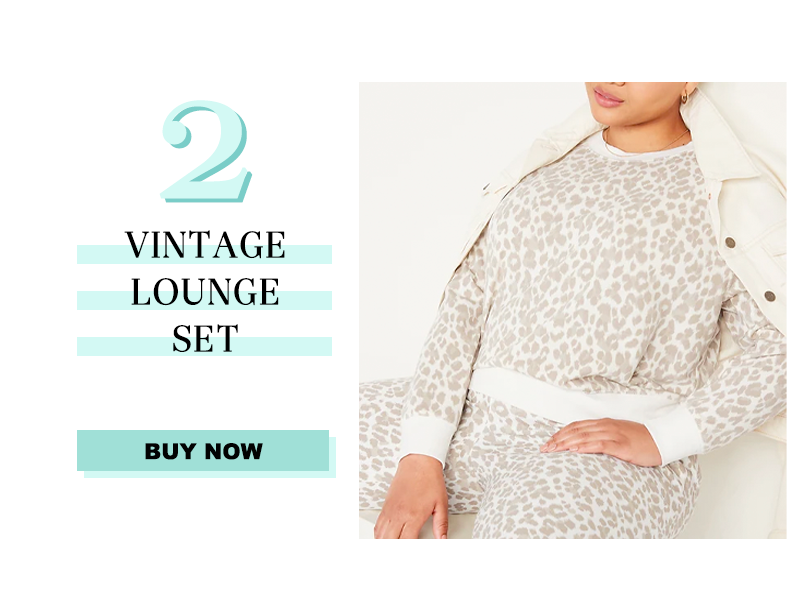 Vintage Crew-Neck Sweatshirt, $17.50 | Extra High-Waisted French Terry Sweatpants, $15 (TODAY ONLY)
Today only this set is on sale! The sweatshirt, featured in beige leopard print is $17 and the matching bottoms are $15. Grab these while they have your size.
Available at Old Navy, in regular and tall sizes, XS – 4X.
Crop Top Lounge Set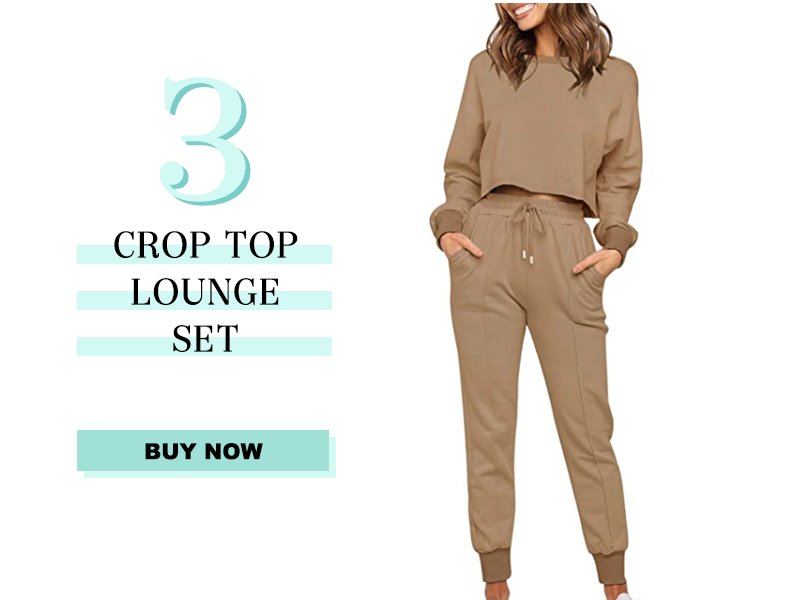 Crop Top Set, $38
I know, I know, I know.
A crop top? Sounds terrible. However, depending on how this fits you, it could be adorable.
The reviews on Amazon are all positive. And the pictures in the reviews are from women of all shapes and sizes. The top should sit just at the pant's waistband, creating a modern silhouette.
I wouldn't hesitate to throw on my sneakers and head out the door in this either.
Available on Amazon, sold as a set, price varies depending on size and color. Approx $40.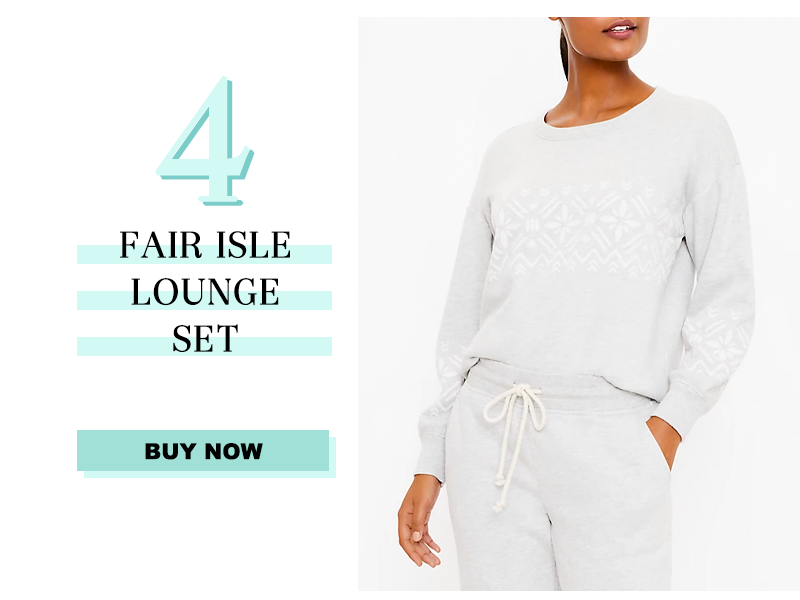 Fair Isle Sweatshirt, $79.50 and Sweatpants, $79.50
I mean, what else are use supposed to wear on a cold December day with no plans to leave the house?
Available at LOFT, take an additional 50% off with code COZY and shockingly, all sizes are still in stock.
Apres Sweater Set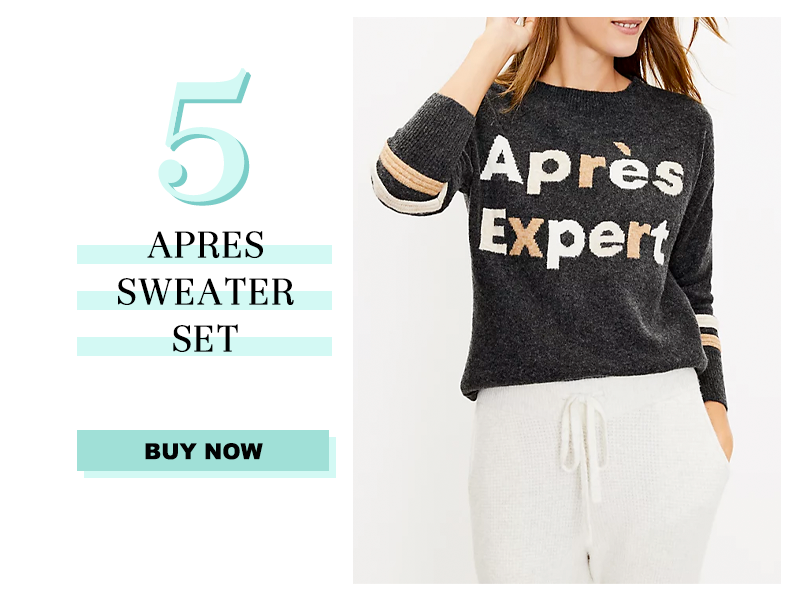 Apres Sweater, $89.50 | Sweater Joggers, $79.50
My husband loves to ski and wants nothing more than a winter vacation on the slopes. Me, on the other hand, not so much.
I also object to the use of the word "vacation". But that's another conversation.
What I do enjoy is wine by the fire, and reading a book while looking out at the snow all warm and cozy inside.
So I bought the sweater for our trip in January, just to remind everyone of where I stand.
Also available at LOFT, in sizes XXS – XXL, take an additional 50% off with code COZY.
Signature Soft Set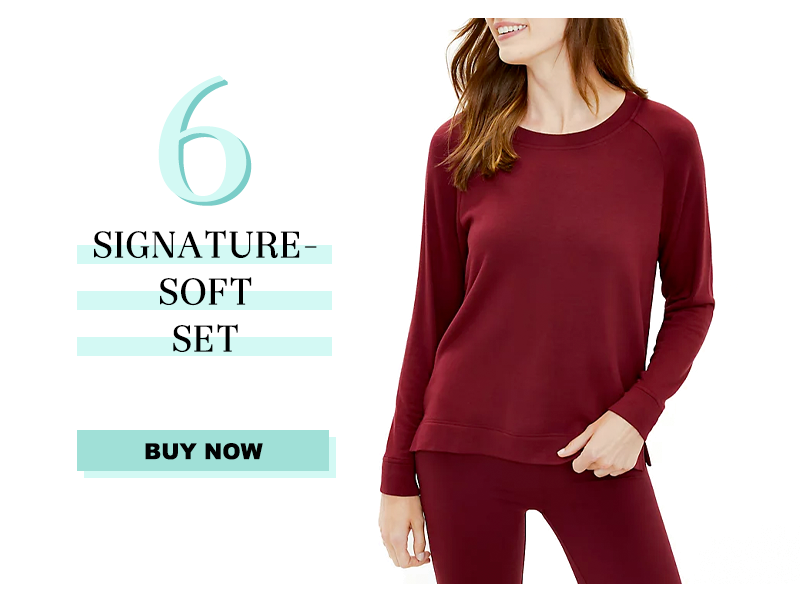 Signaturesoft Sweatshirt, $69.50 | Signaturesoft Sweatpants, $69.50
Finally, Signaturesoft is a Lou & Grey Best Seller.
These simple sets are ideal for Christmas, New Years or any special morning, and can serve as both pajamas or a casual look you can wear all day, at home, in front of other people 😉
Available at LOFT in regular, plus and petite, in XXS – XXL in 10 colors, use code COZY and get an additional 40% off.
Shop this Post
Our Content is Inspired by Our Readers
Our readership inspires all of our posts and this post is not sponsored or paid for by the brands or retailers featured.
Recommendations are based on my experience as a personal stylist and wardrobe consultant for over a decade. I worked with busy, down-to-earth women who wanted to look chic and feel confident but were often confused by so much of retail.
Some links are affiliate links, which means if you purchase via our site, we receive a small commission.
If you enjoy our content and would like to help us grow, please follow on Instagram and join our Private Facebook Group to access more advice and exclusive in-depth conversations with other like-minded women.
Learn about our mission to help women look and feel their very best, every day, here.
Sign Up for Daily Content and Receive Our Free Classic Wardrobe Checklist