If you picked up the quilted vest from our What to Buy at Nordstrom post on Monday, you're in luck. It's already sold out, except for a few sizes.
And today, I'm going to show you three fresh ways to wear it.
While this is similar to the quilted vests many of us owned for years, it's different. It's more elevated and sophisticated. The shape is slight boxier and you get a bit more length.
We used to wear them with skinny jeans and knee-high boots. But we're retiring that look and creating a few modern outfits that will work for any casual occasion.
How to Wear a Puffy Vest in 2022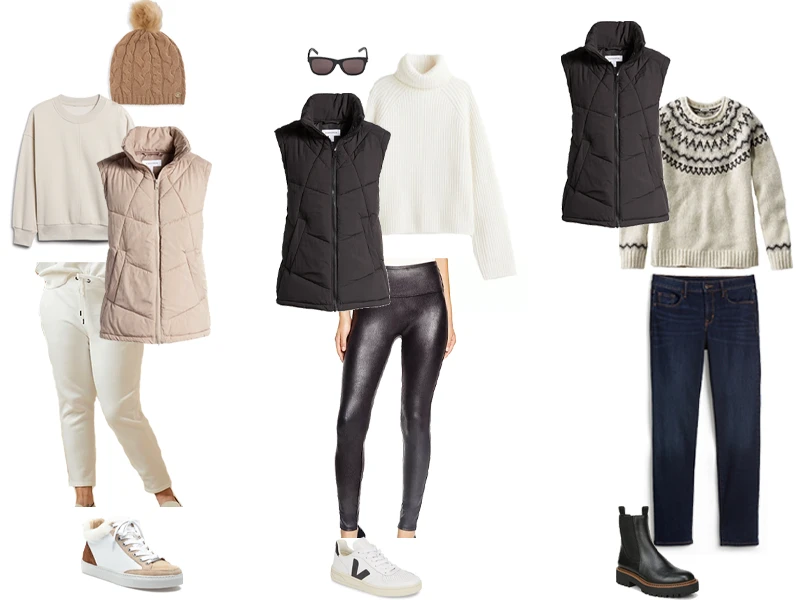 I don't know where we're going, but we're going to look cute going there!
This post is filled with both inspiration and items you can buy now and wear for the rest of winter, which, if you're on the east coast like me, is only just getting started.
A few style notes to remember as we break down these looks.
First, I kept the color palette neutral to create an elegant, on-trend look.
Second, monochromatic looks come across as chic; they also help us create a long, lean body line.
You can keep it from looking boring by mixing the same color's hues and using different textures and finishes.
Finally, balance is really important here. The vest adds a lot of volume, so you want to balance it with a slim leg and a heavy shoe.
You wouldn't want to wear something delicate like a ballet flat. Instead, you need something with equal weight to the vest, a high-top sneaker, or something with a heavy sole, like the featured lug boots.
For School Drop Off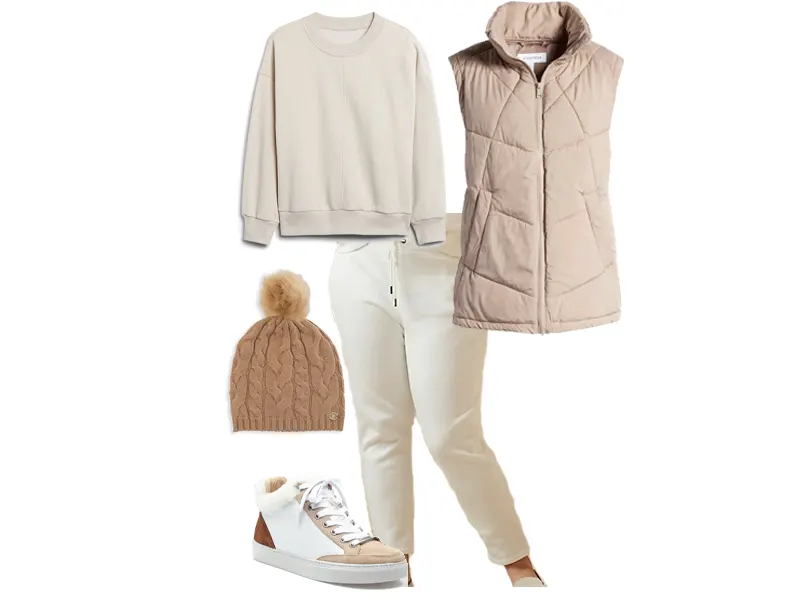 Cloud Fleece Sweatshirt, $45 | Cloud Fleece Joggers, $45 | Sherling Sneakers, $188 | Cashmere Beanie, $80
The Banana Republic Cloud Fleece Sweatshirt and matching Joggers were Reader Faves at the end of the year, and they are divine. They are like pajamas you can wear outside. So I featured them here because I know many of you have them already.
Sure, it's risky to wear all ivory, but it's also so chic! So go for it. The matching sweatsuit look is going to continue to trend throughout the rest of the season. The key here is to make it look rich, so only wear neutrals – anything from ivory and camel, to navy and grey and, of course, black.
What's out? Anything tie-dyed.
Here, the combination of ivory and the iced coffee color of the vest works together beautifully. To solidify the look, I'm using these sherling sneakers, which I might have to own, in a gorgeous .
And I tied it all together with this cashmere beanie from Bruno Magli, on sale at Off Fifth for $80. If you'd like something without the poof and a little less expensive, pick up this option from J.Crew.
For Lunch with the Girls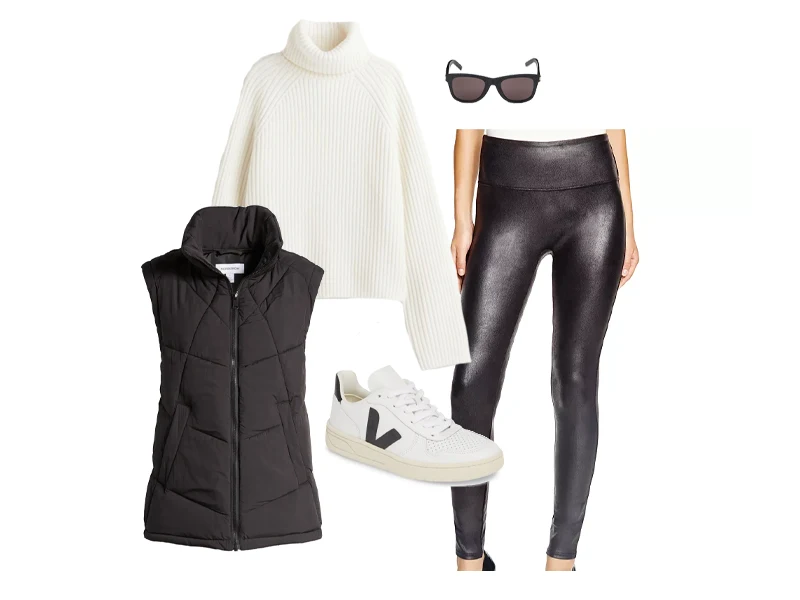 Ribbed Turtleneck, $30 | Faux Leather Leggings, $98 | V-10 Sneaker, $150 | Sunglasses, $105
Just because we're not dressing up our faux leather leggings for holiday parties, doesn't mean we need to pack them away. Let's make them casual.
This is such an easy combination that looks so put together. I used a simple ivory turtleneck sweater from H&M (they make wonderful affordable knits) as the under piece.
For Drinks in the Ski Lodge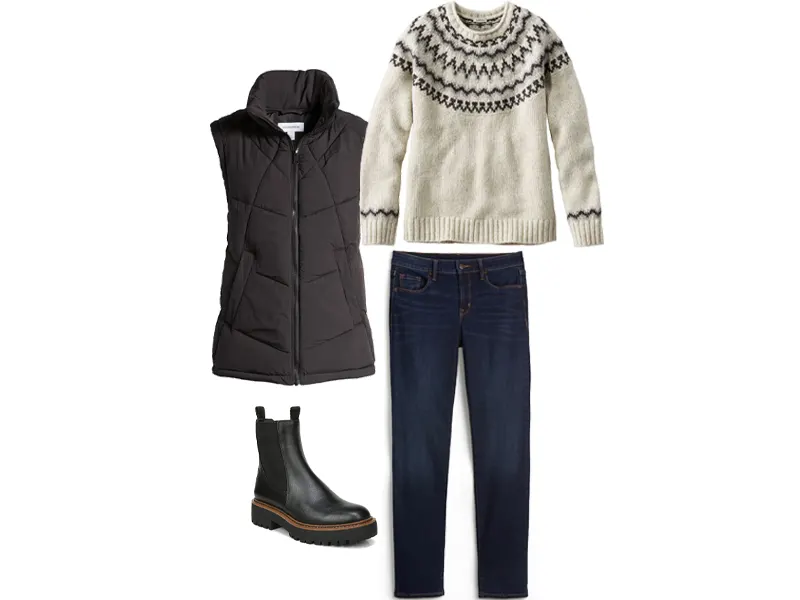 Fair Isle Sweater, $75 | Power Slim Straight Jeans, $35 | Lug-Sole Boots, $170
For our last look, let's work with a pair of jeans. I'm using our go-to Old Navy Power Slim Straight Jean because so many of you picked them up in December. These have fabulous stretch, and I love the inky dark wash. For under $40, they are a no-brainer.
Then, nothing says winter like a Fair Isle Sweater, this one from L.L. Bean is pretty much perfect and available in regular and petite sizes.
Finally, grab a Lug-Sole Boot, also known as the boot of the season. We've helped sell through a couple of styles so far, so if you have the Tory Burch or Steve Madden's from late last year, here is a great place to wear them.
If you're still looking for a pair, I'm crazy about this new option by Sam Edleman.