This content has been archived. It may no longer be relevant
This season may be the first time in a long while that you need a formal(ish) dress. From weddings to cocktail parties and holiday events, you may have an occasion to get out of your jeans and joggers.
Yay!
And while we haven't yet celebrated Halloween, there is a significant shortage in inventory across most retail.
As a result, in almost every category, there are fewer options and limited sizes, or the piece sells out so fast I can't even share it with you.
In all my years working with clients and creating content, I've never had such a difficult time sourcing pieces.
Part of this is the impact of COVID and the ever-increasing supply chain issue and also because retailers are placing more conservative buys – looking for sell outs rather than reorders.
So I'm moving up some content I had planned for mid-November to help you find what you need with little headache.
A black dress is an obvious wardrobe essential, but sometimes you want something a little bit extra, something you could never wear to the office, something that makes you feel fabulous.
Better than Basic Black Dresses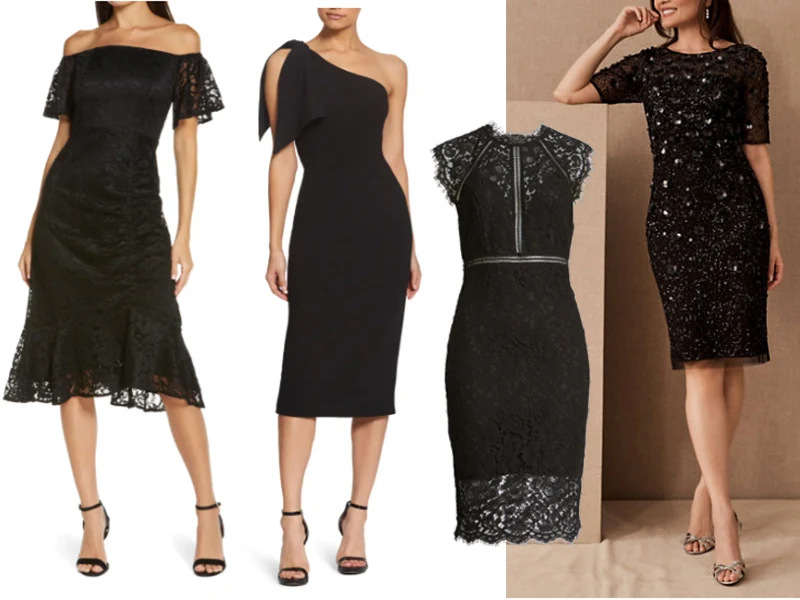 There is something for everyone in this post, including plus size options below.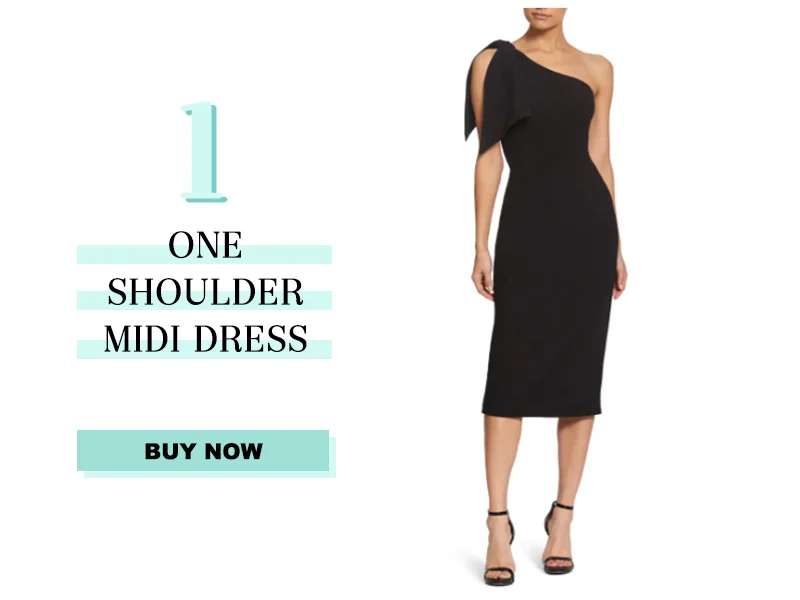 One Shoulder Midi Dress, $148
Dress the Population is a brand of affordable dresses that combine sleek classic style with a little bit of sexy. This one-shoulder midi dress will highlight your curves with a sophisticated silhouette and timeless shoulder detail.
If the length is an issue for you, a hem is a very easy and inexpensive alteration.
Sizes range from XXS -XXL, go up one for a less of a body-con fit. Also available in red, blue and magenta.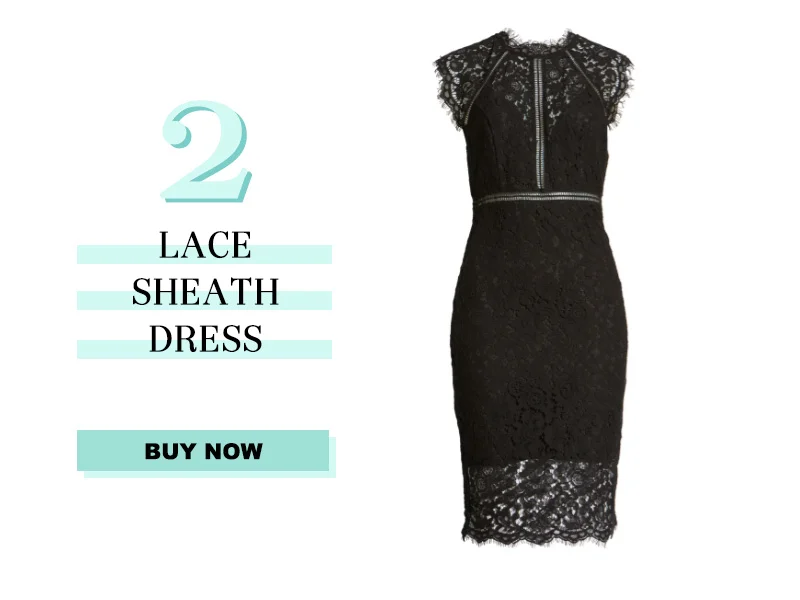 Lace Sheath Dress, $128
Bardot dresses run small, but that's not necessarily a bad thing. I used to pull them all the time for my petite and extra slender clients looking for a dress that didn't overwhelm. This lace sheath is one of my favorites. It's loaded with detail, but because the shape is that of a traditional sheath, it doesn't look over the top.
This dress is a difficult alteration. Skip it if the length doesn't work off the rack.
Available in sizes 2 – 10 but the 10 is going to fit like an 8.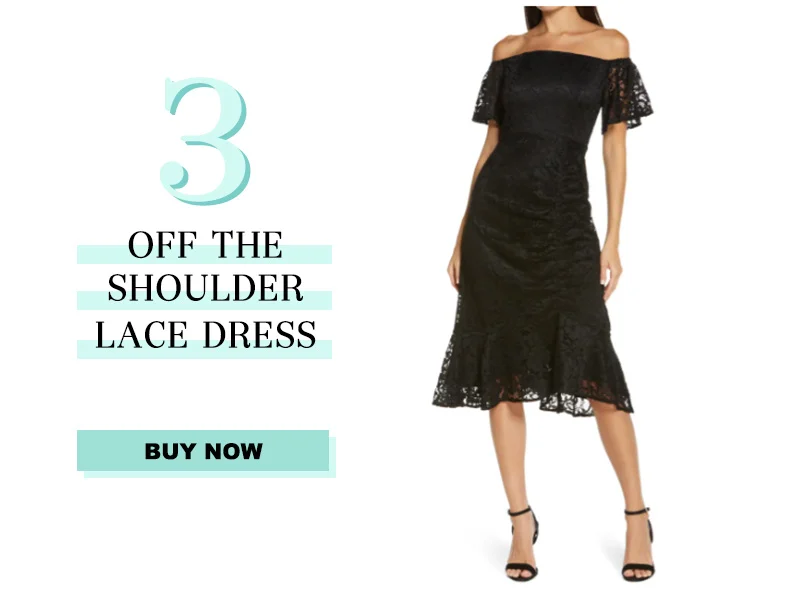 Off the Shoulder Midi Dress, $148
Edited: This fun and flirty dress almost sold out in the 12 hour window between me writing this post and publishing in it.
Originally, your size options here were 0 – 14. Right now, Nordstrom has it in sizes 0 – 6 and Bloomingdale's has 0, 6 and 12. Runs true to size.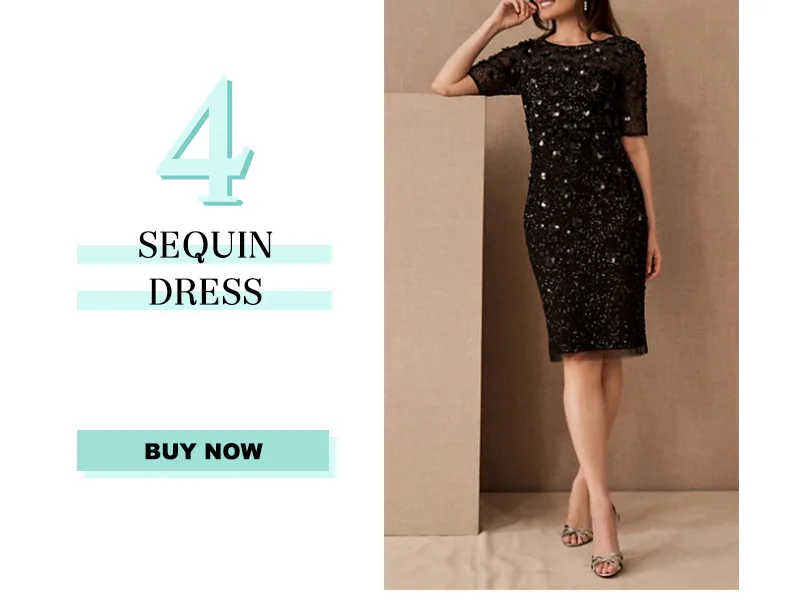 Sequin Dress, $250
BHLDN is owned by Anthropologie and offers an incredible selection of dresses, including bridal, MOB, and general, special occasions. They come right out on their website and warn about supply chain and shipping delays, so if you have an event, the requires something special, order as soon as possible.
I was wildly impressed with their assortment and size range. Like this dress from Adrianna Papell available in sizes 0 – 18. I love a sequin-sleeved dress situation.
Plus Size? There are a few options I love. First up, this sheer sleeved, faux wrap from City Chic is gorgeous, available in 14W – 26W.
If you want something simple, this CeCe dress with tie sleeve detail has a lovely fit available in 14W – 24W. I would make it glam with statement earrings and a sparkly clutch.
Shop this Post
Our Style Content is Inspired by Our Readers
Our readership inspires all of our posts and this post is not sponsored or paid for by the brands or retailers featured.
Recommendations are based on my experience as a personal stylist and wardrobe consultant for over a decade. I worked with busy, down-to-earth women who wanted to look chic and feel confident but were often confused by so much of retail.
Some links are affiliate links, which means if you purchase via our site, we receive a small commission.

If you enjoy our content and would like to help us grow, please follow on Instagram and join our Private Facebook Group to access more advice and exclusive in-depth conversations with other like-minded women.
Learn about our mission to help women look and feel their very best, every day, here.
Sign Up for Daily Content and Receive Our Free Classic Wardrobe Checklist