On Tuesday, we featured a round-up of my 10 Favorites Amazon Finds for September, and I got the most questions about this lounge set.
I wore it yesterday, so I snapped a quick picture before I headed out.
Between "meet the teacher day" at pre-school, work, and evening practices, I squeezed in a couple of "maintenance" hours, like nails, wax, and all the grooming I needed to catch up on since I returned from the beach.
I should enjoy it more than I do. I tell myself that little 20-something me would be like a dream day – but I'm usually rushing around, behind on deadlines, and late for whatever is next.
How great would it be if a van could pull into your driveway, you hop in, and it spits you out all polished and plucked?
Like the Jetsons!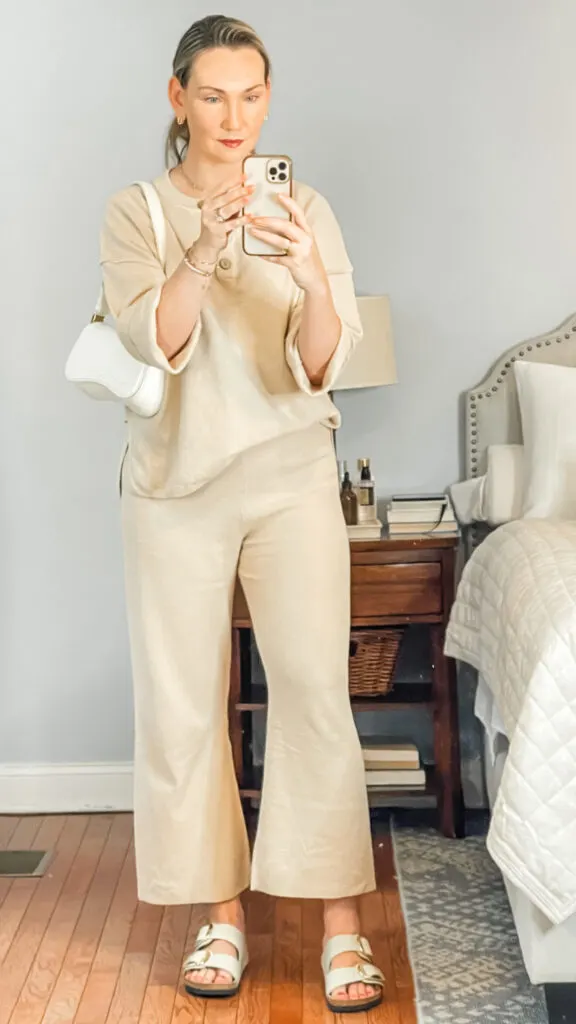 It was also 400 million degrees, so I wasn't in the mood to wear anything.
No shorts, no jeans.
This was perfect, especially since I spent most so much time in and out of air conditioning.
Done in a light waffle knit fabric , it's ideal for this transition season.
For reference, I am 5'10 and am wearing the large.
The hem of the top is a little bit longer in the back so it gives nice coverage. And there is a slight on either side so, if you want, you can half-tuck the front without having to fuss with the back.
I'm wearing the color "Apricot." It's hard to tell in the photo but it is not apricot at all, it's very much light tan. I also ordered it in black and navy.
The pants hit me right at the top of the ankle, so I wore the Birkenstocks Arizona Big Buckle Sandal I picked up at the Nordstrom Sale.
Other shoe options could be a backless mule or a low profile sneaker.
The key to making a lounge set look pulled together is thoughtful accessories. By now, you know the deal, since my sandals have giant gold-ton buckles, I added layers of gold-tone jewelry.
My earrings are from Jenny Bird, another Nordstrom Sale purchase and I've been wearing them on repeat. They are on sale right now for 30% off.
My necklace might be familiar too, it's the chain link necklace from Mejuri.
Finally, not pictured are my sunglasses, I grabbed these $15 tortoise style with gold accents on my way out.
This has become a go-to set for days I don't feel like getting dressed, or want something to change into after a workout with wanting an outfit.
And would be great to wear on a flight.
You can wash it in cold and I recommend line drying it.