We call 2022, The Year I Burnt it to The Ground.
I was ruthless in eliminating toxic relationships, minimized my alcohol consumption, changed my diet, and started to heal my body so I could move it again and regain my strength.
I had a vision of who I wanted to be and a clear but hard path to get there.
So I did an unapologetic sweep of my life.
Today I can confidently say that I have never, ever been happier.
I'm in such a good place and so content that the Irish in me is just waiting for something to happen to make it go away. Lol.
I wasn't going to share all this, but after getting so many requests to give some insight into what I did to regain control of my health and life, I thought it might be helpful.
Here's what I did: this is part one of two or three features.
Right off the bat, I think it's important to note a few things.
I am your average suburban working mom.
I'm 43, and I have three daughters (two teenagers and a four-year-old), who were all almost ten-pound babies delivered via C-Section, the last of which destroyed my body.
I run a growing business that I can't keep up with, and my husband runs a business too.
We're travel sports parents, so, most days, all we do is drive our kids around and work on our computers.
I'm privileged to have resources, but money doesn't grow on trees around here, so I had to change my mindset about what it means to invest in one's health and be ok with putting myself first.
My greatest privilege, though, is my husband. Having his support was the only way I pulled any of this off. And honestly the experience has made our bond even stronger and both of us laser focused on being the best possible versions of ourselves.
Because my body was so damaged from my last pregnancy (which is a whole other story), jumping right into a fitness plan was impossible.
So I had to work on my mental health first.
I started with baby steps. ANY action I considered movement.
The first thing I did was use an infrared sauna.
I started going to Restore Hyper Wellness; they have locations nationwide and are fantastic.
I would book a sauna for one hour and just sit and listen to a podcast a few times a week.
Then I started meditating, often in the sauna.
And this was a real game-changer.
I like Dr. Joe Dispenza and his collection of meditations. (I also highly recommend his book, Breaking the Habit of Being Yourself.)
My husband meditates, too, and he uses the Daily Calm app. It's very approachable and a great way to get started.
The quiet time in the sauna, meditating, listening to wellness-focused podcasts, and sweating were so healing and motivating.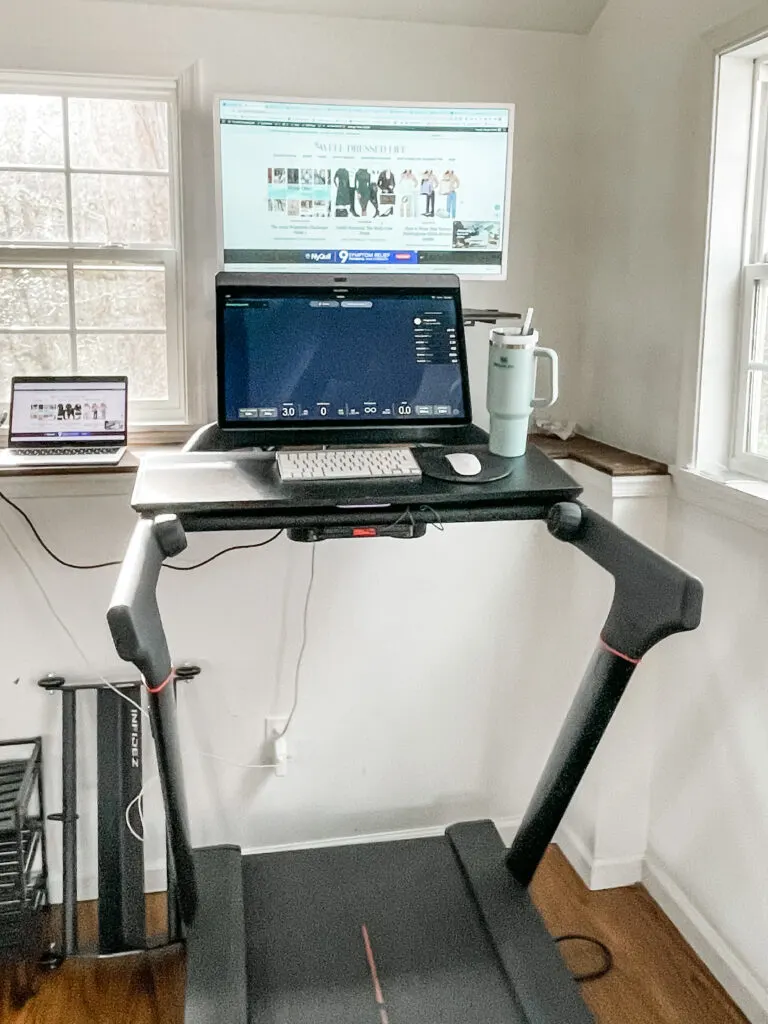 Slowly, I incorporated walking on the treadmill.
Nothing crazy, just a slow pace to start the habit of moving.
I would multitask and walk while working.
This is my current set up.
I can get close to 10,000 steps in two hours. I walk and do all the boring tasks that come with my job.
Next, I started researching ways to heal my mind and body from the inside.
And that's how I ended up with a wellness drawer.
The contents of this drawer grew slowly over the last year and a half.
I'm telling you, creating this wellness routine, fueling my body and brain, keeps me calm, focused, present and allowed me to hit a fitness and happiness level I've never reached before.
You could tell me this is all placebo effect and it wouldn't matter. I feel so much better.
What's Inside My Wellness Drawer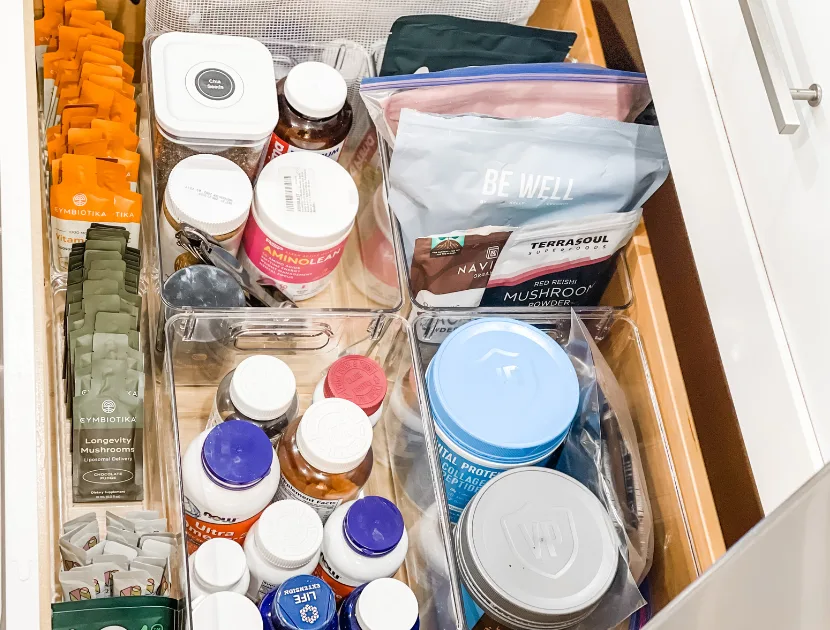 The best way to break this down is to take you through a typical day.
Remember, this is a day now, over a year into my journey.
I did NOT start off like this.
Pre-Workout
I wake up between 4:15 – 4:30 and drink my pre-work out, while ice rolling my face. (This helps wake me up and depuff.)
I like the RSP Nutrition AminoLean PreWorkout in Pink Lemonade.
It gives me a boost and helps with endurance and stamina before a workout. And it doesn't make me jittery or upset my stomach.
I find it works best if you take it 30 – 45 minutes before you start exercising.
A couple times a week I go to a 5am strength training class. Other days I go to a class around 9am.
If I were going to a class or working out at home later in the day, I would probably skip this so I don't mess up my sleep.
Greens
While coffee is brewing I drink my Athletic Greens.
I am obsessed with AG1 (Athletic Greens). Yes, we should get all of our vitamins and nutrients from our food, but that just doesn't seem possible in the modern world.
AG1 has 75 vitamins, minerals, and whole food-sourced ingredients with prebiotics and probiotics to enhance nutrient absorption.
It's also the best-tasting green juice I've ever had, with a mild pineapple/vanilla flavor that's easy to get down.
Drink this first thing in the morning, and you will feel amazing all day.
Before I put it on auto delivery, I felt a noticeable difference when I went without it for a few days between shipments.
Supplements
I take two supplements from Cymbiotika using their Liposomal Delivery Pouches, which allow for better absorption.
First, their Vitamin C (1000 MG) – Our four year old goes to a little nursery school a few mornings a week and brings home every germ.
She literally coughs in my mouth multiple times a day, and I have yet to get sick.
I think this Vitamin C pouch is part of the reason why.
You can add this to water or take it right from the pouch, which is what I do. It just takes a second and tastes good, like a very citrusy creamsicle.
Next, I take their Longevity Mushrooms.
This is designed to improves exercise recovery time and supports the immune and central nervous systems.
I was stirring this into my coffee, but like the Vitamin C, I just take it from the pouch. It tastes like Hershey's Syrup.
Right now, you can take 25% off of it on Amazon.
Then it's coffee time, and even though I shouldn't have dairy, I can't with all that almond creamer nonsense.
I use real half and half and a little raw sugar and I maintain a bit of joy in my day.
I also mix in Vital Proteins Collagen Peptides Powder. It has 20 grams of collagen and is great for skin, hair, nails and joint support.
It has no flavor so you can add it to your coffee or a smoothie.
Vitamins
Eventually I'll eat something for breakfast, like Avocado Toast and I'll take my multi vitamin.
I order it from Amazon instead of their website for fast and free shipping.
Note: It has a minty essence to it, so if you are mint-adverse, you do not want this. I could leave or take it.
I like their company mission of "traceable science" which allows you see exactly where ingredients, packaging, and partners are sourced from around the globe.
Smoothie
Sometime in the morning I'll also make a smoothie and I swear by Kelly Leveque's Fab Four Smoothie AND her protein powders.
The concept behind the Fab Four Smoothie is to combine a healthy fat, protein, fiber and greens.
And her smoothies are delicious.
I must follow her recipes exactly; otherwise, I make enough for a family of 10.
My favorites are her Very Vanilla Smoothie and her Chocolate Almond Butter Crunch Smoothie.
I buy her Vanilla and Chocolate Protein powders on Amazon, again, because you can't beat the fast shipping.
They are my favorite powder proteins, easy to digest, with no weird after taste.
To make my life easier, I keep all the ingredients in this drawer that sits under where I store our blender.
If you are in the market for a powerful blender, the Vitamix is outrageously expensive BUT I bought mine about seven years ago, and we use it at least once, usually twice a day.
We had an issue with it about a year ago and their customer service was outstanding and they fixed it at no cost.
Sleep
Finally, prioritizing sleep in my health journey has been critical.
For years I was guilty of compromising my sleep, but everything functions better when you're rested.
So I have created a rigid nighttime routine and I LIVE for it.
It includes, amongst other things, drinking Magnesi-Om by Moon Juice about an hour before I want to fall asleep.
I've tried many things to support getting a good night's sleep, and they all had weird side effects.
For example, Melatonin will knock me out, but I wake up feeling hung over.
And Ashwagandha gave me WILDLY disturbing dreams.
So Magnesi-Om by Moon Juice is like a miracle. I fall asleep, stay asleep (no 3 am tossing and turning anymore), and don't feel groggy in the morning, no matter how early I have to get up.
All of this, combined with cutting out a lot of alcohol (COVID created some bad habits) and focusing on clean nutrition has made a world of difference.
So if you are on a journey, or you want to be, just start with one easy to manage thing, do that well for a while and then layer in something else.
Once I got my brain back, once I could hear myself think, starting to move again was easier.
And when I finally mustered the courage to go back to group classes and felt overwhelmed, foolish and wanted to quit, I didn't because I was clear-minded.