Fact: having an organized closet makes everything better.
Well, maybe not everything, but with how crazy the world is, the slightest sense of order can make all the difference in how we go about our day.
Today, I'm sharing the best products to organize your closet so you can get a fresh start and reap the benefit of an organized space.
If you are participating in our Wardrobe Challenge, we are in Week 3, which focuses on getting your space in order. (Please note, there is a complete list of product recommendations at the bottom of this article.)
And an organized closet doesn't just make getting dressed in the morning effortless but it makes shopping easier. When you can see everything you have; you can create outfits you love and you'll see what you're missing.
So let's talk about space. Because unlike what social media shows us, we all don't have a massive space that looks like a department store. If you do, enjoy it!
But after working in hundreds of closets, I can tell you that most women's wardrobes have limited space.
My closet is relatively basic.
It's a "walk-in" by definition, but it's nothing fancy. Instead, it features a simple rod for hanging and a series of shelves. This is how it looked when we bought the house eight years ago, and it has remained unchanged.
Maybe when I make that last college payment for my youngest in, 20 years (?) I'll upgrade. lol
In January of 2020, I finally invested in a few simple yet game-changing products to help pull the space together, that I still use and love.
Before that, I took a use-what-you-have philosophy and it worked just fine.
But the difference these few products made has allowed me to keep the area in order (for the most part), and when it does get a little out of sorts, it only takes a few minutes to pull it back together. I also haven't had to purchase any other products for the space in a year.
Fast forward to this past summer, I realized I was running out of space, so I took a trip to Ikea and bought one of their systems.
You'll see that below.
The Best Products to Organize Your Closet
This is the unit I purchased and built by myself (thank you very much).
It sits outside my closet against a wall in my bedroom. There are doors for it, but I haven't put them up yet.
I work between these two spaces. Keeping in-season pieces in the Ikea unit, and out-of-season, special occasion, some folded sweaters and more shoes in my actual closet.
It's bit convoluted, but it works.
Let's talk about what I use and recommend.
If you only purchase one product for your closet to help create order and save you space, buy these slim flocked hangers. They are the best.
The uniformity the slimline hanger creates helps your eyes settle so you can see (and therefore use!) everything you have. Plus they double your space. As you can see I hang a lot, including tee shirts and jeans.
Next, these acrylic shelf dividers make such an impact. Before I bought them, I would have told you they were a waste of money, but they have transformed the space. You can see them below.
They have a little hook on them too, so you can hang your outfit or a few handbags from them.
I'm using them for sweaters, but they also work well for jeans, heavy scarves, and anything else you can fold.
I also take advantage of the vertical space by using these "sweater drawers" to store silk scarves and bathing suits.
How to Organize Shoes and Bags in Your Closet
The most popular question I receive is about how I store my shoes. I use shoe drawers from The Container Store. They are stackable, so I'm able to take advantage of all the otherwise wasted shelf space. I also keep a few under my hanging jeans, taking advantage of every bit of space.
You can purchase a case of 4 for $65; I'm using the large size because my shoe size is 10.
Another product I'm thrilled with is this purse organizer (pictured on the top shelf and in the center of the Ikea system).
Here, I can easily slip in my various clutches and grab whatever I need when running out quickly. It's practical, creating a fun, boutique vibe, making my old retail heart happy.
They are also from The Container Store, for $40 each.
Organize and Display Jewelry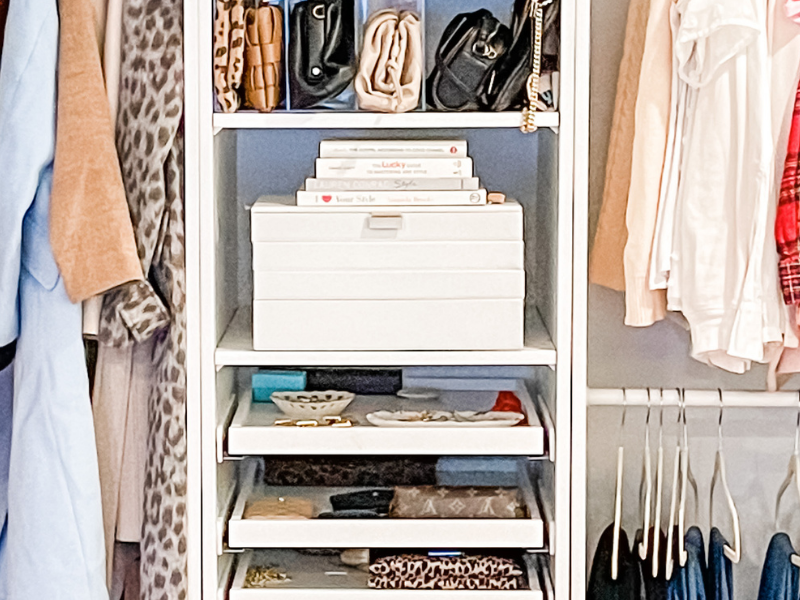 Finally, let's talk about how to store and display jewelry.
If you can, designate a space to keep it all together. I've mentioned this jewelry box before – it's a stackable trays system that you can customize to meet your needs. It also keeps your pieces from tarnishing.
Related: How to Create a Classic Jewelry Capsule
Get them out of there if your jewelry is scattered in tiny boxes or stuffed in a drawer! Of course, you can still use the drawer; just consider using a tray system. I like this one on Amazon; you get a set of five with various compartments.
I also use one of the pull-out drawers of the Ikea system and keep my go-to, everyday pieces in little trays and dishes.
In the other shallow drawers, I lay more clutches, and then in the more bottomless glass front ones, I have delicate sweaters with embellishments folded with tissue between them, and then long and short cardigans folded in the other.
For other categories, I use drawers in a dresser across the room. One for undergarments, one for workout gear and sweats, and one for pajamas. It's nothing fancy, but I use these extendable drawer dividers to corral things. I use them in my kids' drawers too.
Below is a complete list of all the products I use and recommend:
Slim Flocked Hangers, available on Amazon
Acrylic Shelf Dividers, $12,99 each, available at The Container Store
Acrylic Shelf Dividers 8 for $46, available on Amazon
* Please note, I use both. The Container Store option is in the photos, but I use the Amazon ones in my kids closets, they are very similar and more affordable.
Stackable Sweater Drawers, $27 each, available at The Container Store
Set of 4 Stackable Shoe Drawers, $65, available at The Container Store
Acrylic Handbag Organizer, $40 each, available at The Container Store
Stackable Customizable Jewelry Box, prices vary, available at The Container Store
Set of Five Jewelry Trays, $25, available at Amazon
Set of Five Drawer Dividers, prices vary based on size and quantity, available at Amazon
Follow Me on Instagram for Real Life Fashion and Style Advice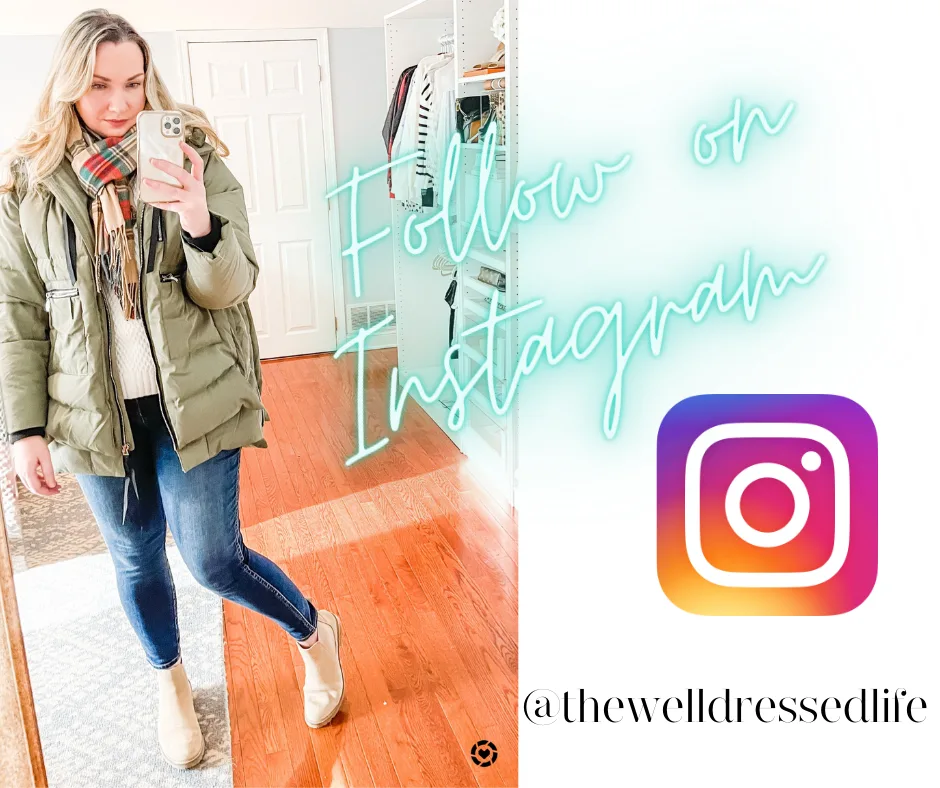 Follow The Well Dressed Life on Instagram for Realistic Style Advice, Fun Behind the Scenes, and Tons of Exclusive Tips and Content.
Our Style Content is Inspired by Our Readers
Our readership inspires all of our posts and is not sponsored or paid for by brands or retailers.
Recommendations are based on my experience as a personal stylist and wardrobe consultant for over a decade. I worked with busy, down-to-earth women who wanted to look chic and feel confident but were often confused by so much of retail.
Some links are affiliate links, which means if you purchase via our site, we receive a small commission.

If you enjoy our content and would like to help us grow, please follow on Instagram and join our Private Facebook Group to access more advice and exclusive in-depth conversations with other like-minded women.
Learn about our mission to help women look and feel their very best, every day, here.
Sign Up for Daily Content and Receive Our Free Classic Wardrobe Checklist