Today and tomorrow are Amazon Prime Big Deal Days.
Didn't we just do this? It sure feels like it.
But that was in the summer and with the end of the year upon us and all the holidays right around the corner, this is an incredible opportunity to save on items you maybe already considering.
So I'm spending today sourcing the best of the best.
Starting with some of my personal favorites, items I know you are looking for, and some BIG savings I don't want you to miss.
We'll do two posts today so keep an eye out for an afternoon email as well rounding up all the deals in beauty and fashion handpicked for our audience.
You can also see all of these and more in my Amazon Storefront, which will be updated throughout the day.
Let's get started
Amazon Prime Big Deal Days: Favorite Finds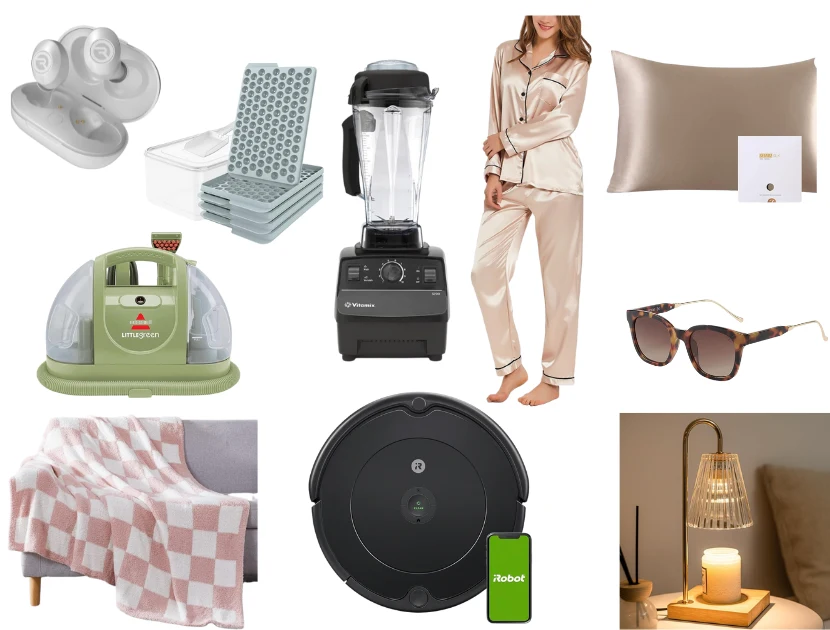 Raycon The Everyday Bluetooth Wireless Earbuds – Prime Day Deal – $55.99 I have these and they are awesome, more comfortable than AirPods and great sound quality.
Marycele Candle Warmer Lamp – Prime Day Deal – $29.99. This best selling candle warmer is one of my favorite recent finds. I use it every day. It gives off a lovely glow, and fills your space with whatever scent you're burning. AND it allows your candle to burn evenly extending its life.
Checkered Throw Blanket – Prime Day Deal – $31.99. My teenagers have these on their beds, and gifted them to friends for Christmas last year. They are soft, cozy and wash well. Would make a great gift or pick up to for yourself.
100% Mulberry Silk Pillowcase – Prime Day Deal – $19. These are the pillows I sleep on to help prevent hair damage and wrinkles. The feel like heaven, and are available in a range of colors and sizes. I have them in ivory and they wash up beautifully.
Mini Ice Cube Trays – Prime Day Deal – $17.09. I will die on the hill that tiny, round ice is superior to all other ice. But I cannot bring myself to spend $600 on a pebble ice machine when I can make them in a tray for under $20. Scoop these up for holiday drinks of just for something fun to add in your daily life.
SOJOS Classic Square Sunglasses – Prime Day Deal – $12.74- I wear these reader favorites all the time. GREAT quality, updated classic style, insane price.
Silk Satin Pajamas – Prime Day Deal – $23.99 – These are our favorite pajamas, available in tons of colors. I make no exaggeration when I say I wear these every single night. They run true to size.
Little Green Multi-Purpose Portable Carpet and Upholstery Cleaner, Prime Day Deal – $89. This guy sold out QUICKLY last Prime Day and for good reason, it's so useful. I paid full price for this a while ago and use it all the time. With three kids and CREAM color sofas it paid for itself within the first few weeks of owning it. Use it on furniture, your carpet, the car – it's fantastic.
Vitamix 5200 Blender – Prime Day Deal – $299. Another product I spent full price on with no regrets is my Vitamix. This deal is so wild I had to triple check that it wasn't for a refurbished one. I have had my Vitamix for six or seven years now (maybe longer) and it owes me nothing. AND I can say from experience that their customer service is remarkable. If this has been on your wish list, take advantage of this savings.
iRobot Roomba 692 Robot Vacuum – Prime Day Deal – $164.99 – Another amazing deal, saving 45% off the retail price for the iRobot Roomba. I have had this for several years, and it works like a charm. We keep this on in our downstairs hangout space and it's so convenient to just set it and forget it the end of the day.