Pulling together chic and sophisticated looks is easy if you have what you need on hand, and it doesn't have to cost a fortune.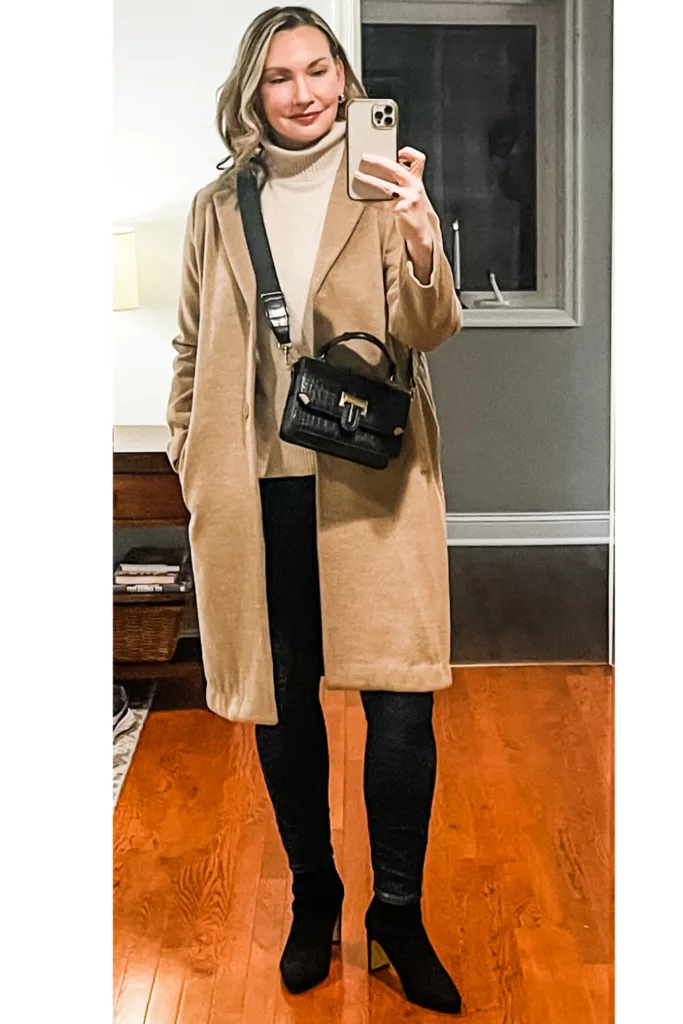 My coat is an old camel wool option from H&M.
I bought it a few years ago and I wear it so much, it owes me nothing.

For a similar look, readers have liked this option from the Drop on Amazon for just under $100, with sizes up to a 5X and this one, also from Amazon for $60.
My turtleneck sweater is from J.Crew.
We featured is several time in the fall. It's sold out, but if you picked it up in season, this is an easy way to wear it.
My jeans you're probably sick of me talking about. They are the Good American Good Leg Skinny Jeans.
I tried on a few lighter washed, wider legged options I had, and they all made me feel wide, so I wore these.
Again.
And I paired the jeans with these Sock Boots, also from the Drop on Amazon for $60.
The more I wear them, the more I like them.
They fit perfectly under snug legged bottoms, and help extend the line of your leg.
10/10, highly recommend.
The bag will be familiar too. It's the top handle bag, from Amazon. I have it in three colors.
Above I'm wearing the black with the included crossbody strap.