We receive so many requests for posts featuring cute outfits with black jeans so today I'm sharing a few that are practical, chic, and can be created with pieces you may already have in your closet.
Black jeans are an obvious wardrobe staple that you can dress up or down.
Below, I list my top picks for black jeans at all price points, share tips on how to best care for them and offer inspiration on how to style them for a day of working from home, a casual weekend, and a date night.
And please keep in mind, because our readership is far reaching, everyone is experiencing various forms of restrictions differently. My priority here is first to help give practical tips, and also keep things forward thinking and optimistic 🙂
Let's start with black jean options:
Black Jeans: High, Mid, and Low Range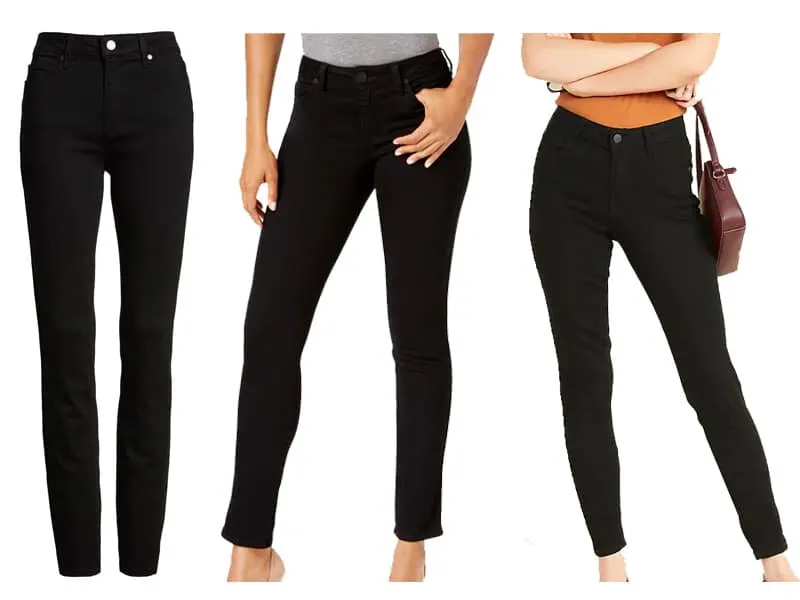 High: Paige ($179) , Mid Range: KUT From The Kloth ($94), Low: Old Navy ($20).
Premium denim is expensive for a reason. Long time readers know my focus is always on buying the best you can afford, with the understanding that just because something is the most expensive doesn't mean it's the best.
Brands like Paige (above), AG, Citizens, etc., all focus on quality material and fit, and they last much longer.
Unfortunately, they don't offer much in inclusive sizing.
In the just under $100, or "mid" range, I like KUT from the Kloth. The Diana (above) has a curvy cut and is available in missy, plus, and petite. Consider sizing down in these. When you try them on for the first time, they should feel tight. Tight like you are going to want to get the next size up.
Don't, because they stretch out immediately.
Finally, we love Old Navy around here. They have a completely inclusive size scale (including tall) and are decent quality for the price. These are $20 jeans, so don't expect them to last longer than a season or two. They will shrink and fade faster than the better brands.
Related: The Best Jeans for Every Size at Every Price
Care of Black Jeans
So you get the most out of your purchase, it's important to care for them properly. Do everything you can to avoid washing them. Of course, if you stain or spill something on them, you have to wash them. But if you've only worn them for a few hours, fold or hand them back up neatly until your next wear.
I know that sounds gross, but once you start to wash them, they will shrink, fade, and generally lose their shape. This goes for all jeans.
It's helpful to have more than one pair so you can rotate wear. Spot clean when necessary, and when you are ready to wash them, turn them inside out and follow the instructions on the tag.
Okay, let's get into outfits …
Today I created three cute outfits with black jeans, a laid back look, a casual chic outfit, and something simple for weekend date night.
Three Cute Outfits with Black Jeans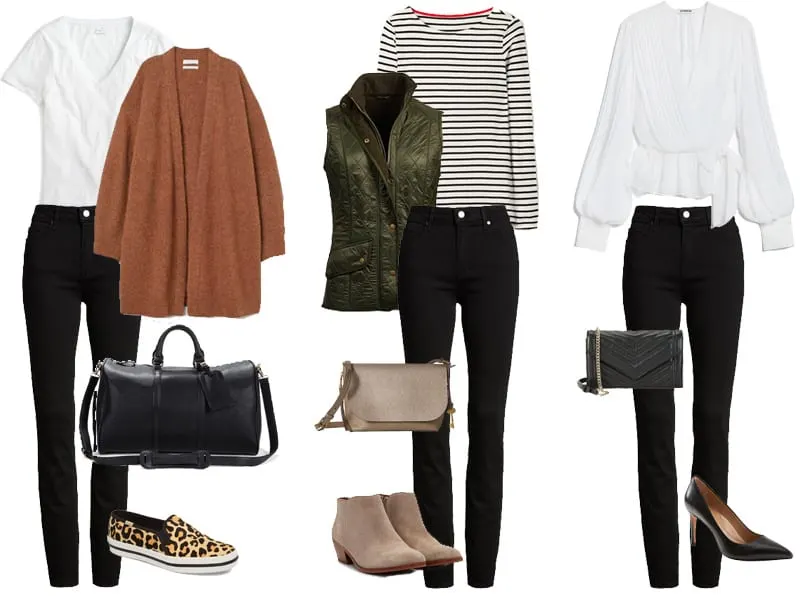 Outfit One: Cardigan, $80 | Sneaker, $110 | Tee, $25 | Bag, $75 | Outfit Two: Top, $38 | Vest, $180 | Booties, on sale $50 | Bag, $80 | Outfit Three: Wrap Top, $30 | Pump, $118 black | Bag, $55
Work from Home Outfit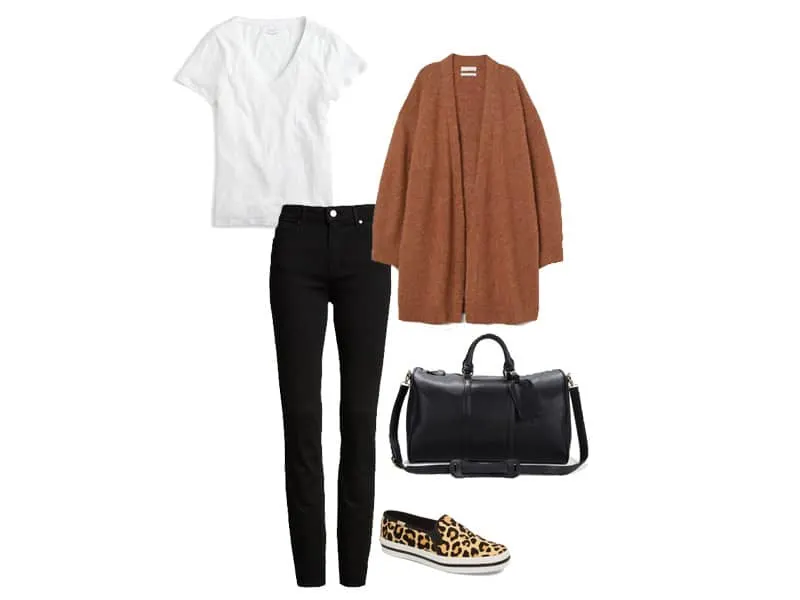 For our first look, I was thinking of days working from home, or travel, when you have to head to the airport or train station (eventually). I'm using a skinny black jean, you could also wear a slim straight leg.
Grab a basic white tee; I like these v necks at J.Crew. Then, add a long cozy layer. I'm a big fan of H&M. This cardigan is a wool blend, and I love the color – it looks extra sophisticated.
To keep things interesting, we used a leopard printed slip-on sneaker by Keds x Kate Spade.
I included this Sole Society weekender to round out the look for travel.
Chic Weekend Outfit

I wanted to find a Breton top with a long sleeve in black and white. Happily, Boden makes the perfect one for around $40.
Layers that add interest without bulk are essential to incorporate as the weather cools. So, I went as classic as it gets with a Barbour olive vest. (In my mind, I spend weekends in the English countryside.)
Add a pair of ankle boots, like our go-to Sam Edelmans in putty, and a crossbody bag (above in champagne), and you're set for the day.
Date Night Outfit

Keeping things simple is the key to getting dressed and out of the house on the occasional date or girl's night out.
Last year, a friend was wearing a beautiful blouse at a friend's 40th birthday dinner. When I asked her where she found it, I nearly fell off my seat when she said Express. I know! She said, but some of their things are great and affordable.
And isn't that just what we need a night out tops to be? Because I have no room in my budget for a $200 top.
This pleated detailed wrap blouse is gorgeous. It's fun, a little sassy and about $50. Try on a few sizes as they run small.
Add your black pumps, like these popular 12-hour heels from Banana Republic, or a heel with an open toe when the weather warms up a little more. Finally, this quilted black envelope clutch is $55 and adds just the right amount of texture and interest to such a simple look.
---
Our Content is Inspired by Our Readers
Our readership inspires all of our posts and is not sponsored or paid for by brands or retailers.
Recommendations are based on my experience as a personal stylist View Post and wardrobe consultant for over a decade. I worked with busy, down-to-earth women who wanted to look chic and feel confident but were often confused by so much of retail.
Some links are affiliate links, which means if you purchase via our site, we receive a small commission.
If you enjoy our content and would like to help us grow, please consider following on Instagram and join our Private Facebook Group to access more advice and exclusive in-depth conversations with other like-minded women.
---