I'm sitting here counting down to the end of the school year and travel sports season.
Which can only mean one thing: summer is around the corner.
And to say I am looking forward to it is an understatement.
So I thought it would be fun to round up some popular trends we're seeing in warm weather dressing.
Now, remember we talk about trends for a few reasons.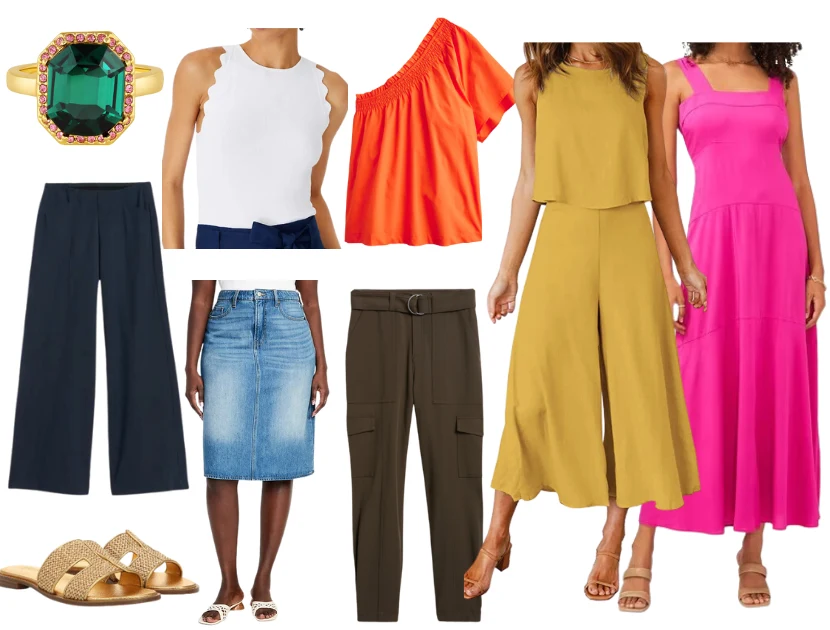 But it's not to tell you to go throw out what you already have.
Instead, it's to give you options.
You can layer these ideas into your basics, or ignore them completely.
Some of these have staying power, and some will last a season.
But trends are important because they tell us where fashion is going and allow us to play and add interest and personality to our outfits.
Some of these may turn into modern classics, or, they will add some fun and we'll move on.
What I've rounded up below are what I see as the most wearable trends if your personal style leans timeless and classic.
As always, you can shop our links, or use this as inspiration.
What you'll see is that there is a lot of cross over within trends, like certain colors and textures will show up in different styles.
So grab a coffee and let's dive in.
Green Jewelry
Starting off with an easy to incorporate trend: jewelry with hints of green.
One of my favorite (relatively) recent purchases is Lexi Octagon Cocktail Ring from Gorjana, featuring an emerald-color stone surrounded by pink stones. It's modern, preppy and only $65.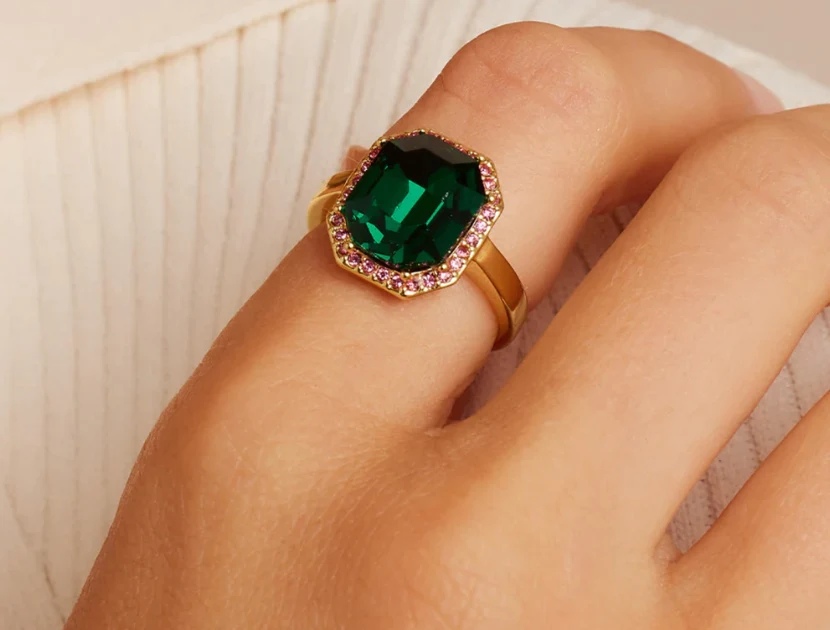 I will say, the image makes this seem much bigger than it is in person, but it's very pretty.
You can wear it year round paired with neutrals. I like to throw it on with jeans and a white button down for an unexpected hint of color.
Other options include these sage hoops from Tuckernuck which I think are stunning.
Or add a layer into your bracelet stack with this green $30 tennis bracelet from Evereve.
And I'm calling it now, tennis bracelets and necklaces are going to be huge in the fall and maintain their popularity for the next few seasons. 😉
Wide Leg Ankle Pants
Consider wide-leg ankle-length pants if you want to add an updated silhouette to your rotation.
You want the hem to hover around your ankle.
This opens up all different shoe options, from flats to sneakers, to any height heel.
They look great with slightly fitted-to-the-body tops that hit around your hip bone.
These are wildly popular and available at all price points.
However, I would put these in the save category. Meaning you're not investing in them.
The High-Waisted Pull-On Pixie Wide-Leg Pants, from Old Navy are $49.99, come in four colors, and are available in size XXS – 4X with petite an tall options.
If you are tall like me (I am 5'10) you'll want the tall size so the pants hit your ankles.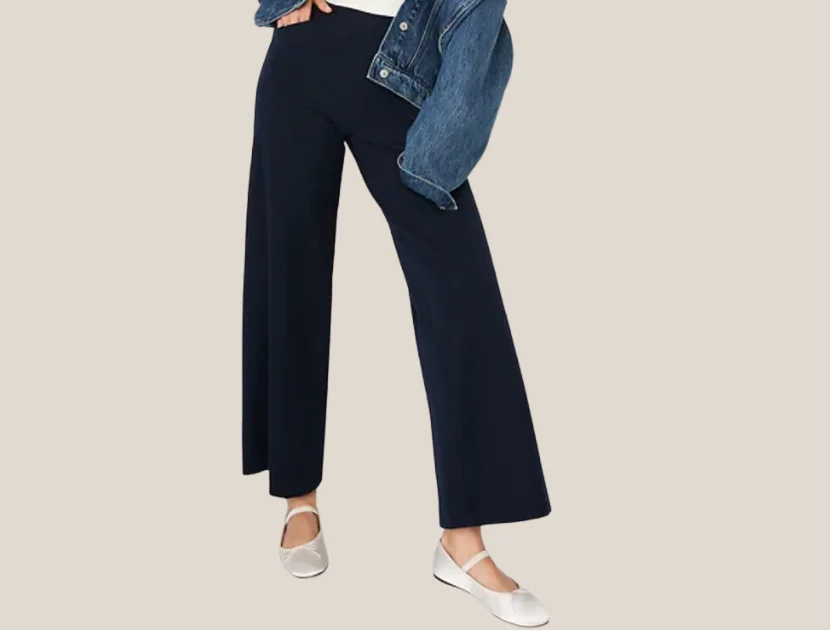 You'll see that they are narrow through the thigh and then move outward.
Look for a style that has a flat front and little detail at the waist.
Scalloped Details
We are seeing scalloped details on everything from tops to bottoms to bags.
It feels like a southern, warm weather detail.
So if you want to add some femininity to your style, this is an easy way to do it.
And there are lots of options.
Below is a Scalloped Halter Sweater Shell from Ann Taylor, available in white or black, in XXS – XXL in regular and petite.
Priced at $64.50 with 25% off.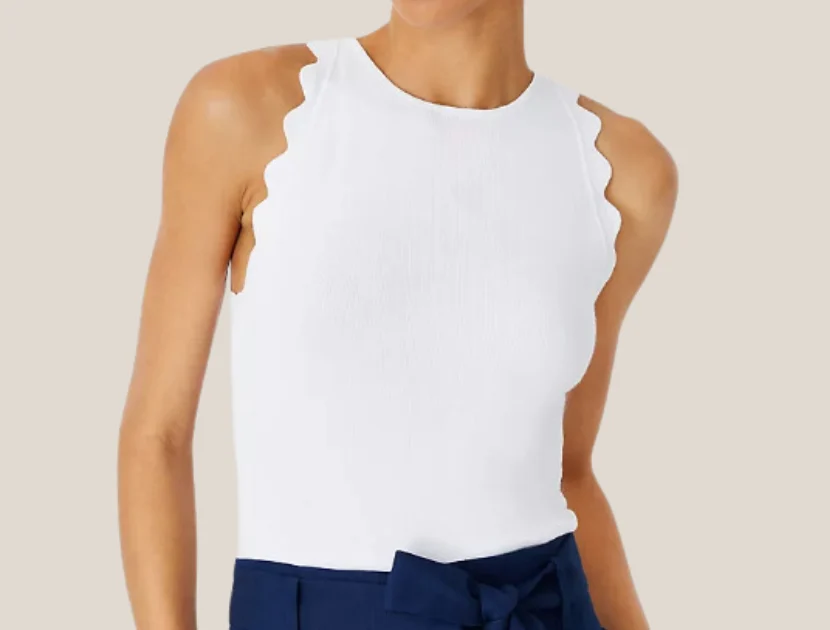 If you'd like a top with more coverage, Talbot's has a crewneck with scalloped trim in a range of colors and sizes.
You'll also see these on shorts from brands like J.Crew and Lily Pulitzer.
I found this skort on Amazon that is adorable to wear casually or to golf.
Or you can add a wink of the detail on your flip flops.
I just ordered these Cushion Celine Reef's for under $50 with a scalloped strap in neutral.
Raffia Shoes and Accessories
We've shared lots of raffia accessories over the last few weeks.
Including this best selling clutch from Amazon.and these under $30 earrings from Etsy with rattan details, adding a beachy element to summer dressing.
And when I came across this pair of flat sandals, I thought they were going to be much higher priced.
They look like something you would find on Tuckernuck.
Turns out, they are from comfort-focused brand, Naturalizer, and they are $80.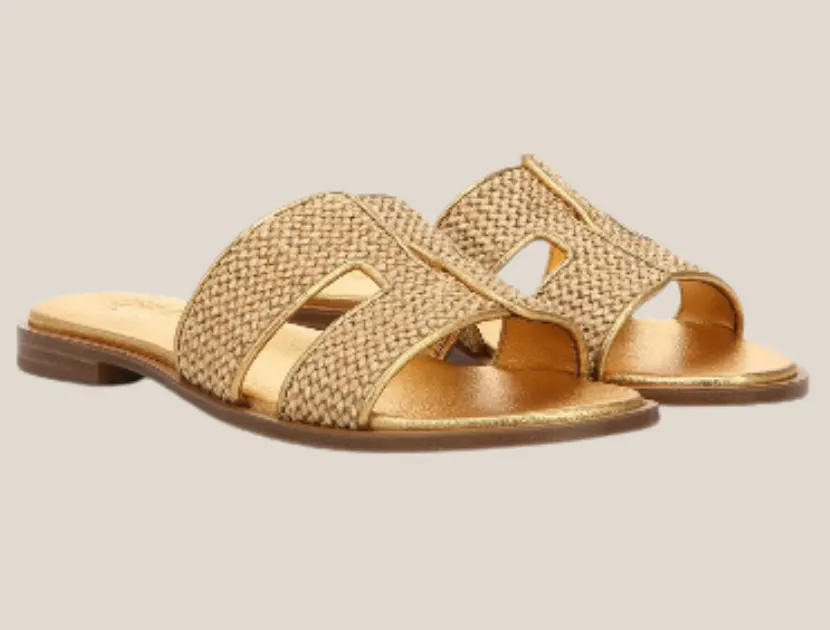 You can wear these with linen dresses and bottoms, summer-weight denim, shorts, ankle pants, lots of options.
Cargo
Seeing cargo "come back" is funny because it feels like they were just in style.
But like all styles that come back around, these are different.
Cargos of the past were messy, utilitarian, and sporty.
This version is clean and sophisticated – dare I say better?
And instead of wearing them with flip-flops or chunky sandals, we're wearing proper shoes.
We recently shared this pair from Banana Republic, available in several colors, in sizes 2 – 20 with petite and tall options.
These run narrow in the hips.
I ordered a tall in sizes 10 and12, and ended up keeping the 12 and having the waist taken in. So if you are between sizes go up one.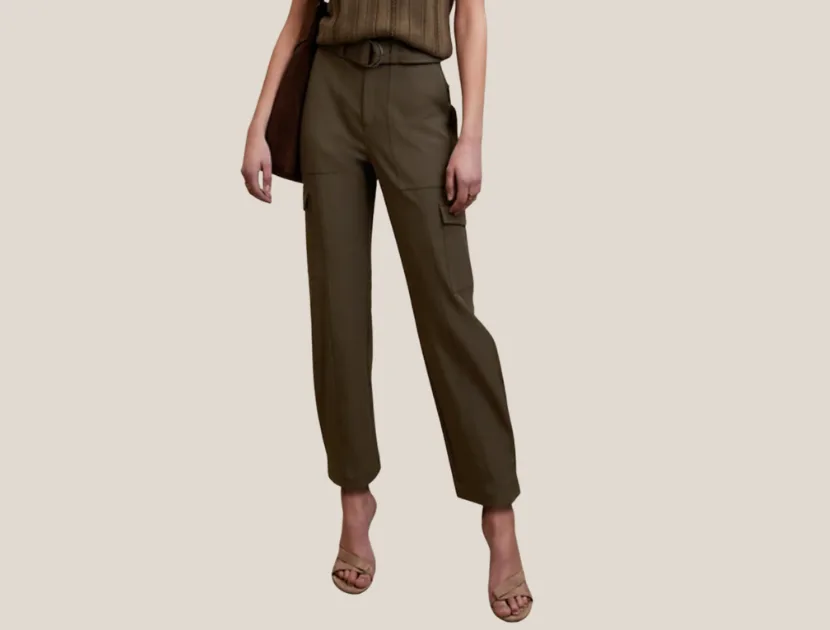 I like these styled with a lightweight knit and strappy sandal.
Orange
The color orange is everywhere and I am here for it.
On its own or mixed with complimentary colors it's so fun, bright and cheerful.
Last week we shared this preppy orange cardigan with pink trim from Talbots and it's my favorite items of the season.
Yesterday we also featured this one shoulder cotton poplin top from J.Crew and below is a pretty sleeveless top working with the eyelet trend, also from J.Crew, both available in XXS – 3X.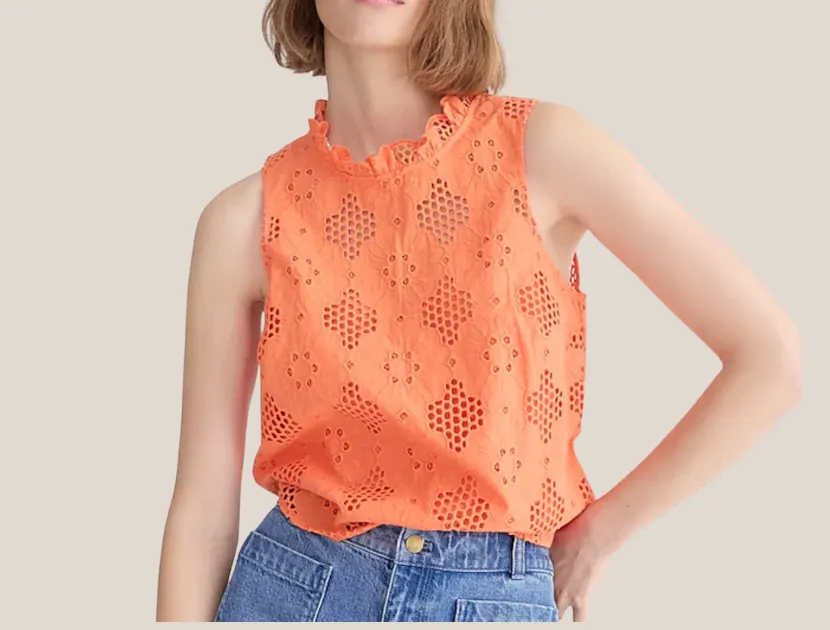 Of course, if you don't like wearing orange up against your face, work it into an accessory.
Like these orange raffia sandals, from Dolce Vita, or these orange woven slides from one of our favorite brands, Birdies.
I wish I saw the Birdies slides sooner, I would have scooped up the toffee colored leather. They look like the perfect entertaining at home shoe for the summer.
Or add a pop of color with these sophisticated earrings from Julie Vos.
Denim Skirt
Denim skirts are everywhere.
Frankly, I don't know if I can pull this off, but I do think it's cute in certain looks.
I would NOT spend here.
Instead, opt for an affordable option like this one from Old Navy for under $40.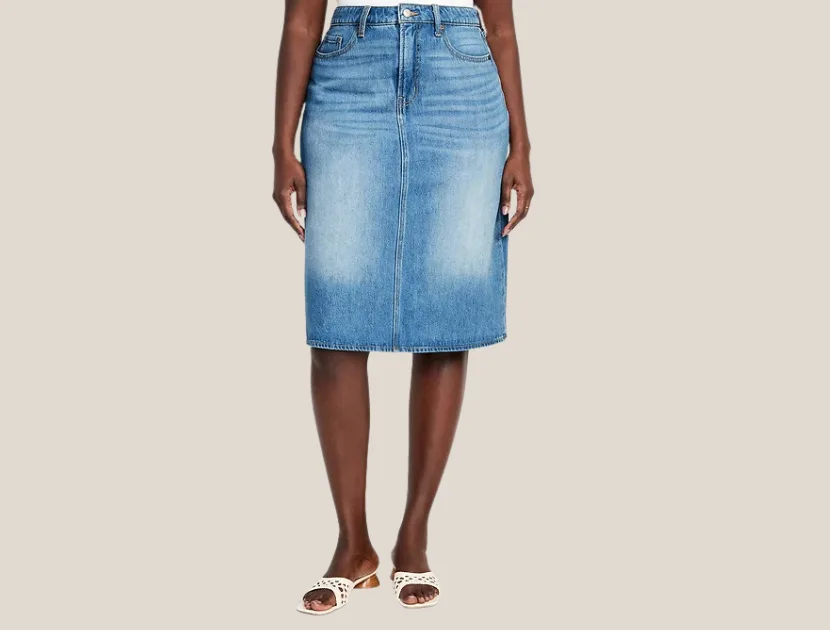 I would keep the styling supper simple.
Wear with something like this white Gap tank, or the best selling racerback tank from the Drop, and either white sneakers or casual sandal, like these Birkenstocks.
Matching Sets
I spend a lot of time o TikTok so you don't have to, tracking trends and looking for emerging styles.
One category that is on fire right now is matching sets.
It all started with this set from Free People.
Women went feral over it.
Then, of course, everyone found a dupe on Amazon.
Now, it's nothing but sets.
And I'm kinda into it!
Especially with some of the affordable options on Amazon.
Like this two piece featured below, in a range of colors, for under $40, in sizes XS -XXL.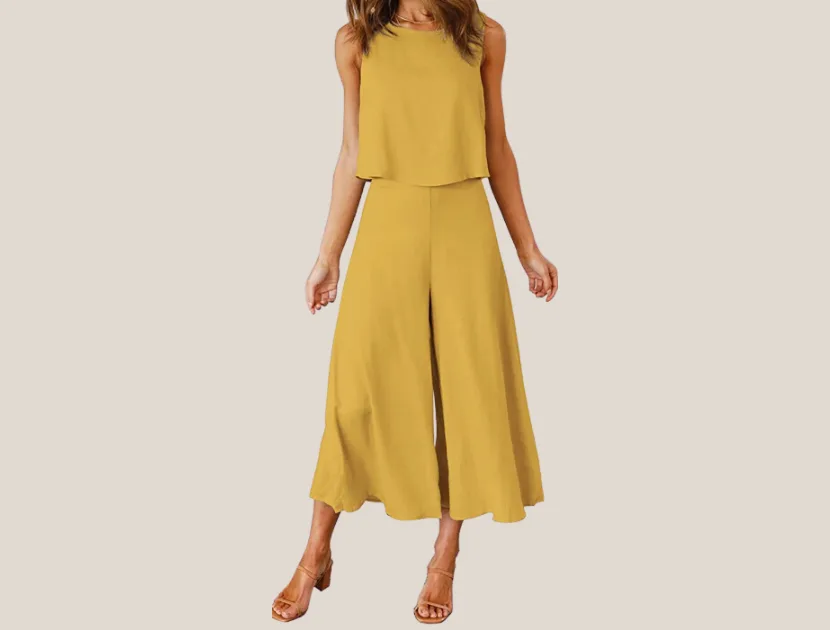 Another popular option is this set with sweet ruffle detail, also in a ton of colors, up to a size XXL.
These are fun for vacation, zhushed up with some jewelry and fun shoes.
Slip Dresses
Finally, slip dresses are the new "it" style.
Now, the last time I wore a slip dress, I was going to a fraternity formal, and had zero body fat.
These days, the style is a little more challenging to pull off, but I like the idea of them SO MUCH.
Finally a dress with clean lines and no frills.
And this option, from Vince Camuto, gives the feel of a slip dress with a little more substance.
It's only $50, available in black, navy, pink (below) and red.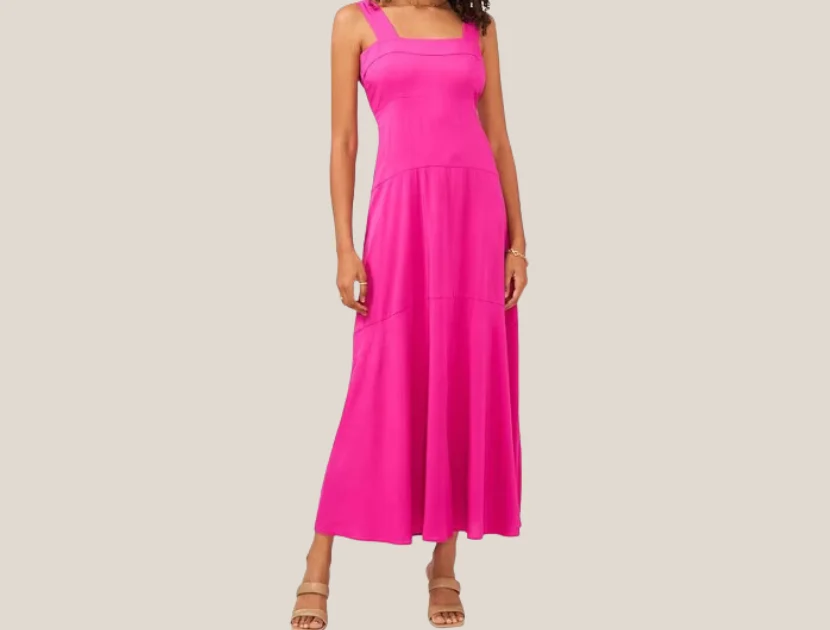 This is cut on the bias, giving it a slip dress shape, but you get a little more coverage.