When I was in college, I worked at a bridal store for two semesters.
I could write a blog entirely about the antics that took place there, from the staff to the brides. It was pure, hilarious insanity.
One of our rotating tasks was steaming the gowns and veils. The steaming center was tucked away in the very back of the store, separated from the break room by a half wall.
No one ever wanted to do it because it meant losing a chunk of your time on the floor selling. I, however, would happily volunteer to help. Hiding away from the brides, their mothers, their 45 bridesmaids, and the rest of humanity appealed to me even then.
So off I would go for hours, left alone with my thoughts, or chat with whomever else working in the back. Steaming days were the best days.
It turns out; I find the chore somewhat therapeutic. I zoned out as I watched the wrinkles disappear. And I felt oddly satisfied as I hung each finished dress on the completed rack.
To this day, I still enjoy the process.
I get asked almost every day to recommend a good steamer. Over the years, I've tried several, from travel-sized to professional. But there is one that I recommend time and again.
The Best Garment Steamer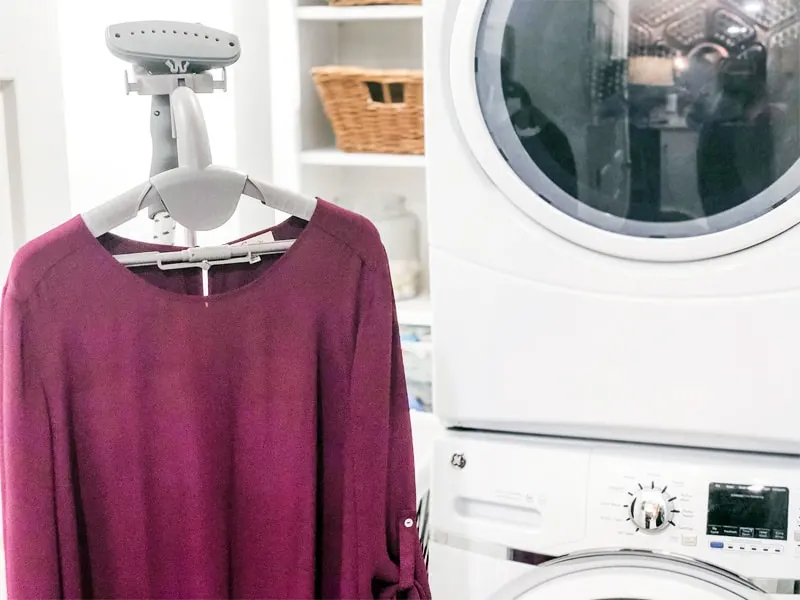 Steamer, $70
My favorite steamer is the PurSteam Elite Garment Steamer, available on Amazon for $70. It's high quality, well priced, and its features are useable.
Don't you hate it when you buy something, and you don't need all its bells and whistles?
Me too.
Here are the other reasons why I love this steamer and use it all the time.
Long Steam Time
This steamer heats up in under 60 seconds and provides a steady, strong steam stream for one hour. Most only go for 20 – 30 minutes. That makes a huge difference in getting through a family of four's clothes for the week. My kids wear uniforms to school, and using a steamer instead of an iron to smooth out and freshen up all of their pieces saves me hours.
Bonus: the adjustable hanger is helpful. Sometimes I use it if I only have one or two items to steam. Other times I line up garments on my rolling rack and work down the line. Either way, the machine is easy to use.
Save on Dry Cleaning
I used to have a terrible habit of dry cleaning anything I didn't want to deal with or just because I didn't want to iron it.
I know, don't judge; we're all works in progress.
So a quality steamer helps because it lets you freshen up your garments in between professional cleanings and, in some cases, eliminates the need. In either case, you save a fair bit of money on your dry cleaning bill.
You Can "Unshrink" Things
Awhile back, I read that a steamer can help you unshrink specific garments depending on the fabric. I didn't believe it until I tried it myself.
Run the steamer over the garment and gently pull the fabric as you move across it. You'll start to see the fabric relax.
This trick works on cotton, some poly blends, and different knits. Because the steam in this particular steamer is so strong, it makes it quick and easy to bring shrunk garments back to their original size and shape.
Great for Other Household Tasks
Since our remodel and now going through decorating all our new rooms, I've used our steamer to fresh up fabrics, steam out curtains, and bedding fresh out of its packaging.
You can easily roll this from room to room. The cord is long enough to go where you need to within a space, and the arm extends to reach high up.
Pursteam has almost 2,000 five-star reviews on Amazon, including praise for their warranty and customer service. I don't have any personal experience with them, and as usual, this is not a sponsored post, but it's nice to know if you have an issue; they will take care of it.
Our Style Content is Inspired by Our Readers
Our readership inspires all of our posts and is not sponsored or paid for by brands or retailers.
Recommendations are based on my experience as a personal stylist and wardrobe consultant for over a decade. I worked with busy, down-to-earth women who wanted to look chic and feel confident but were often confused by so much of retail.
Some links are affiliate links, which means if you purchase via our site, we receive a small commission.

If you enjoy our content and would like to help us grow, please follow on Instagram and join our Private Facebook Group to access more advice and exclusive in-depth conversations with other like-minded women.
Learn about our mission to help women look and feel their very best, every day, here.
Get on The INSIDER Waitlist for Spring/Summer 2021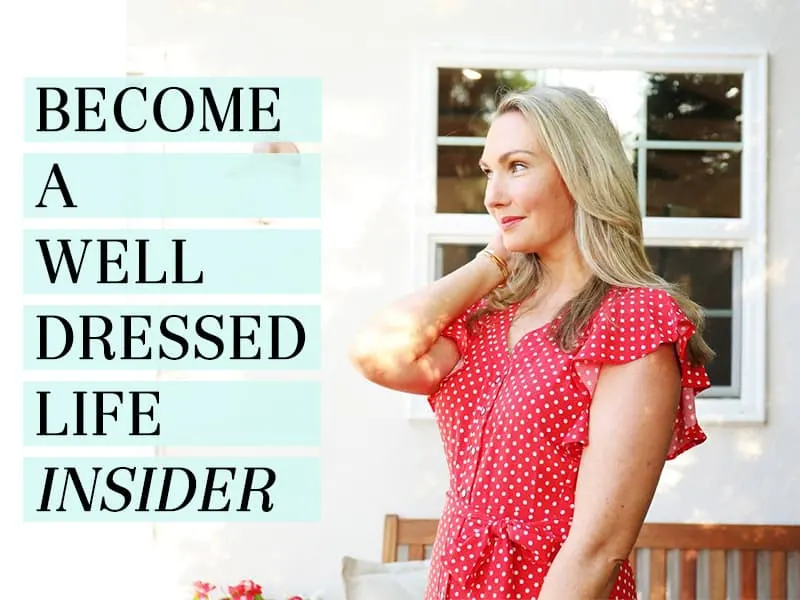 Sign Up for Daily Content and Receive Our Free Classic Wardrobe Checklist