Long-time readers know that Julie Vos has been among my favorite jewelry brands for years.
I stumbled on them a few years back while scrolling Instagram and instantly loved her designs.
It's funny because I lean fairly simply with my style choices.
And my everyday jewelry tends to follow the same vibe: delicate and subtle.
Julie Vos's pieces are the opposite; they are bold, opulent, with a dash of preppiness and a more is more attitude.
But at the core of the design is a classic timelessness, which I adore.
And paired with my fairly basic wardrobe, her pieces stand out and work perfectly.
Their jewelry is hand set in 24k gold plate over nickel-free brass. (Silver lovers, this one isn't for you.)
I've worn her pieces for years, and they are lightweight yet sturdy and do not tarnish or stain.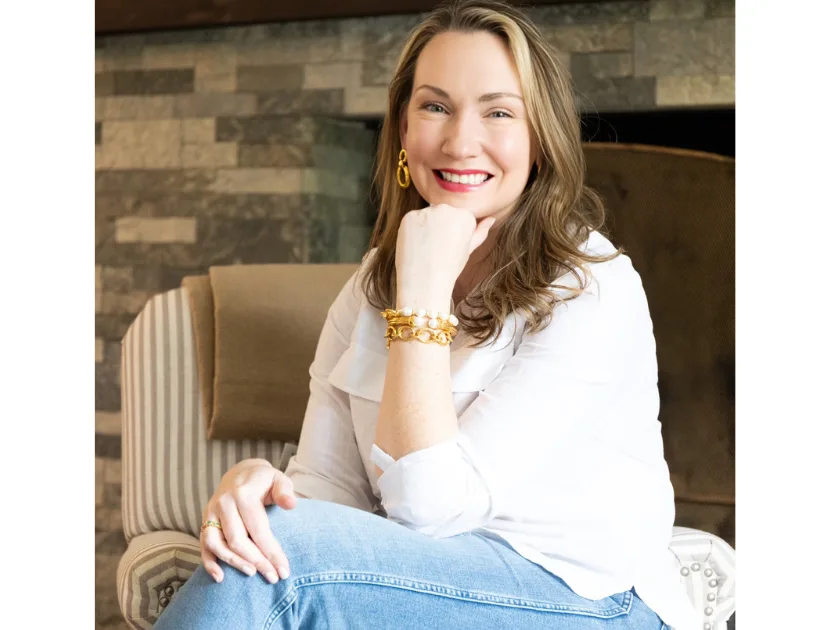 So imagine my delight when Julie Vos asked if they could send me some pieces from their spring collection.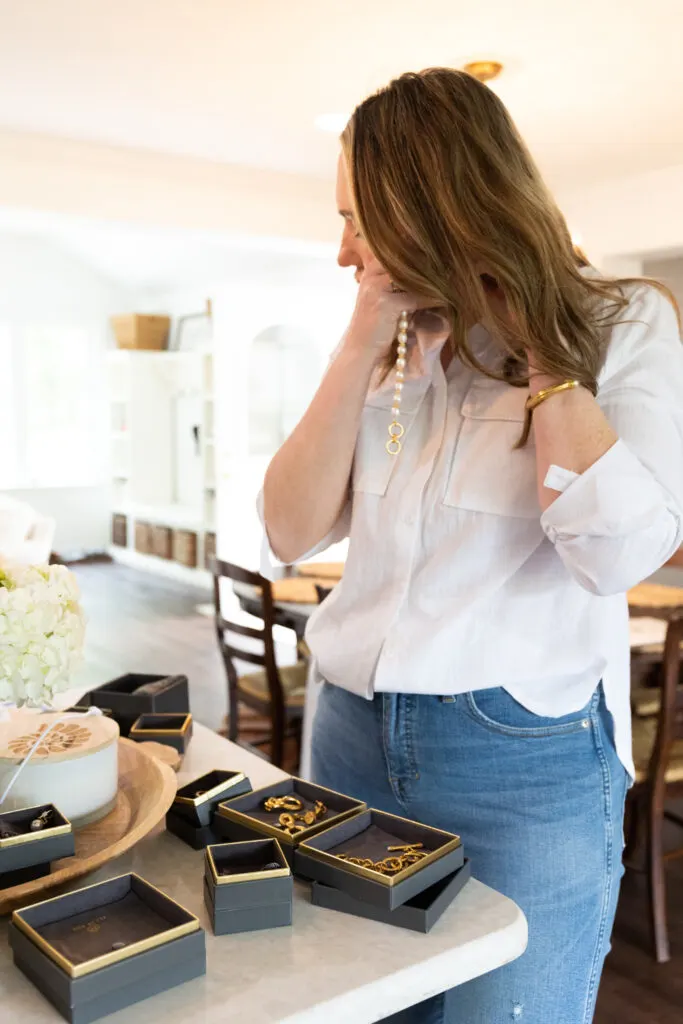 I think there is a misconception that I have access to clothes and inventory from the brands we feature, but I actually have less access than most content creators.
It's the price I pay for my unfiltered commentary.
I buy EVERYTHING myself, and, no, I can't write it all off.
But I appreciate it when a brand recognizes that I'm a genuine fan AND understands that women over 40 have value and spending power.
The more brands that get that, the better our retail options will become.
So while this post is not sponsored, some of the pieces featured were gifted to me.
I make no exaggeration when I say that no one sends me anything.
There aren't PR boxes at my door like you see on social.
So, I squealed with delight like a kid on Christmas morning as I unboxed everything.
It was SUCH a treat.
The pieces are beyond stunning, and options start at $65.
If you're giving anything from Julie Vos as a gift, the presentation is elegant, including a pretty jewelry bag and gorgeous, sturdy box.
So below are my favorites and some of our reader faves from their spring collection.
And if you're celebrating Mother's Day this weekend, remember, anything bought a few days before or after counts as a gift 😉
Spring Faves from Julie Vos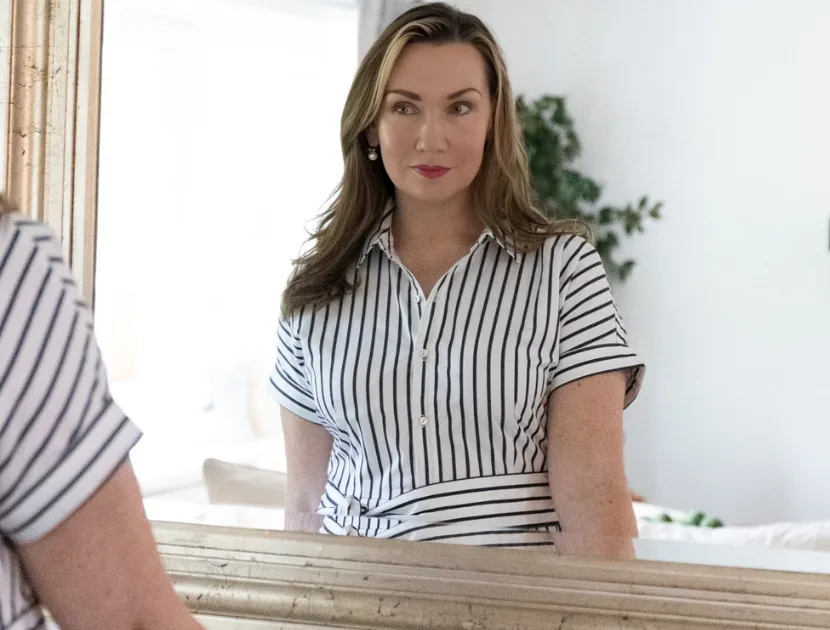 SoHo Demi X Stud Earrings
A lovely entry point purchase, these X stud earrings are $65, and come in gold or mixed metal with black and gold detail.
These are part of my daily jewelry rotation.
They go with everything.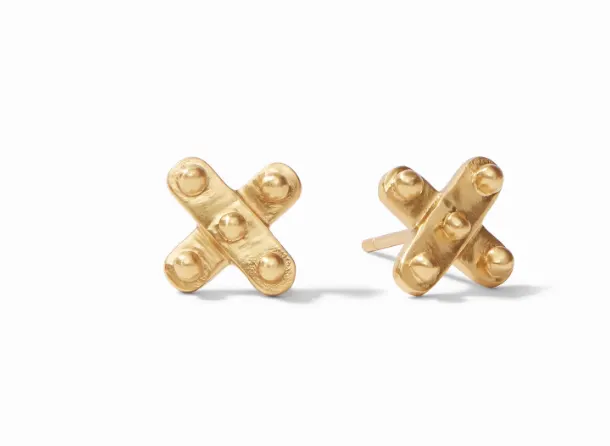 1
SoHo Demi X Stud Earrings
Julie Vos
$65
Juliet Pearl Hoop
Another under $100 earring option is the super wearable Juliet Pearl Hoop in size small (also available in larger sizes).
Perfect for jeans and a tee shirt. It's feminine, lightweight and goes with everything.
I should also mention, if you like pearls, their Penelope Pearl Stud is another reader fave.
Available in small or large starting at $75.
You've seen me wear them in the large.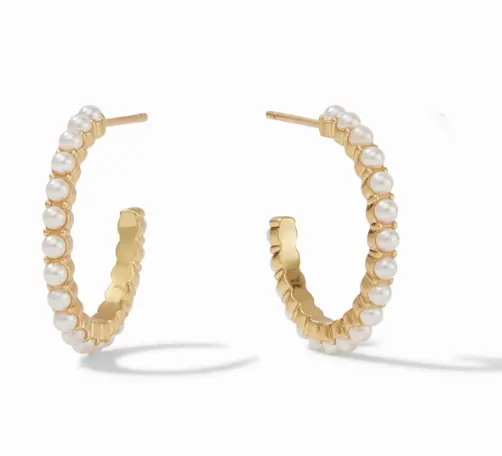 2
Juliet Pearl Hoop (Small)
Julie Vos
$95.00
Fleur-de-Lis Hoop & Charm Earring
A few options are in the $150 price range.
Like the Fleur-de-Lis Hoop & Charm Earring. Available in a dozen colors, I have the pink.
You can wear it with the gem facing out or flip it and have the Fleur-de-Lis featured.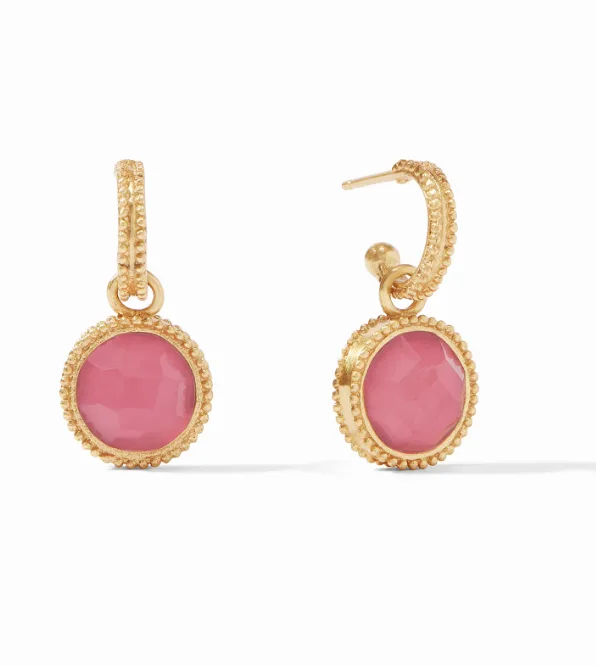 3
Fleur-de-Lis Hoop & Charm Earring
Julie Vos
$145.00
Charolette Pearl Earrings
I'm wearing the Charolette Pearl Earrings in the above image.
We talked at the begininning of spring about how pearls done in modern ways would be a big trend for the season.
And we used these as an example.
They are a beautiful example of how we can take something traditional, like a pearl, and update it in a way that feels fresh.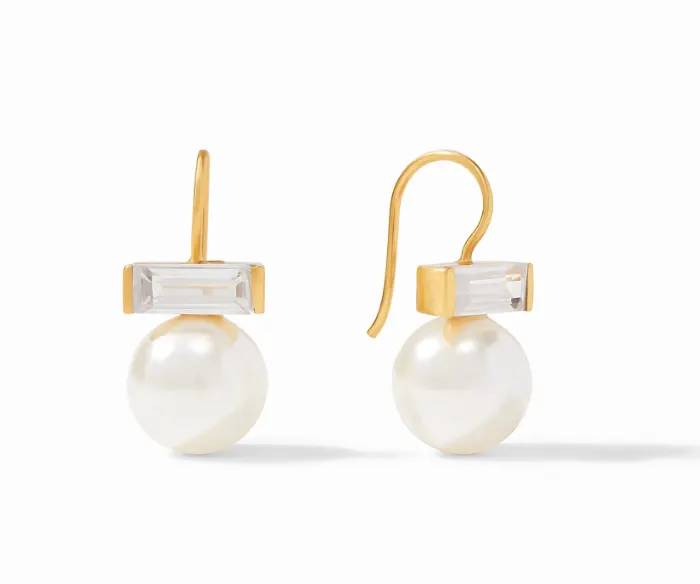 4
Charolette Pearl Earrings
Julie Vos
$145.00
Mykonos Ring
Also in the under $150 range is their Mykonos Ring.
This sits comfortably on the hand, and despite looking, substantial is not heavy.
Available in a range of colors, including a pearl option, in sizes 6,7,8,9.
I have the Bahamian Blue, below, which looks more blue in person.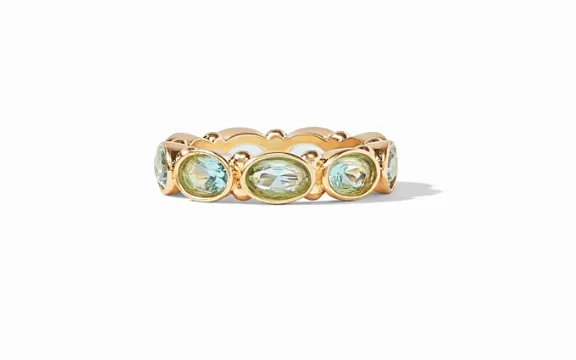 5
Mykonos Ring
Julie Vos
$135.00
Calypso Trio Ring
Another gorgeous ring option is their Calypso Trio Ring, three delicate rings featuring a single pearl that stack comfortably to make one statement ring.
It's only $125, making it a fantastic gift or self purchase 🙂
I'm wearing it in the image at the bottom of the post.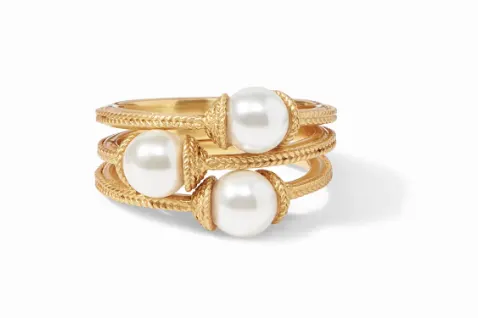 6
Calypso Trio Ring
Julie Vos
$125.00
Palermo Statement Doorknocker Earring
I'm wearing these Palermo Statement Doorknocker Earring in the first picture.
Honestly, I worried they were going to be a little too big for me, but to my surprise, they work perfectly with white collar shirt and jeans.
Again, lightweight, and I should mention in all my years wearing these pieces they have never stained my skin or become tarnished.
And the earrings are just fine for my sensitive ears.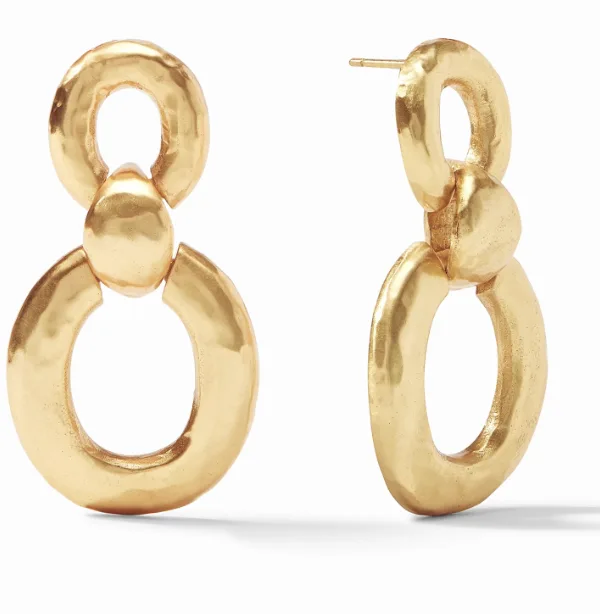 7
Palermo Statement Doorknocker Earring
Julie Vos
$165.00
Marbella Bracelet
The first bracelet in my stack (above) is the Marbella Bracelet, featuring shimmering freshwater pearls—each one naturally unique—linked by gold rondels.
It's gorgeous. I love it.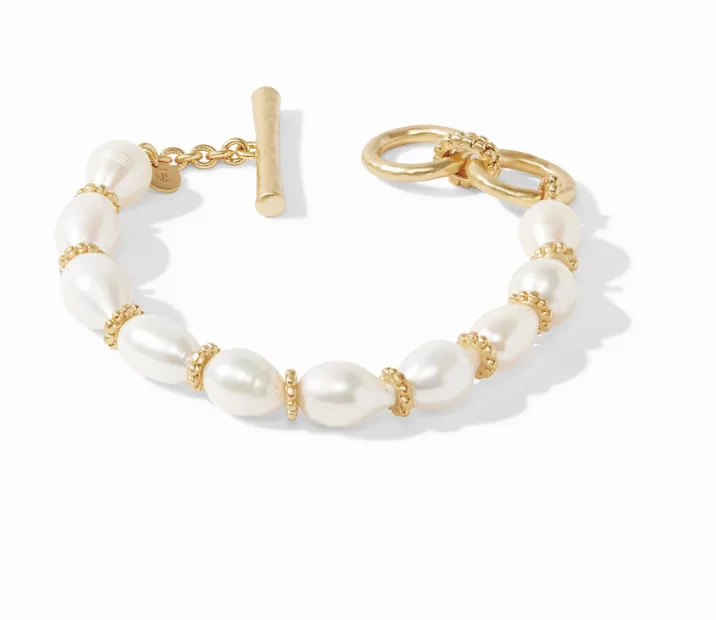 8
Marbella Bracelet
Julie Vos
$255.00
Catalina Demi Link Bracelet
The next bracelet in my stack is the Catalina Demi Link Bracelet, available in regular or long.
I took the regular length.
It's a pretty layering piece for a collection of bracelets on your wrist, or you can keep it simple and wear it alone.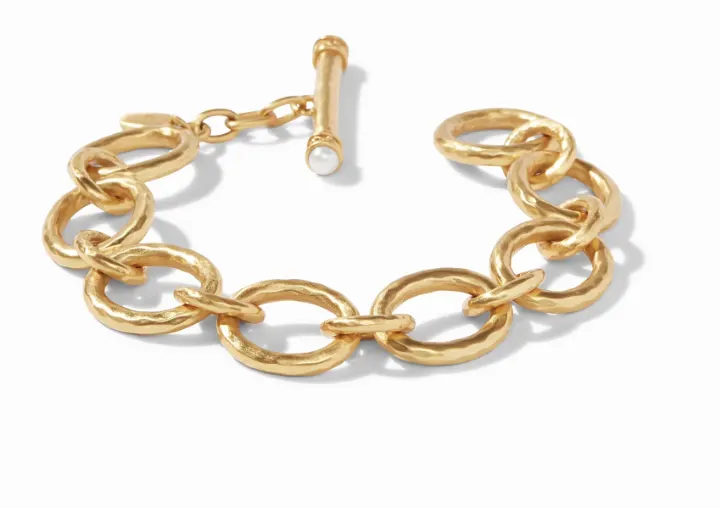 9
Catalina Demi Link Bracelet
Julie Vos
$235.00
Flora Demi Cuff
And the final bracelet is their Flora Demi Cuff.
This is a real stand out piece for me. I love that it's unique and simple at the same time.
Again, wear alone or mix with other pieces.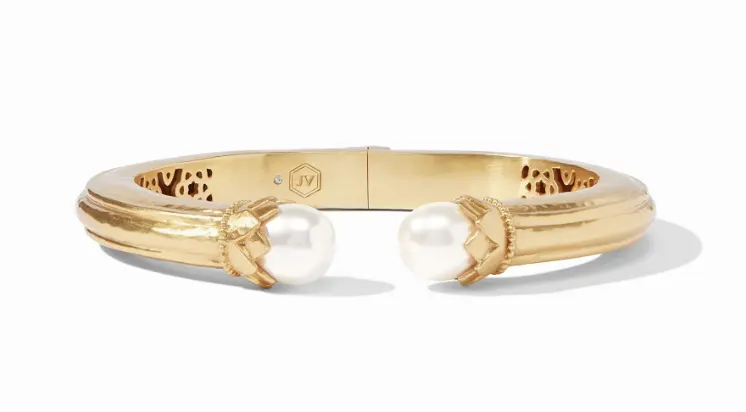 10
Flora Demi Cuff
Julie Vos
$275.00
Flora Pearl Pendant
Finally, two necklaces I have to share.
Every Mother's Day I get a new Julie Vos piece, and this year it's the Flora Pearl Pendant.
I love that you can wear it as a long necklace or double it for a shorter length.
When I mentioned it in our Mother's Day Gift Roundup many of you picked it up too!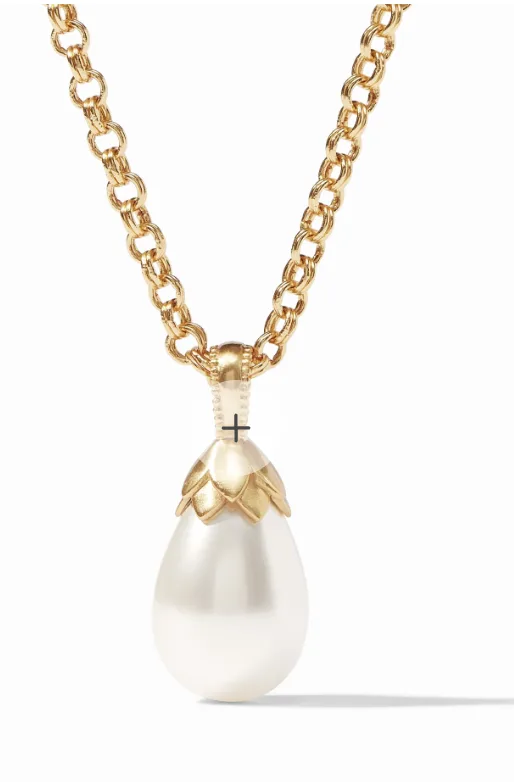 11
Flora Pearl Pendant
Julie Vos
$195.00
Mykonos Pendant
And the last necklace I need to mention is the Mykonos Pendant.
We featured this a few months ago (in Obsidian Black) and I couldn't believe how many of you picked it up!
This is a long statement necklace, with a mosaic placement of (your choice of) stones on the pendant.
Featured below in the pearl, but you can choose from eight gems.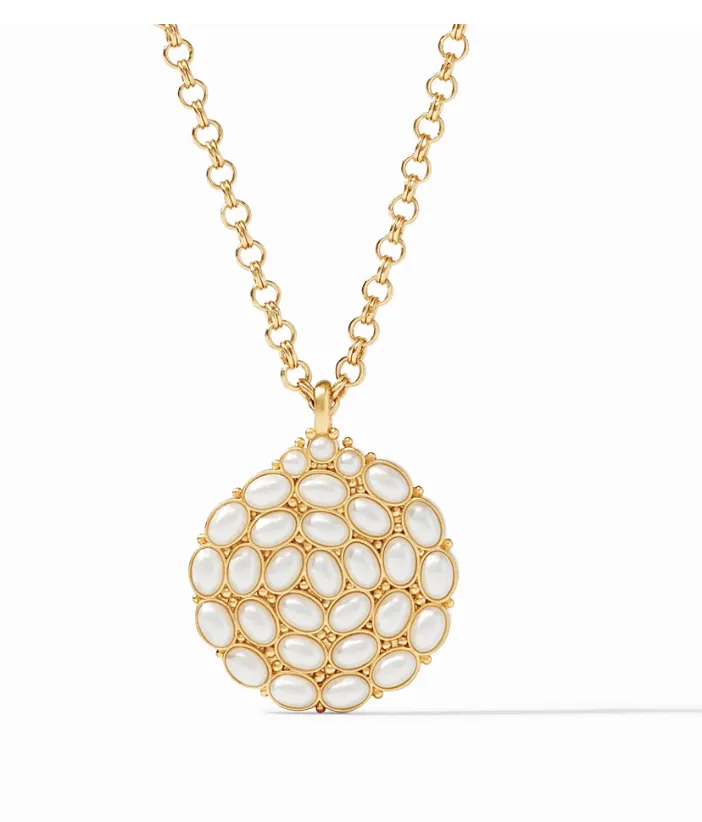 12
Mykonos Pendant
Julie Vos
$265