One of the biggest voids in many women's wardrobes is the "going out top." Spending so much time at work, raising kids, and generally running the world, a night out with your partner or friends, even for a little bit is a rare treat.
So it's no surprise that when the time comes to open your closet and throw on something cute – something that you didn't just wear to work, you have nothing.
In the coming weeks, we'll focus on a variety of "going out" top styles.
Today, we're starting with a wrap top, because it works on so many shapes and sizes, and is a style available at almost every retailer.
These are all reasonably priced, most are on sale, since this particular category doesn't get much priority in our budgets.
Wrap Style "Going Out" Top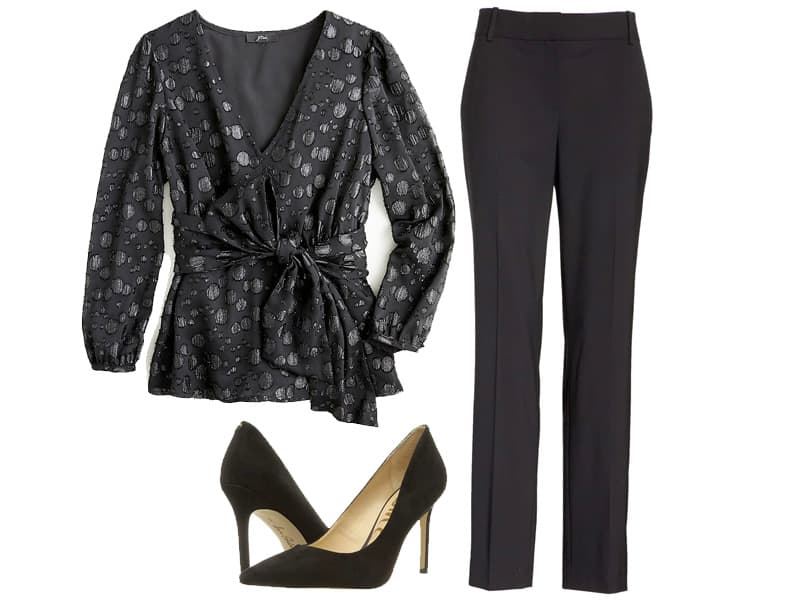 Top, $50 | Pants, $285 | Heels, $120
This blouse, by J.Crew is a faux wrap, which I like since you don't have to fuss with keeping it closed. The shape is flattering bringing you in at the waist and elongating the line of your body with the v-neckline.
The bow is dramatic, so keep that in mind. It acts like an accessory, but does add some bulk.
I love the texture, which adds drama without being too in your face. And the sleeves are sheer (see below on me) fulling committing to a look you won't likely wear to the office.
It's on a CRAZY sale right now for under $50 ( I paid retail!) and is available in all sizes up to a 3X.
It dresses up easily with simple black pants and classic pumps – all must haves in your wardrobe. You can also pair it with your favorite pair of dark jeans.
Never Miss a Post! Get our Daily Content Delivered to Your Inbox and Download Our Free Wardrobe Checklist Here!
Other Options
This Halogen wrap is a simple crepe that drapes beautifully, available in Missy and Plus.
Banana Republic has a satin version in an updated cut, available in Missy, Tall and Petite up to size XXL.
If you don't love the idea of a tie consider this wrap-inspired top by Karen Kane (on sale). You get the flattering cut with a little ruching in a cleaner application.
Way at the other end of the spectrum is this sequin Michael Kors top (on sale). It is just the thing for a girls weekend. Maybe you have something planned in Vegas, or you're being dragged to a bachelorette party.
Trust me, I've been the "old mom" out with the 20 somethings, you never want to look like you are trying to hard but don't want to feel frumpy either. This is perfect if you want to look classy, but ready for a good time. (Also available in this stunning silver.)
Sheer Sleeve Detail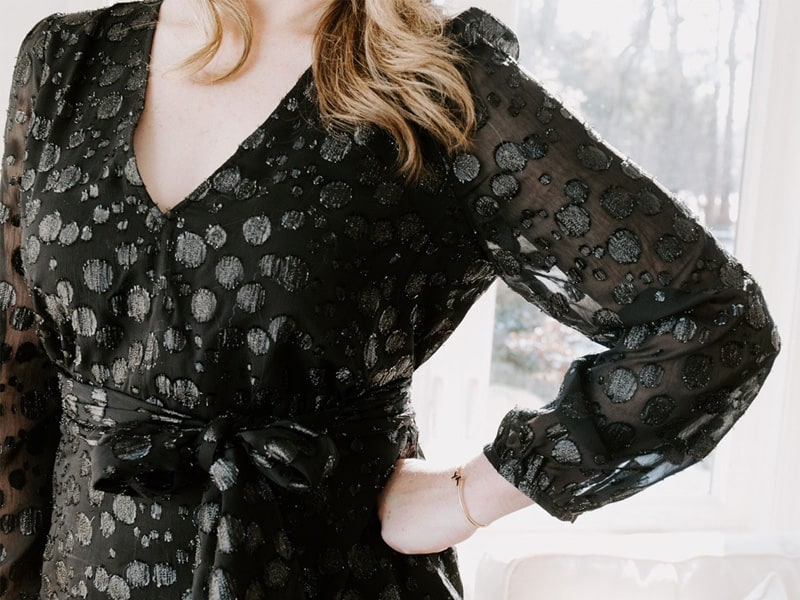 Keep it Simple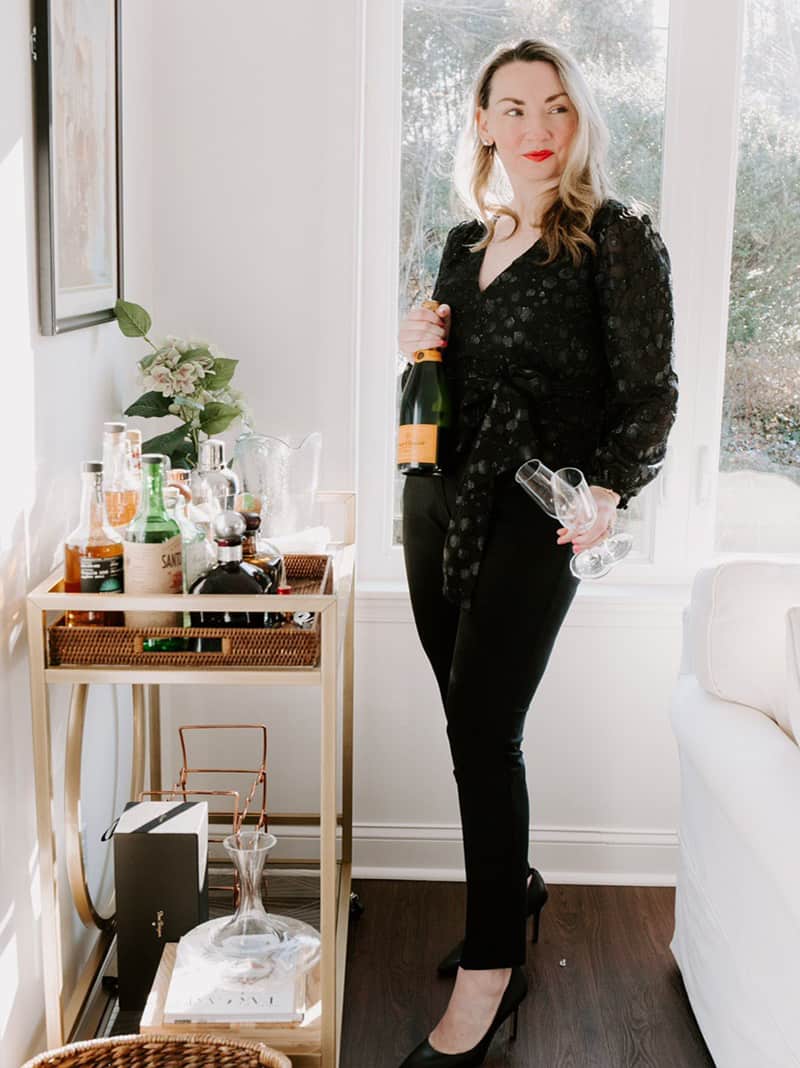 Any time you wear a piece with a lot of drama, keep everything else as simple as possible. Here, I'm essentially keeping the bottom half of my outfit like a pedestal. It helps create a long and lean look, and balances the top. The only "accessory" I added is a bold-for-me red lip.
_________________________________________________________
Our content is not sponsored or paid for by brands or retailers in any way. Recommendations are based on personal experience and my time working with women as a stylist and wardrobe consultant for over a decade. Some links are affiliate links, which means if you purchase via our site, we receive a small commission.
If you enjoy our content and would like to help us grow, please consider following on Instagram for even more free tips, and join our Private Facebook Group for access advice in-depth conversations with other like-minded women.