"I would never wear a light-colored dress!"I hear you.
Yes, light-colored dresses are scary; but we can do scary things.
Light neutrals are incredibly elegant and sophisticated, so if you promise not to eat spaghetti at lunch, I'm confident you'll navigate your day flawlessly.
Are you still freaked out? No worries, this perfect sheath is available in four other colors, including black, navy and dark green. I'm trying to create some fresh looks that don't feel so redundant and also inspire you to step outside your comfort zone.
This dress by Donna Morgan is on sale at Nordstrom Rack for under $40, in sizes 0 – 16. Run, don't walk. The fit is divine, the neckline is universally flattering, and you can comfortably wear it with our without a jacket. I like it especially for travel since you can pack it in your suitcase and be dressed in 30 seconds – zip it up, and you're done.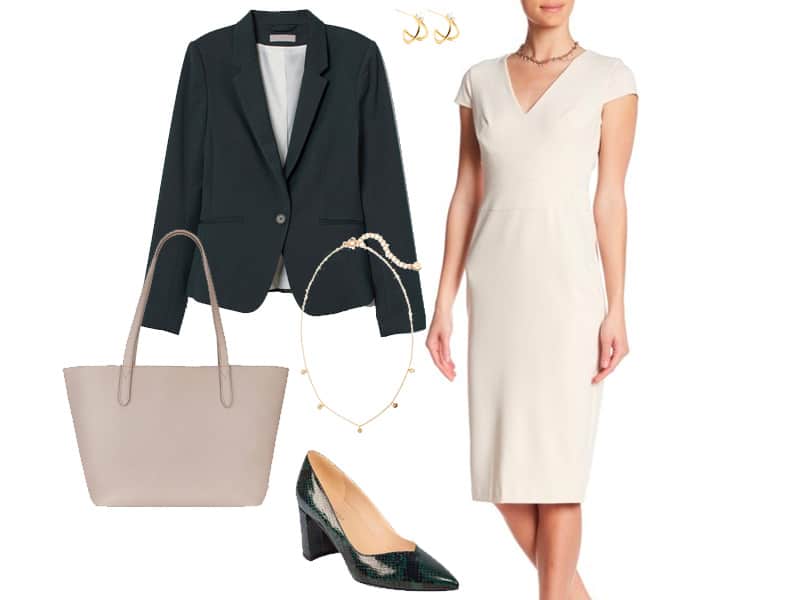 Blazer, $35 | Dress, $40 | Heel, $60 | Tote, $130 | Necklace, $55 | Earrings, $45
Since we are currently in early fall, I paired it with an equally affordable one-button blazer by H&M ($35) in dark green. It's also available in five other colors.
Can we talk for a second about H&M?
I avoided them for years. Their sizing was always off, I'm usually a six or an eight but would have to buy a 12 or 14. Aside from the vanity aspect of having to size up to make something work, the fit never felt right.
Then there is a bigger conversation about fast fashion. There is too much to unpack in one paragraph, but for a long time, it seemed like they were leading the pack of retailers promoting disposable clothing. Sustainability in retail is a big issue, and we are a long way from (1) getting it right, and (2) making it affordable to the masses.
Today, H&M has revised it's sizing to be more in line with US sizes and is also working to be completely sustainable by 2030, while already implementing changes to become more transparent with its business practices.
So, we like them again.
Back to Our Workwear Look
I added a simple leather tote from Gigi New York. It's clean, logo-less, and keeps your things neatly organized. You can also get it monogrammed, and of course I would.
Next up, a heel.
I say this with all the affection in the world to all my lovely readers with foot issues – I can't help you. I'm a stylist by trade, I don't know about orthotics or arch support. And I don't want to pretend like I do. So if your doctor told you to wear a certain shoe, wear that shoe, don't listen to me.
I like this pump because it's a block heel which is easier to walk in during the day than a pencil heel. You can't tell in the image above but it has python print, in black and green, so it brings texture to your outfit while grounding it in seasonal colors.
Finally, jewelry. I have spent so much time trying to find interesting pieces, at affordable prices, in a modern design for grown ups – that isn't Kendra Scott. (Love her, but we all have the same pieces and they all look the same after a while.).
So when I read about Gorjana on another blog, I had to check them out. If you like simple, modern, delicate pieces that run under $100, you'll love it.
This chocker is $55 and makes a great base for layering. And these "hoops" are so lovey and easy to wear for $45.
[affiliate_product id="28400″ align="left"] [affiliate_product id="28408″ align="right"] [affiliate_product id="28421″ align="left"] [affiliate_product id="28440″ align="right"] [affiliate_product id="28446″ align="left"] [affiliate_product id="28454″ align="right"]