Today I wanted to offer an updated style idea. On this site we work a lot with straight-lined skirts and slim-lined pants, but what about other shapes and silhouettes?
Midi lengths skirts (ones that typically hit about two – three inches below the knee) became popular a few seasons back. Initially, I thought they would be a quick trend, but it looks like they are going to have some longevity. You can see them showing up in more mainstream brands and retailers, and have become the length of choice for the likes of classic style icons, like Kate Middleton.
Personally, I find them a welcome change from everything being so-short-you-can't-sit- down. If you like the look, but fear you might not have the height to pull it off, a simple hem right below your knee will create a balanced proportion. I'm close to 5'10, and I still have the length adjusted to the most flattering spot on my leg.
The blazer and the skirt in the look below are both key elements, because the jacket brings both balance and structure, and the skirt creates interest and movement.
Let's break it down:
Workwear Inspiration: Midi Length to the Office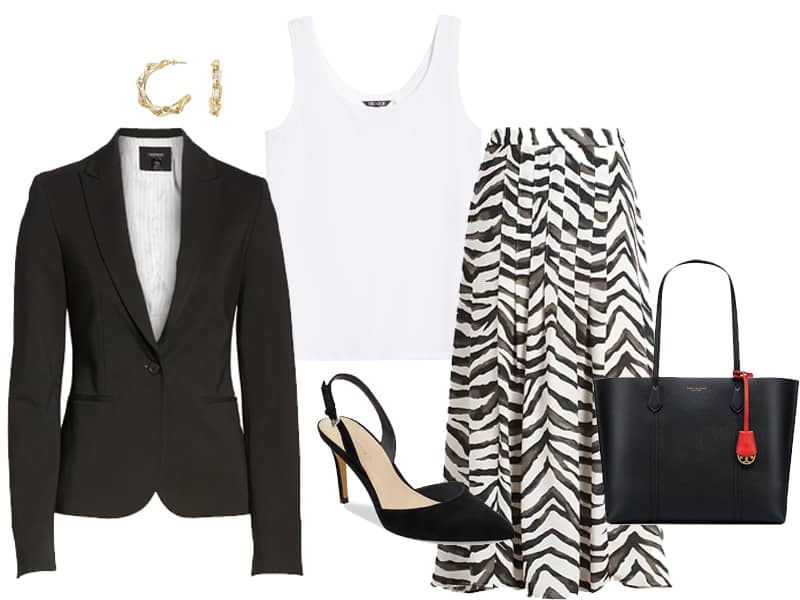 Blazer, $98 | Skirt, $119 | Pump, $45 | Tank, $48 | Tote, $348 | Earrings, $69
This skirt from Banana Republic (available in all sizes up to a 20 in missy, petite and tall) brings the midi length and animal print trend forward, in a super wearable piece. You can wear it so many ways. For a holiday event, add a slim fitting cashmere sweater, high heel, and small clutch. Or, take some inspiration from yesterday's post and pair it with a cotton tee, jean jacket for date night.
Here, we take it to the office with a black blazer. It is incredible how versatile a classic, one-button blazer is in your wardrobe. Aside from a pair of sweatpants (and who knows where the trends will one day lead us), you can wear it with anything. I use them all the time to pull you in and provide structure.
This particular blazer is from Nordstrom for under $100. It's made from a ponte knit, so you'll look pulled together but not too fussy or formal. It's a great pick for a business casual office. Consider sizing up if you order it.
Plus size? This Vikki Vi blazer is a great option, also at Nordstrom.
An important note about fit: When wearing a skirt that has extended length, be sure your jacket or top hits at your hip bone or above. Any longer and the top will overwhelm you. You'll go from chic to frumpy in seconds.
As a layer, wear any tank you already own and like. Back in my personal styling days, I worked a lot with this Nic + Zoe "perfect tank". It fits and washes well and is a reasonably price since many brands go well into the $100 – $200 range for a simple tank (stupid).
You can find Nic + Zoe at Bloomingdales, Neiman Marcus, and Nordstrom. I included the link to Nordstrom since they have the best color selection and offer petite and plus sizes.
For a shoe, a sling back, with moderate heel works nicely with the weight of the skirt. If you need a pair and don't want to spend too much, these Marc Fisher's are under $45 at DSW and get positive reviews.
When wearing a bold print, I like to keep accessories to a minimum. Of course, wear your everyday jewelry, and maybe one statement piece, like these earrings on sale for under $70. Finally, grab a clean-lined tote, like this lovely Tory Burch option with the perfect little pop of red.