My pre-kids, never wanting to live in the suburbs self, loved fashion. I LOVED it and had a whole career lined up so I could be smack in the middle of it all. But as I grew up, I gained buckets of responsibility and made life choices that quickly realigned my priorities, my passion for it started to wither.
The world of fashion is glamorous, expensive, and indulgent. The industry itself can be cut-throat and at times, unhealthy. I think, as my life evolved, I found it hard to relate to the former, and I can't cope with the latter.
But I have to admit, occasionally I miss geeking out over it. I also miss doing something I was really good at, like putting an open-to-buy together, or, my favorite, trend forecasting.
Trend forecasting, specifically for the fashion industry, combines data-driven analysis with an instinct to predict emerging trends. It helps a designer figure out where to focus their collection, it guides a store in determining their merchandise mix and helps magazines and websites curate content.
I loved that work so much because it appealed to both my business and creative mind.
I can still quickly spot a trend and know how it is going to translate across seasons. But I can't do much with that insight now, but, I can share some of it with you! So today, I thought I would start to incorporate some of that knowledge into a few posts, with the idea that it could educate and inspire you to try a trend in, of course, a practical way.
Trend Alert: Glen Plaid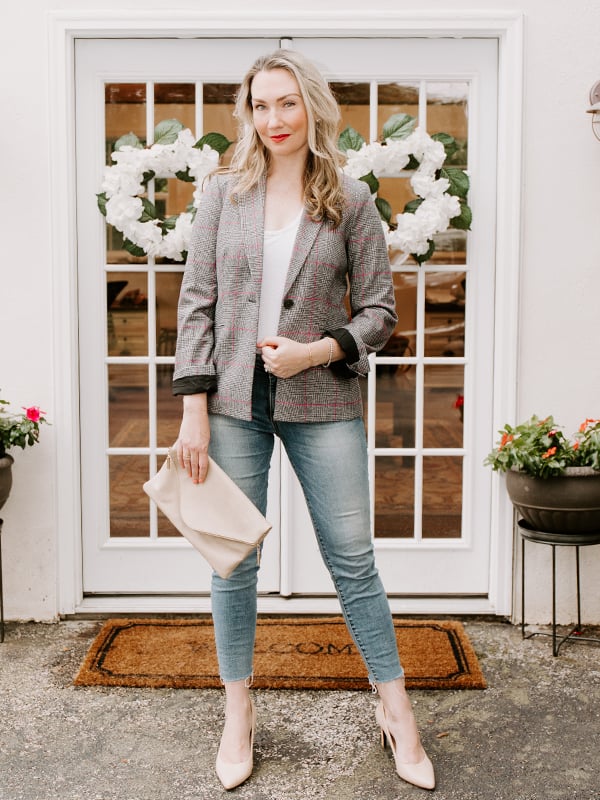 I love it when something classic becomes trendy. Or when something stylish gets a classic update. This season we see a lot of fresh takes on some long-standing basics. Animal prints, for example, are everywhere. I've always considered them a neutral, or a fun way to add a pop of personality, but this season they are being worn head to toe. For my money, I keep the print on your bag or shoe and wait for the Janice from Friends trend to fade.
What I would wear head to toe, is Glen Plaid. Glen Plaid has been around for ages, mostly in traditional menswear. Women have had it as an option, but usually in more conservative applications, like a Brooks Brothers suit.
But now, after the print showed up in designers collections for 2018's Fall Fashion Week, we're starting to see it in mainstream retail. Happily, it's both updated and modern, while still maintaining its classic feel.
Last month, I grabbed this blazer from J.Crew. It's wool blend, so it'll be wonderful to have once fall decides to show up. You can make it a suite with the matching skirt. I, of course, bought it to wear with jeans, since that's my weekday uniform. The magenta pink accent running through the plaid helps it feel not-so-serious. It's under $90 with sizes up to a 24. I'm wearing an 8.
To take it to work without having to commit to a suit look, simply add your favorite pair of black pants and a simple pump.
Some Other Glen Plaid Work-Worthy Pieces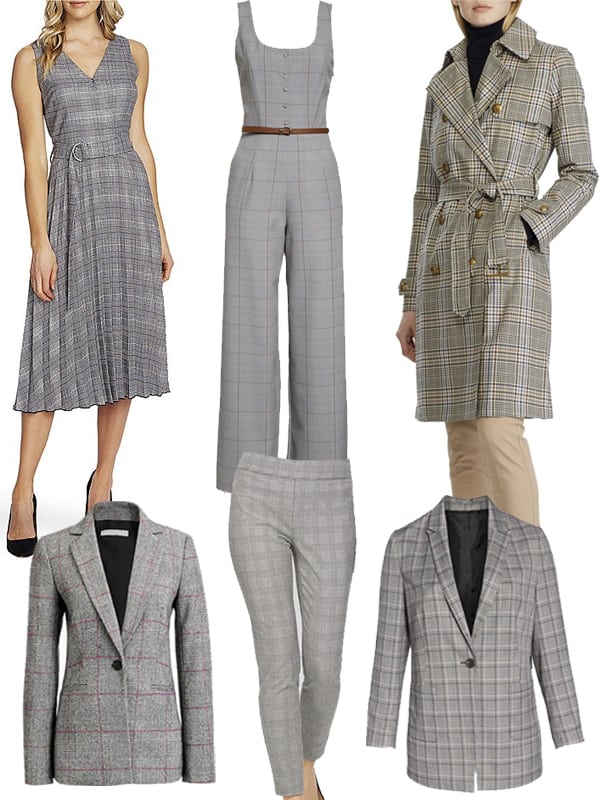 Dress, $159 | Trench, $221 | Blazer (Plus), $138 | Blazer (Misses), $89 | Jumpsuit, $149 | Pants, $75
Dress, $159: It was easy to find variety here. Starting with this dress that I adore. I would add a one button black blazer and slim knee high boots.
Trench, $221: This coat is so good it hurts. All you need is a neutral sweater and dark jeans and you have the perfect fall outfit.
Jumpsuit, $149: Not everyone can pull off a plaid jumpsuit to work, but if you can, I highly encourage it. Add a cardigan to bring it back to work place appropriate.
Blazer, $89: My blazer (above) is available in all sizes. If, however, you are plus and need a slightly different cut, check out this one at Nordstrom.
Pants, $75 : Don't be scared of patterned pants, paired with a solid sweater or blazer, they can be a nice addition to your wardrobe and break up your tendency to wear nothing but black pants 🙂