This content has been archived. It may no longer be relevant
I realize I am a walking stereotype. I live in the burbs, wear yoga pants, drive a small gang of children around in an SUV and love my solo trips to Target, especially now that my local store has a Starbucks right in the entrance. What's worse is that I don't care. I could not be happier being as basic and boring as I am.
That said, for someone who tries to help other women get dressed, I was in a bit of a fashion rut, so getting a little out of my vanilla comfort zone is a good thing. That's why I picked up this leopard print shirt dress (for under $30) on my last Target run.
Dresses are a fantastic option for any kind of office. For both conservative and professional ones, sheath dresses with some stretch give you shape and comfort. (I like this popular dress we featured in July in missy and plus sizes).
Casual offices are where you can get creative. I've always said if your workplace allows jeans, you can have some fun in your style choices. This shirt dress, with its classic silhouette and bold print, is an easy option.
Leopard Print Shirt Dress from Target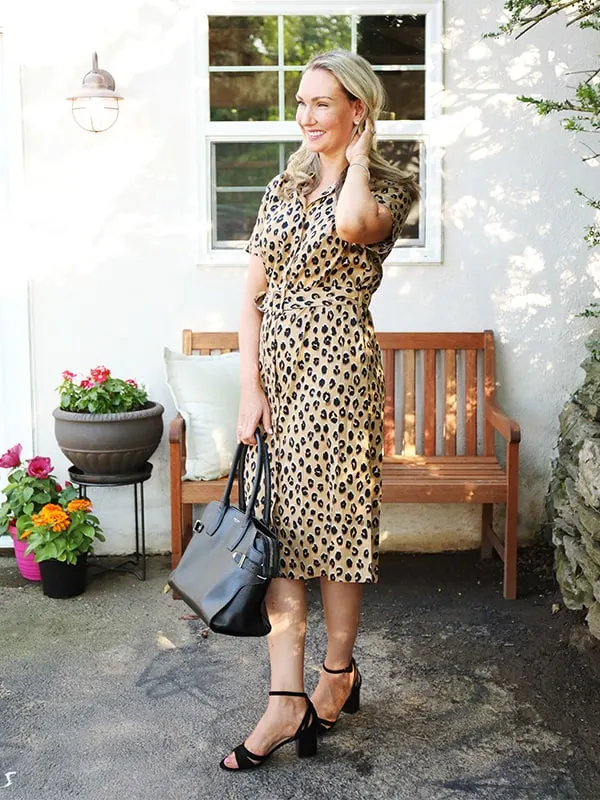 Shirt Dress: Missy: $27, Plus $29 | Shoes : Old Via Spiga (similar here) | Bag: Old Henri Bendel (similar here)
Let's talk about the dress. It's available at Target for under $30. The missy sizes range is from an XS – XXL and they offer it in plus from 1X – 4X. I'm wearing it in an medium. I could probably wear a small but I like how the shoulders and under my arms fit here. This has some room in the waist, but I don't mind it. I like that it's not skin tight and breathes.
A lot of times, when a dress comes with a belt, we'll tell you to swap it out for something more substantial. But here, I like the interest it gives without being too obvious. Of course, if you have something that works, play around with it. Just be sure it's not too heavy for the weight of the dress.
I prefer a block heel, which brings some balance to the look. I also like a block heel in the summer because it helps make an open, strappy shoe feel more significant and appropriate for work.
In the picture I'm wearing a pair of suede Via Spiga heels I bought last year and wear to death. I like them with dresses that have some movement, midi length skirts and dressy joggers. A similar pair still available are these Sam Edelman's for $100.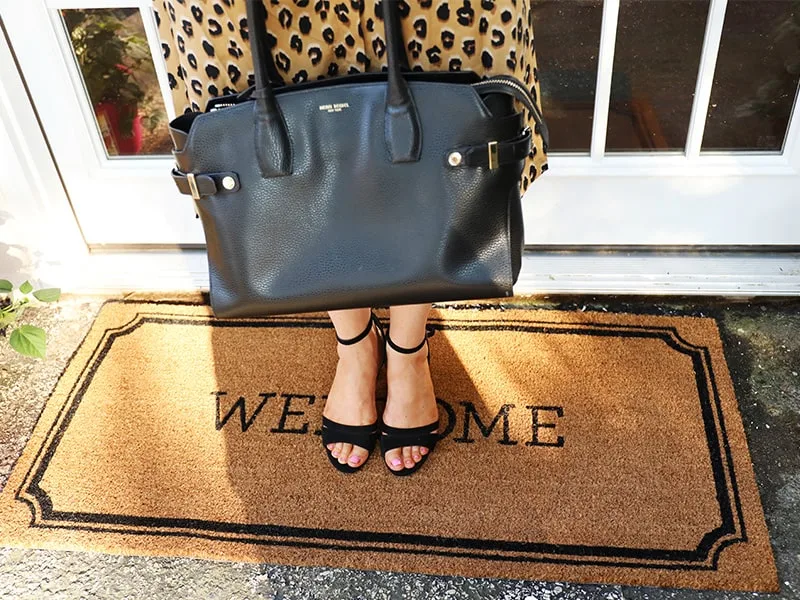 A few years ago my friend Lauren would host shopping parties at Henri Bendel. She held them on Sunday mornings, and a bunch of us would get together and use our mimosas, often skipping the OJ;), to fuel our decision making.
I'm so bummed they went out of business at the end of last year. I bought so many fantastic pieces that I still turn to, like this gorgeous black work bag. An excellent option if you are looking for something similar, and maybe a bit more functional is this Dange Dover tote in four stunning colors.
Transition to Fall
Don't limit this to your end of summer wardrobe. Move to early fall with the same bag and add a simple suede pump to get lots of use out of your purchase.
Shop this Post