This time of year, with the weather in constant flux, it's hard to figure out what to wear to the office as we straddle the seasons. Yesterday in the Philadelphia area it reached the mid-90s, today, there is a perfect fall chill.
Aside from the confusing weather, offices everywhere are becoming more casual, which adds to the struggle of getting dressed every morning.
I've always subscribed to the idea that just because your office leans casual, doesn't mean you have to follow suit. I mean, is HR going to tell you you look too nice? If you don't have to worry about being business professional, have a little fun.
Since you can only do so much with a pair of black pants before they start to feel boring, a few updated tops that are different from what you already own will make a big difference.
So when I discovered this chic top from J.Crew (factory store) I scooped it right up.
Workwear Inspiration: Black and Navy, Simple and Chic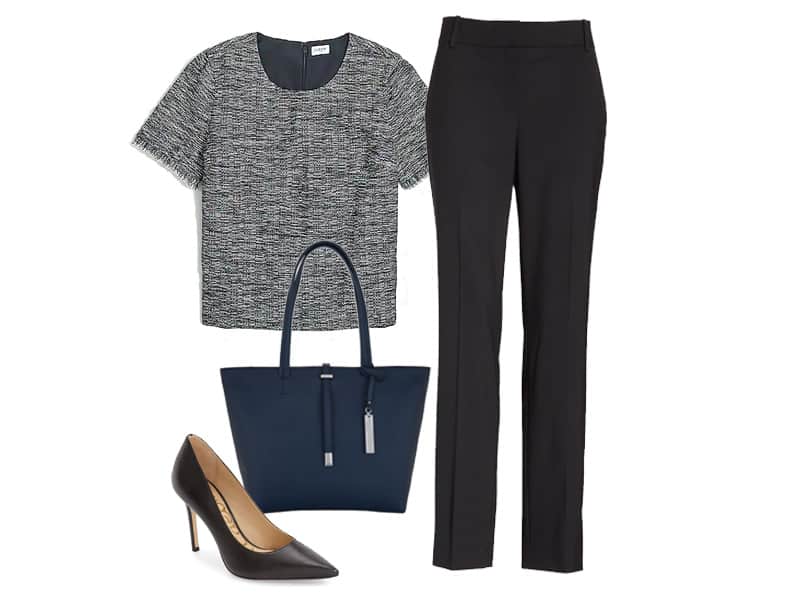 Top, $35 | Pants, $285 | Pump, $120 | Tote, $104
This is a short sleeve, lined top with a back zipper done is a pretty blue tweed. It's the kind of one step dressing that makes your life easier. Just throw it on with your go-to black pants, and you're dressed. It works for the office, or jeans for brunch.
It's available in ALL sizes up to a 3x and is currently on sale for $27.
I paired it with my favorite black pants by Theory. I purchased these four years ago, and they still look like new despite wearing them constantly. Theory generally runs small, so don't be alarmed if you have to size up. For something less expensive, Vince Camuto is a readers favorite for under $100.
You know I'm all for less is more. Why fuss if you don't have to? Grab you're everyday heels, we love these Sam Edelman Hazel pumps and a simple tote and you're dressed and look professional in under five minutes.
Here's the look in real life: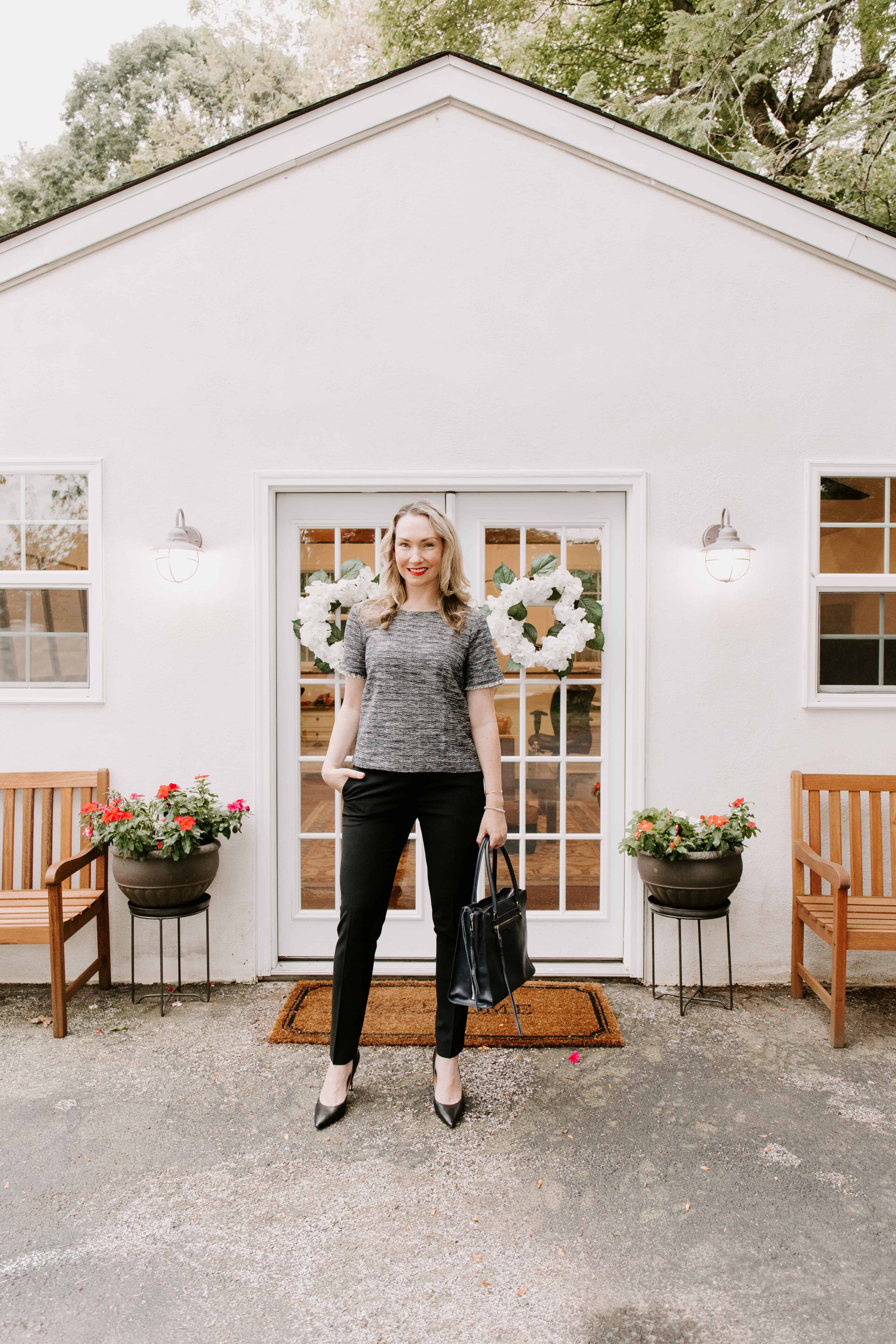 I honestly can't handle how dorky it is to pose for pictures at almost 40 years old, but I think it's helpful. (?) Anyway, the only piece different in my real life outfit is my bag, which is an old Rebecca Minkoff in a deep navy. I've never understood this but some people freak out about pairing black and navy together. It's actually a sophisticated color combination that works well especially in the early fall.
Shop this Post