A lot of my time spent behind the scenes here is searching for and trying out items so that I can make thoughtful recommendations.
I won't just feature anything. Instead, I have a set of standards for different categories, especially when it comes to price.
Higher priced pieces need to have a specific level of quality, fit and timelessness.
For me to get excited about a lower-priced piece, I need to be surprised by it. Let's face it; you can get an inexpensive dress anywhere. It will be fine, you'll make due, but it's nothing special.
Just because something is low priced doesn't mean it's a "value."
Last week, I ordered this $30 jersey dress off of Amazon because I keep hearing that their private label brand, Lark & Ro ,is worth checking out and, to my delight, this dress is fantastic.
Lark & Ro Women's Classic Long Sleeve Wrap Dress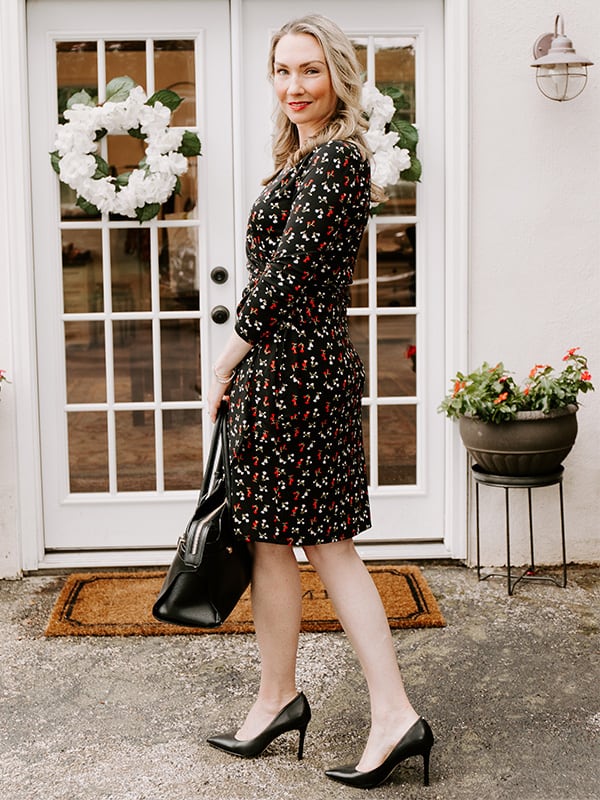 Dress: $30, Shoes: $120, Bag: Old Henri Bendel Tote
I can't get over the price.
If this dress hung in Nordstrom, it would easily be $130. It feels like the quality of an Eliza J., with a similar fit. Unlike most pieces I've ordered from Amazon (and quickly sent back) the weight of this dress gives it a lovely drape and movement. It has stretch, but isn't clingy, making it ideal for throwing in a suitcase for a business trip, or grabbing out of your closet when your running late in the morning.
Let's talk about length because if you over 5'7 in today's world, dresses are too short and unprofessional. I'm 5'10 and, as you can see, this hits at the top of my knee. If it feels too long for you, a simple hem by your local dry cleaner is all you need. (It will cost around $15 – $20.)
Because I'm getting more length than usual, I can pair it with a higher heel. Lord knows I don't need the height, but I like what it does to the line of my leg. We frequently feature these Sam Edelman Hazel heels. They are a quality shoe for $120 and surprisingly comfortable.
All in the Details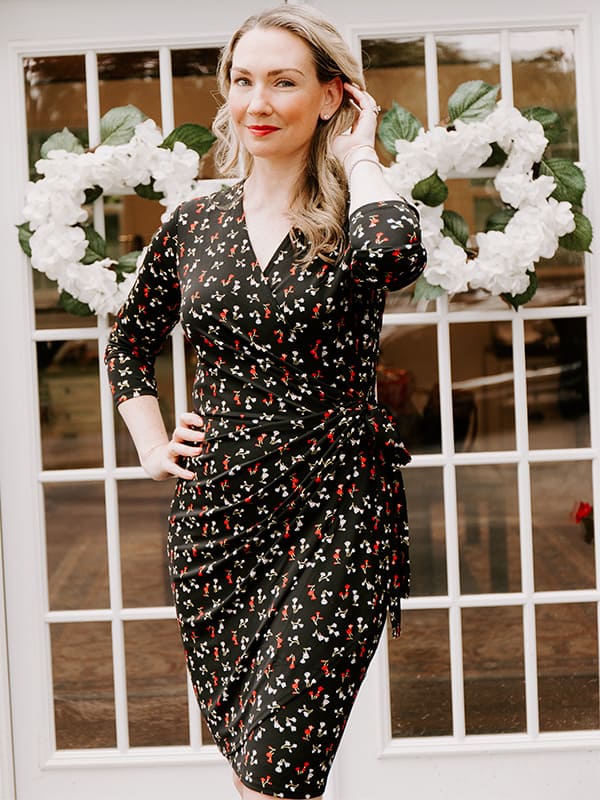 They are calling this a wrap dress, and it technically is, but what makes it different and I would argue, better, is the details. Instead of a traditional wrap where you have to physically tie it around your body, this has a button.
Notice in the photo above, where the tie is, there is a button. This does a few things. First, it creates a bit of ruching which is super flattering and slimming. I'm nine months postpartum in this picture and still curvier than usual. Maybe this is my new shape, who knows. In any case, it pulls me in to show that I still have a waistline.
Second, the substantial weight of the dress, paired with the button placement, helps the skirt slit lay flat and stay in place. And, most important, the neckline is a flattering v but isn't low at all.
Finally, since the tie is faux and secure, there's no fussing with it during the day.
Did I mention this dress is $30? Incredible.
Things to know: I usually wear a size 8 or a medium but I ordered a large and love how it fits. It's available in 22 other prints, and the price ranges within those prints. The most you'll pay for this is $40. Why? I have no idea.
Size-wise this particular dress is available in an XS – XL.
There is also a plus size option here.