Boden's summer sale is in full swing, with savings up to 50% off their signature cheerful prints and poppy colors in classic silhouettes. New to Boden? Now is the time to give them a try. Because of the time of year and the price reduction, sizes are limited. When we published this post, all of the recommendations below still have inventory in a wide size scale. But, as usual, if you like something, act fast.
I'm not a head-to-toe Boden girl, but certain pieces can add a lot of personality to an outfit. This particular sale has so many options. For today's post, I picked my top four favorite blouses, dresses, bottoms, and shoes.
Blouses and Tops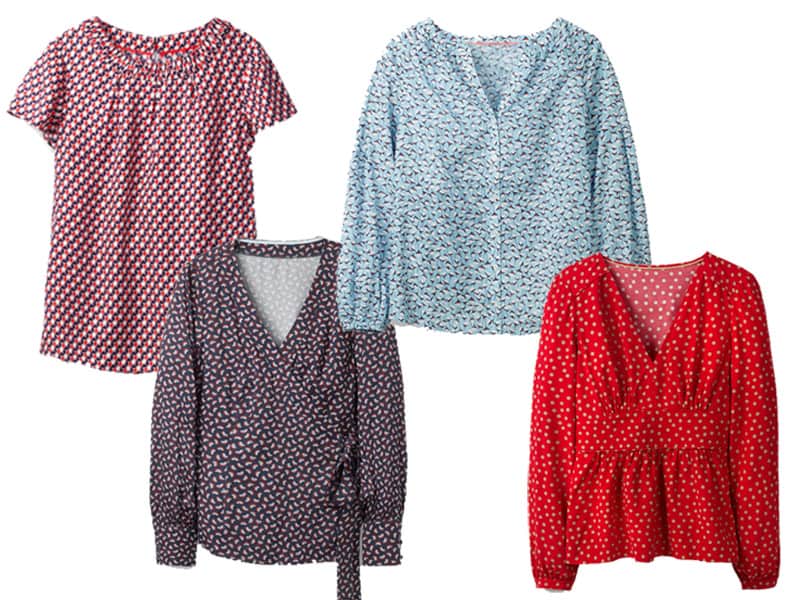 One, $15 | Two, $42.50 | Three, $39.50 | Four, $49
Under $50 for a quality blouse to wear to work (and beyond) is a fantastic value. What I like most about these tops is they are not seasonally specific, you can wear them all year long. You can wear this short sleeve blouse, with interesting neck detail, or this pale blue button-down blouse tucked into a pencil skirt or high waist pant.
For a waist defining look, take this wrap blouse (available in a couple color ways up to a size 18) or this v neck, cinched waist blouse in a fresh red and white dot print and pair it with your favorite pants or jeans. Either would look sharp with a crisp pair of white bottoms.
Dresses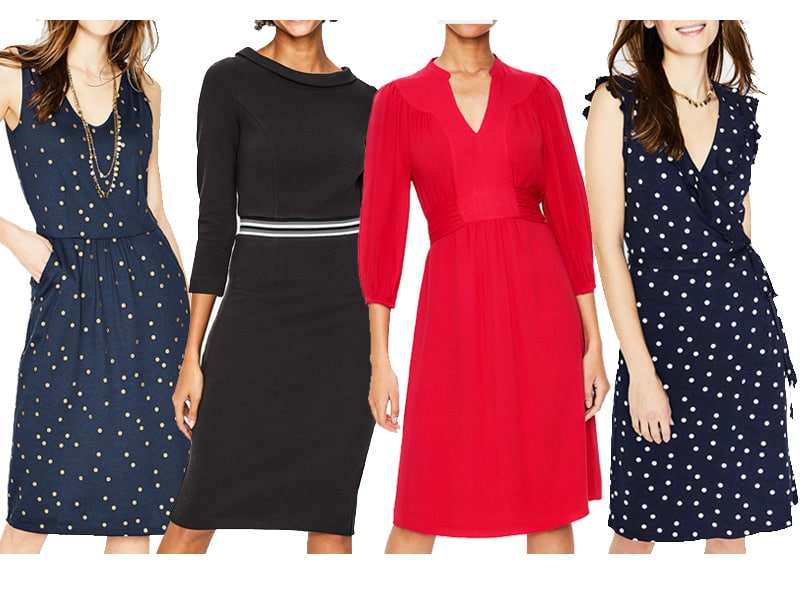 One, $42.50 | Two, $70 | Three, $75 | Four, $66.50
I LOVE these dresses. Scoop them to wear now and later.
This navy and gold dress and this polka dot dress are ideal for a casual office in the heat of the summer. Pair with simple flats and throw a cardigan in your bag so you can fight off the chill of the air conditioner.
To take you into fall, I would grab this three quarter sleeve black dress with simple retro details (bonus: it's washable!), and I picked up this gorgeous red dress to have on hand for the holidays. Yes, it's a long time away, but not really.
Shoes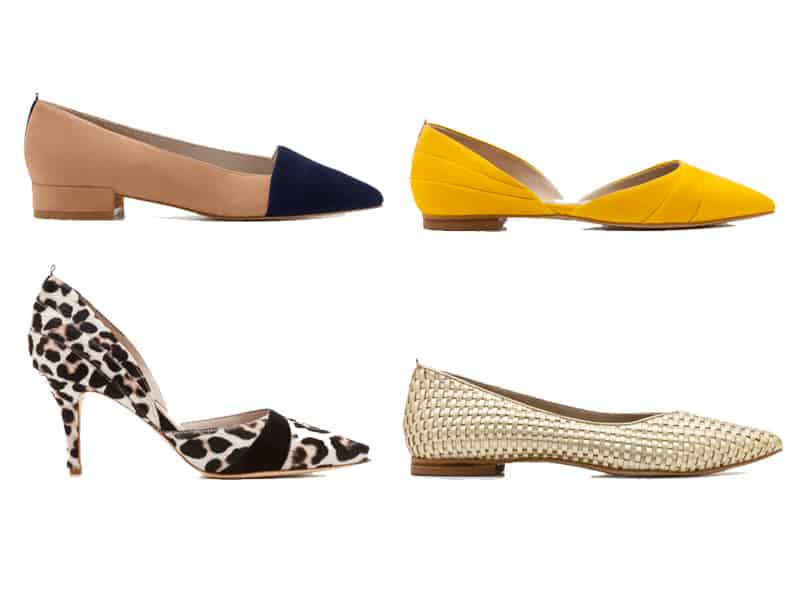 One, $90 (sold out) | Two, $108 | Three, $84 | Four, $120
If you have room in your budget, pick up a fun shoe to add personality to your basics. These yellow flats are called "happy" and will perk up your favorite navy bottoms. They are also available in a few other colorways, I'm partial to the pink and red combo.
Animal print is a staple on our classic must-have list. You can easily incorporate into your look with a super wearable pump, like these for under $100.
Finally, add some appropriate summer texture with these flats, available in gold and a lovely tan that will work with any casual outfit for the office.
Bottoms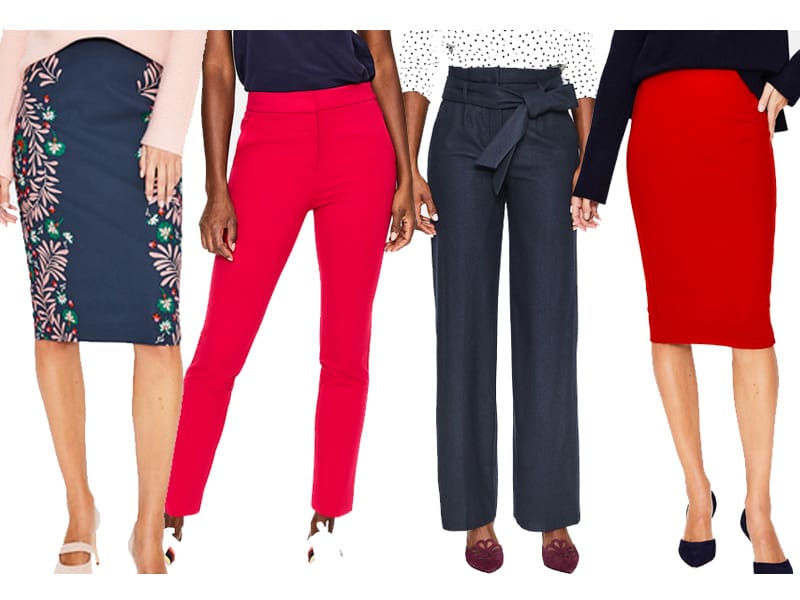 One, $54 | Two, $42 | Three, $45 | Four, $77
If your outfits are feeling a bit flat this time of year, pick up a bottom you may not typically consider. A print pencil skirt will work back with all of the basic tops hanging in your closet. I like this floral pattern but there are a few other fun options on sale.
Rather pick up a staple? A similar skirt is on sale in red, navy and black. Or, grab a pair of their go-to ankle pants for under $50.
Finally, these tie waist pants are priced to move. Again, for under $50 you can try a trend without making a commitment. Keep this look simple with a white shell or blouse and tuck in to show off the belt detail on the pants. Be sure to wear shoes that let the pants break at the top of your foot.