Here on the East Coast, right outside of Philadelphia, it feels like we skipped over a lingering summer and jumped headfirst into Fall. The leaves are already turning orange, and it's cold enough in the mornings that my kids voluntarily wear a hoodie to the bus stop.
Our big girls are back to school (in person!), the baby is turning two and has two speeds: running and asleep, and our calendars are as overscheduled as they were in the pre-COVID good old days.
I've never been more grateful for all the things on our plates. Whenever I want to complain about the busyness, I remind myself that the alternative is a disaster.
Now that we are in full swing with the Fall season, I need to spend some time organizing my closet, and pulling my wardrobe together, so getting dressed for the day is easier. It's no surprise that after this last six months, my closet needs some TLC.
To start with, I need a few casual tops, that are cozy and chic, like this button top sweatshirt I found at J.Crew Factory. I'm always looking for a basic with a twist and this checks all the boxes.
J Crew Factory Button Top Sweatshirt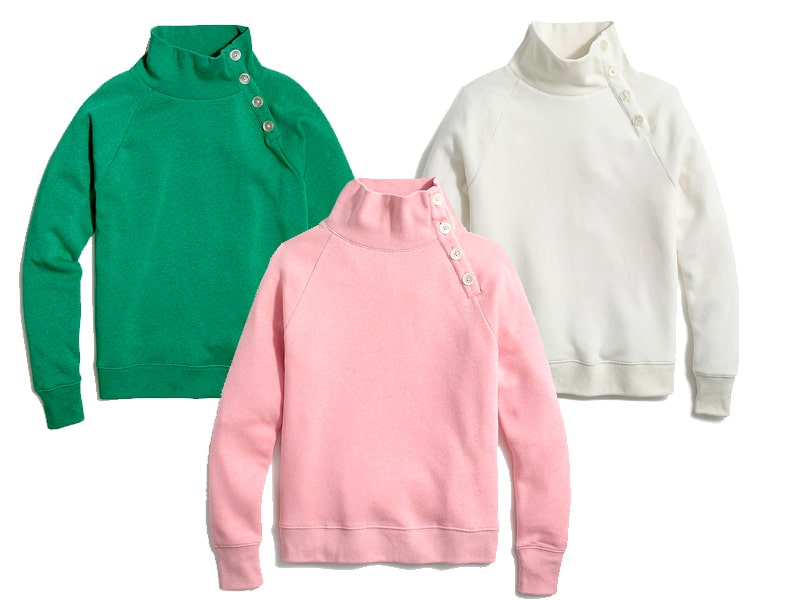 Sweatshirt: $44.50 (plus 20% with Code: COMFY) NOW $35
I picked it up in white and green (head over to my Instagram to see how I'm wearing it today). You can wear it on it's own, or layer over a long sleeve tee or collared shirt with your favorite jeans.
Right now, it's on sale for $35, in all sizes including a 3X. It's just the thing if you are looking to add some casual yet polished options to your early fall wardrobe.
And! Don't forget! Our Fall 2020 Wardrobe Challenge starts THIS FRIDAY! This is the BEST time of year to participate, whether you are new to The Well Dressed Life, or have participated in the past, you will walk away with insights, clarity and a perfectly organized closet.
---
Our Content is Inspired by Our Readers
Our readership inspires all of our posts and is not sponsored or paid for by brands or retailers.
Recommendations are based on my experience as a personal stylist and wardrobe consultant for over a decade. I worked with busy, down-to-earth women who wanted to look chic and feel confident but were often confused by so much of retail.
Some links are affiliate links, which means if you purchase via our site, we receive a small commission.
If you enjoy our content and would like to help us grow, please consider following on Instagram and join our Private Facebook Group to access more advice and exclusive in-depth conversations with other like-minded women.