In this ever-changing world, a routine is something I'm craving, so getting up and getting dressed has been essential for keeping my mood and outlook bright. That's not to say I don't have days where I look like the wrath of God. I sure do.
It's because of those days that I know first hand how much better I feel when I take 20 minutes and pull myself together.
Like many of you my days start early and go late. I'm juggling a career, school obligations, growing kids, and the busiest toddler you'll ever meet. So clothes need to be easy, comfortable and polished.
The outfit below is great example of how simple, affordable pieces, with a little extra detail, can create a wear anywhere outfit that works for long days at your desk, to car line, to sitting on the floor playing with the baby and everything in between.
I've worn this outfit twice now, once for drinks outside with some friends, and most recently, yesterday (below) for a busy day of work. It's quickly become a go-to.
Work-from-Home Outfit: Tie Front Top and Jeans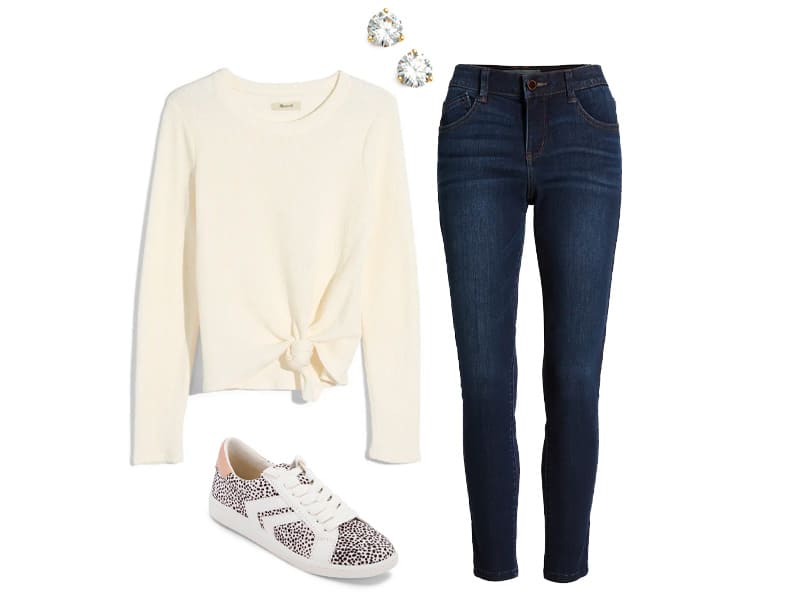 Top, $40 | Earrings, $46 | Jeans, $68 | Sneakers, $45
Let's start with the top by Madewell. I bought it at the Nordstrom Sale last month. It's super soft, like a thermal, with a tie front detail that gives it a little extra something. Available in five colors in sizes XXS – 3X. It runs small, so go up a size; it's not as long as it looks on the model. I'm almost always a medium top but went with the large, and it fits well.
To care for it, you can throw it in the wash as directed, but then I hung it up until it was almost just slightly damp and then threw it in the drier for 10 minutes. This way, it stayed soft and didn't shrink.
Then, I picked up two new pairs of jeans from Wit & Wisdom, also at the Nordstrom Sale. The ones featured above are classic, dark denim in a skinny cut. Below, you'll see me in the distressed version. Both are comfortable, have fantastic stretch, and are well under $100.
You want to size down in these. I ordered (and am wearing) the 10, but I should have bought the 8. When you put them on the first time, you want them to feel almost too snug; I promise you that they will quickly stretch out and conform to your shape.
What's important to note here is that the top will hit right at your waist, so having a jean with a mid – high rise will keep you "in" and prevent you from looking like you are wearing a crop top.
Then, I reused these sneakers that I featured in the summer. I still love them, and they add some much-needed interest.
Finally, you can't go wrong with classic CZ studs (also from the Nordstrom sale). Easy peasy.
Real Life
Shop this Post
---
Our Content is Inspired by Our Readers
Our readership inspires all of our posts and is not sponsored or paid for by brands or retailers.
Recommendations are based on my experience as a personal stylist View Postand wardrobe consultant for over a decade. I worked with busy, down-to-earth women who wanted to look chic and feel confident but were often confused by so much of retail.
Some links are affiliate links, which means if you purchase via our site, we receive a small commission.
If you enjoy our content and would like to help us grow, please consider following on Instagram and join our Private Facebook Group to access more advice and exclusive in-depth conversations with other like-minded women.