As we gear up for the holidays and the New Year, I want to use today's post to let you know what you can expect from The Well Dressed Life in 2020.
I've been thinking a lot over the last few months. I've spent days studying our analytics, and privately talking to a select group of readers in an effort to figure out how to continue to grow our site.
Now that I'm in my 40s, I know firsthand how challenging it is to get dressed every day, and look and more importantly feel, chic and modern.

Balancing that with our busy lives, realistic budgets, and a desire to stay youthful, is overwhelming – and I say this as someone who has dressed thousands of women professionally for over ten years.
So I'm excited to share some things to look out for as we head into the New Year.
Looking to 2020
First, our daily content will continue through the remainder of December, with the exception of Christmas Day.
On Friday, December 20th I am announcing a brand new Wardrobe Challenge, designed to help make 2020 your most stylish decade ever. It will kick off on January 10th.
All of the challenges will be posted on the blog, but it will be helpful if you also follow along on Instagram and in our private Facebook group.
A Style Resource for Women
The most significant decision I made for 2020, is that I'm going back to my roots. I spent all of my career as either a retail buyer or stylist and eventually owned my own styling firm. My talent is in deciphering what someone needs, and matching their style with what is in stores.
Over the last few weeks, I've walked through every store imaginable, scoured all the popular websites, and I can tell you without a doubt, it's more challenging to shop now than ever before.
There are so many bad options; it's almost impossible to see the good ones. And I guess I shouldn't be surprised, but I can't believe that designers, brands, and retailers are still marketing to a much younger demographic.
No one is focused on the professional woman, who needs a skirt she can sit down in. Or a busy mom who doesn't want to look frumpy just because she needs to be practical. What if you just want to go out with some friends, or go on a date and would prefer a top not cut down to your belly button?
I don't know about you, but I feel like now that I can buy what I want and need, there is so little out there for me.
Our Readers
As I focused on our audience I was delighted to learn about the vast age range of our readers are anywhere from 30 to 70 year old. Which just tells me that classic, timeless style is just that – classic and timeless.
Some of us work full time in the home, some outside, some both, some are retired. What we do with our days is different, but our desire to look and feel great in what we are wearing is the same.
Our Content
Going forward, most of our content is going to focus on providing inspiration and advice to help you get dressed for your daily lives. And we are going to organize the site so you can navigate it easier.
I want you to come here first if you need a new pair of jeans, or a great pair of heels for work. Stay tuned in the coming weeks for the first beta test of that functionality.
I want you to think of this site as your very own digital personal shopper. Except this is totally free, there is no membership fee, no subscription, no box service, just daily tips, tricks and insider knowledge.
Starting in January, I'm organizing the content each day of the month as if it were a page in a magazine.
We'll kick off each month with an Editor (that's me!) Note. I think it's essential that you know who I am and my perspective. This post will help provide some context for the month, give updates on what's happening with the site, and a little insight into who I am.
Outside of that, I'll share more personal and behind the scenes glimpses on Instagram, along with content specifically for the platform.
Our private Facebook group will remain a space to come and share thoughts, insights, and questions with other like minded women. It's an exceptional group of women, who are kind and supportive of each other. (This is an women only group, all readers are welcome, please be sure to answer all of the membership questions to get approval.)
After that, each day will focus on how to articles, roundups, size inclusive recommendations, lots more real life photos, wardrobe challenges, workwear inspiration, what to buy where, and more. Each post will all continue to be conversational in tone, but I'm pulling back on a lot of the other content.
Of course, please continue to use the comment section – it's where I get many of my ideas for articles.
How the Business Makes Money
Which leads to the next question I always get: where does my revenue come from?
First, it's important to know that I do not post sponsored content. (Sponsored content is when a brand pays you to promote its product.) It's a business decision I make on a case by case basis. So far, I've declined every opportunity presented to me because it wasn't on brand.
That's not to say I'll never do it, but it would have to be a brand I've long promoted on my own and makes sense to our audience. It's taken me too long to build a loyal following, I'm going to compromise that for a quick pay day.
I also do not take goods or services in exchange for a review. Everything I wear I purchase myself, and if I recommend something it's based on my personal experience and/or from my years as a stylist and personal shopper.
I currently make money two ways: online ads and affiliate links.
This year I was accepted into an ad group called Mediavine. Mediavine sells space on my site to advertisers and I'm compensated on impressions and clicks. It's been a game changer for me in terms of becoming profitable without having to compromise my content.
I also make a small amount of money if you click and buy from one of our links.
That's it.
I'm playing the long game with this, so any time you visit, shop or refer us to a friend, you're helping us grow one person at a time.
Goals
The best use of my talents is in helping you navigate the overwhelming world of retail, which does nothing to make life easy for grown women.
I want this to be a helpful resource for you, the first place you go if you need something.
In 2019, I tripled our readership, which was an enormous accomplishment since I had a newborn and I still don't feel like I know what I'm doing.
This year, my goal is to tighten our message and continue to expand our reach. I also want to hit 10,000 followers on Instagram so that I can unlock their business features. (Follow along here, I promise I'm not annoying.)
Stay tuned for more updates and new features in the coming weeks.
Real Life Outfit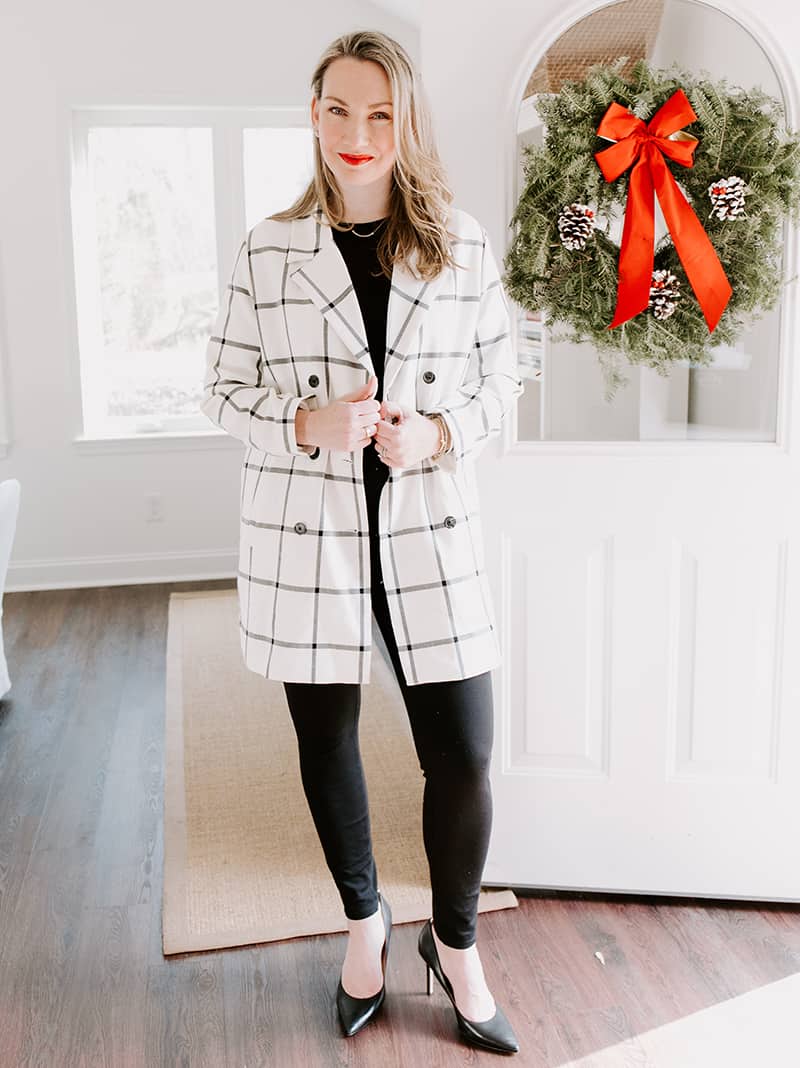 Shop the Look: Coat $70 / Pants $89 / Top $18 / Pump $120
The scariest thing I did this year was put myself on these pages. I spent years avoiding it, but finally took the plunge.
I had Vivian last December (she turns one next weekend!) and I was not feeling great about my body and was obviously exhausted. But I think it's important to see what things look like on a normal woman, with a regular life, who is not a model, and riddled with her own insecurities.
Today I'm sharing this pulled together look that's super easy to create. The coat is the key piece here. It's more like a topper, or a long blazer than a coat for warmth. If I were going into an office, I would leave it on during the day but keep a long sleeve option underneath if it gets too warm.
The coat is a new purchase, everything else I had in my closet.
Shop the Look: Coat $70 / Pants $89 / Top $18 / Pump $120
I really consider our readership with every new decision I make and I pour so much of myself into every post I put out. I'm feeling pretty good about everything I plan on accomplishing in this new decade and I'm grateful you are part of our growing community.