The Nordstrom Half-Yearly Sale has been the only sale I note on my calendar every year for the past decade. Unlike other retailers that have a new sale or coupon every week, Nordstrom is the only higher-end department store that offers both a better range of merchandise and price points and maintains some level of price integrity.
Shop Online
Retail over the last several years has changed significantly. I used to think I didn't like going to the mall or shopping in stores because I spent so many years doing it for other people. I figured I was a little burned out and bored by it all.
But, the customer experience, no matter where you go, isn't the same. I think it all started back when stores stopped having gift boxes available around the holidays. Then I noticed not long ago even Nordstrom stopped wrapping your purchase in tissue paper. It's little things that all start to add up.
I can't help but feel like the stores think they are doing us a favor, yet prices continue to rise, and service continues to drop.
Merchants seem to have stopped taking care of their in-store customers, so no wonder why more and more consumers are turning to online shopping. You can get everything you need from the comfort of home and avoid the drama of the mall. It's a more pleasant experience all around.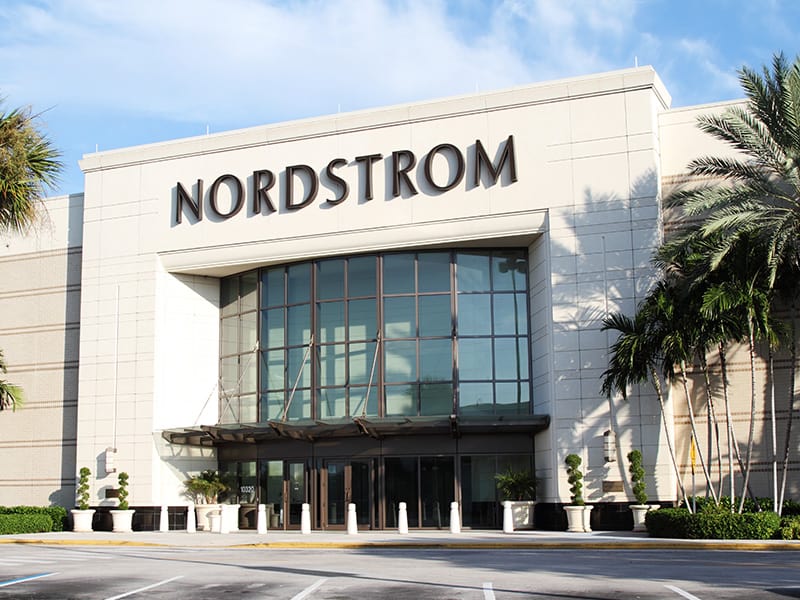 A Few Online Shopping Tips
At Nordstrom I use a combination of online ordering shipped to my house and in store pick up. If there is a Nordstrom close to you, you simply order online, select in-store pick up in your cart, and your merchandise will be ready in about two hours.
Order as much as you want, order multiple sizes and return whatever doesn't work.
It's so helpful to try options on at home since you can grab a pair of your favorite shoes, or see how you can wear an item with other pieces in your closet. Just be sure to keep alterations in mind when you are trying items on at home since a store employee won't be around to remind you.
This Year's Sale is "Meh"
Unfortunately, this year's sale and their selection of styles, has left me underwhelmed. Typically, I'll enthusiastically add things to my cart as I go and then have to review and delete items to stay in the budget before I check out.
In the past I've scored a gorgeous and classic Tory Burch bag, a Burberry trench, and I've stocked up on Zella Live-in leggings, Hanky Panky underwear, bathing suit cover-ups and sunglasses.
This year, I was ready to order quite a bit. I was pregnant all last spring and summer, so I hadn't bought anything new in a while. There I was, with a glass of wine and an actual decent budget, I spent hours online, and couldn't find many things I loved.
So I decided to turn my efforts into a post. I went through every single category they offer, searching for a deal on something we've recently featured, or a splurge worthy find.
Save yourself the trouble of searching, because I did it for all of us. If it's not on this list, you either don't need it, it's not on sale, or the sizes are too limited to offer our readership.
In the process I did find a few things for myself and pieces you may like too. I organized our picks by category.
Keep in mind sizes will become more limited as the sale progresses (sale ends June 2) so if sizing, especially extended sizes are either limited or not available, I didn't exclude them on purpose.
Loungewear and Pajamas
Need a new robe for the summer? This terry cloth option is the perfect length and under $40. You could even pick it up as a gift for the holidays. I picked up a few pairs of these joggers, for casual days at home with the baby. And a pair of pajama shorts for mornings at the beach.
Need a proper pair of jammies? I love a menswear pair, like this short sleeve option by Ugg that is beyond soft and comfortable. Again, a great gift idea.
Jeans
We talk a lot about jeans here, and the Nordstrom Sale historically is a great place to pick up a pair of better jeans at a discount. We love Paige Denim and their Skinny "Skyline" jeans have an incredible fit. On sale right now they are under $90.00.
KUT from the Kloth is another go-to brand around here. I picked up these light wash ankle jeans with an unfinished hem. I wore them out last this past weekend and received a ton of compliments on how they fit. We're also big fans of their Diana Skinny Jean on sale for $53.
Looking for a white jean? These DL1961's are incredible. And these NYDJ cuffed ankle pants are sweet and casual at a great price.
Suiting
There's little in terms of suit options on sale, but if you are plus sized, Louben makes an incredible suit and all the pieces are currently on sale: jacket, pant, skirt and dress. Seriously, if you can't use it, forward to a friend who might because it's a quality suit at a fabulous price and unfortunately, we don't see that often in plus size clothing.
Dresses
I love a dress in the spring and summer.
This belted midi dress comes in missy and plus. Pair with a simple wedge and you could go anywhere all season.
You could wear this lovely sheath to work with classic pumps, no jacket required. Same goes for this perfect black faux wrap dress. Also in plus size.
Need something for an occasion? I would scoop up this high/low maxi dress in a heartbeat.
Or maybe you want to try a jumpsuit … I ordered this one for myself. If you are plus size, I would try this one.
Tops and Tees
Pick up a few tops so you have something to go out in that doesn't feel like a shirt you would wear to work.
I grabbed a few lightweight options for the heat of the summer. I wore this illusion cami on it's own with jeans this weekend since it was extra hot in the city, but you can just as easily wear it under a blazer. I also picked a similar but more casual cami, and this tee shirt in purple to wear with white bottoms.
For something with more substance you might like this short sleeve wrap top, this bow neck top is perfect for a night out, so is this detailed halter neck tank.
We've featured many pretty tops by CeCe in the last few months, here are a few that are currently marked down: this floral trimmed tee, this tie sleeve blouse, and this summery, yellow off the shoulder blouse is lovely.
Sandals
For shoes, I finally pulled the trigger on these Tory Burch sandals in tan/gold at 40% off. I've been eyeing them up for weeks. I like that they don't have a logo and look extra sophisticated.
These Via Spiga block heel sandals are another can't beat price option. Buy them in the tan, you'll wear them to death.
Honorable Mentions
There are two extra pieces worth mentioning. I live in this Patagonia half zip in Birch White (it looks grey) when it's chilly and it's on sale for $69. Finally, this Clare V. Croc Clutch is stunning at 40% off it's original price.