A million thanks for filling out our Reader Survey yesterday. I'm overwhelmed by the responses, and your kind words will carry me for a long time. I so appreciate your new ideas and was thrilled to hear how much you are enjoying all of the new content. You gave me so many new ideas, including bringing in different contributors and expanding into more dynamic content to cover an array of topics relevant to modern women of all ages and all seasons in life.
We have a lot of exciting things to work on this summer!
Today, we're interrupting our regular Wear to Work post to round up some "must have" pieces from the Nordstrom Half-Yearly Sale. When I used to work with clients, I practically lived at the King of Prussia Nordstrom this week. For years, Nordstrom was my number one go-to store. But lately, I've found them to be somewhat lackluster. The merchandise is SO YOUNG and trendy, and the prices seem only to be getting higher. Maybe I'm turning into a fuddy-duddy, but Lauren and I spend more time sending each other links to ridiculous items than we do cute options.
The good news is if you know the brands and styles you like, you can search the sale quickly(ish). That's just what I did for today's post. If you like something, act fast, sizes and styles become limited quickly, and the sale ends on June 3rd (also, how is it almost June???)
What to Buy At the Nordstrom Half Yearly Sale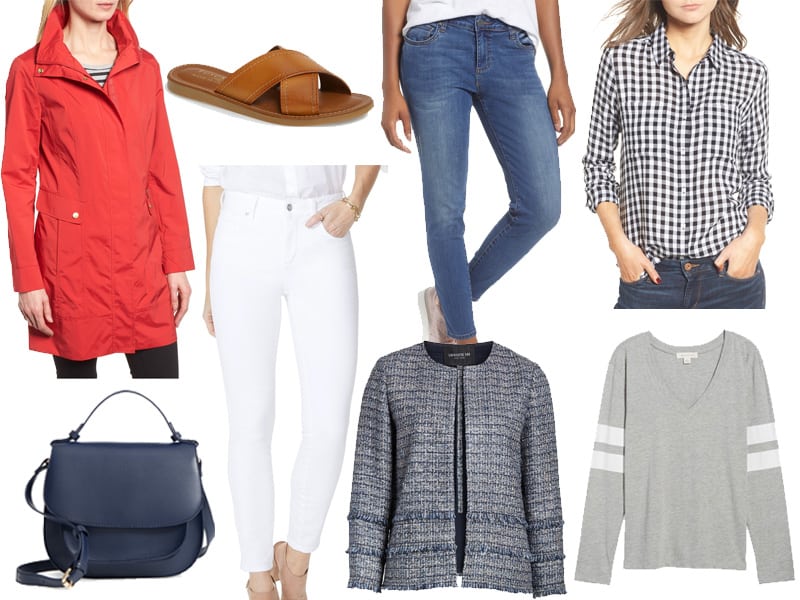 Raincoat: was $200, on sale for $129.90 | Slide: was $59.95, on sale for $35.90 | Jeans: was $89, on sale for $59.63 | Gingham Shirt: was $49, on sale for $29.40 | Crossbody: was $56.95, on sale for $34.17 | White Jeans: was $109, on sale for $72.90) | Tweed Jacket: was $698, on sale for $418.80 |
Traveling abroad this summer? Depending on where you are heading you may want to pick up a packable rain coat. This one by Cole Haan is lovely and practical. I like the red, since it adds some color to your basics, but it comes in six other highly wearable colors. (Was $200, on sale for $129.90.)
---
Speaking of traveling abroad, I spent two weeks in Europe last summer, with a week in Croatia. (You can read about it here, it was incredible, and I want to go back.) It was hot, and we walked an unbelievable amount of miles a day. I brought along a slide similar to these and wore them every day with shorts and cotton sundresses. They were just the thing to keep me comfortable, help my feet "breath" but kept the look polished. Available in four other colors including metallic gold and silver. (Was $59.95, on sale for $35.90.)
---
In the warmer months, life gets a bit more laid back, so a pair of relaxed jeans is a nice addition to your weekend wardrobe. These KUT ankle jeans can be dressed up or down. You can make them sporty with updated sneakers and a simple tee or, create contrast by adding a silk blouse and feminine heel for a date night out. (Was $89, on sale for $59.63.)
---
Being unapologetically preppy is back in a big way. Just look at the success of Reese Witherspoon's Draper James. If you like a little prep in your look (I sure do) but don't want to spend $200 on a button down (I sure don't) pick up this gingham button down from the BP department. It's available in navy and pink, wear it with white jeans or roll your sleeves and pair with your favorite shorts. (Was $49, on sale for $29.40.) Size note: Nordstrom's site says this runs true, but my experience is everything in BP runs small, especially in the cut of the arms.
---
Navy as a neutral is often overlooked, but it can serve the same purpose as your go-to black bag while softening the look for the warm weather. While I tend to spend on handbags, there is something about a summer bag that makes it hard for me to justify a high price tag. Plus, I like to use the summer to take a break from shopping or at least limit the amount I spend. That's why brands like Sole Society are so great. You can get an updated, or trendy piece without blowing your budget. This navy crossbody bag is roomy and streamlined. It works as an everyday, casual bag and looks best with neutral to you tones, rich tans or any metallic. (Was $56.95, on sale for $34.17.)
---
Ready to jump into the world of white jeans? Go with the under $100 option with these NYDJ ankle jeans. They have a subtle slit at the hem giving them a casual vibe that can work with anything from a block heel sandal to a slide on sneaker. Available in seven other colors. (Was $109, on sale for $72.90.)
---
If you have the budget and wardrobe need, consider picking up a statement jacket for the office. Lafayette 148 is expensive, even on sale, but the quality is on point. The pieces are lined, the details are well done, and they are cut in a way that they feel good on your body. I have a similar version to this navy tweed jacket from years ago and wear it all the time. You can pair it with a navy skirt, sheath or pants, or, if you work in a traditional office with casual Fridays, wear it with your dark jeans and a heel. (Was $698, on sale for $418.80.)
---
Updated: Varsity Tee SOLD OUT.
SHOP THIS POST