Everything at Old Navy is 50% off online right now. The sale ends tonight at midnight. So let's stock up on basics, work-from-home essentials, and some warm weather pieces we can look forward to wearing in a few weeks.
The current state of our world rests heavily on all of us. My family is on our 10th day of social distancing, while the state of PA is shut down. The world is full of bad news and fear, but I refuse to operate like that. What we need are optimism and hope.
Because what's the point if you're not hopeful? So as we move through this as a country, and as our own little community of women, I'm keeping business as usual, dreaming of everything from morning meetings in the office to the first big get together with all of our families and friends.
Our What to Buy at Series was designed to help weed through all the stuff in stores to highlight the best options for our readers. So in the spirit of normalcy, let's take advantage of some sales.
So here are my top picks from Old Navy's new arrivals.
What to Buy at Old Navy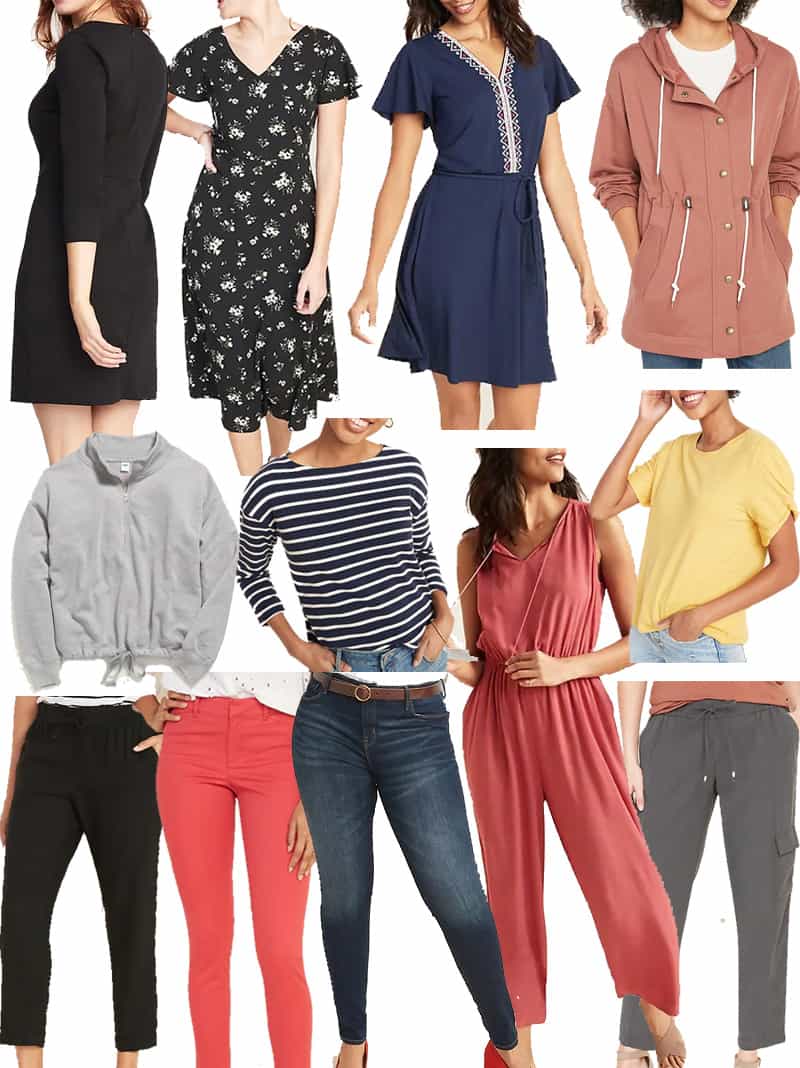 (price reflect sale price)
Striped Shirt, $12.50 | Embroidered Dress, $20 | Yellow Tee, $10 | Black Floral Dress, $20 | Pull On Cargo Pants, $17.50 | Ankle Chinos, $17.50 | Sweatshirt, $17.50 | Linen Pants, $20 | Jumpsuit, $22.50 | Jacket, $25 | Jeans, $17.50 | Sheath Dress, $17.50
I like Old Navy
They have a size range that includes everyone, their styles are updated and their quality is nice considering their price point.
But shopping in their store is like navigating a warehouse. I hate it.
I hate their hangers and crowded racks, the snake-like check out line and their giant plastic shopping bags.
Their online experience is better, easier to navigate. You can actually see the merchandise.
Everyone needs a striped boatneck tee. This one is only $12.50, so scoop it up. I have a post planned in April to show you how to wear it three ways.
I love this little $20 dress. I would grab it for the beach as a throw-on-and-go piece. Just add a flat sandal and your set. You'll also appreciate the sizes: regular, petite and tall up to an XXL and in plus size here.
If you can wear yellow (I can't but wish I could) this cheerful shade will brighten your day now and in the summer months. The twist detail at the sleeve elevates this just enough so you can wear it on it's own without feeling like you need to add to it.
Tip: Skip the stripped options, these look inexpensive, but the black, grey and yellow are fantastic.
When this debacle ends, many of us will still be home-based. So I'm trying to find pieces that are even simpler then jeans and leggings (or pajamas) that feel dressed with little to no effort.
I ordered this black floral dress to wear in my office at home and will pair it with a fresh pair of white sneakers. So easy, so sweet.
Boy do I love these. Kind of like a sweat pant mixed with a jogger, these pull on cargos come in four colors.
I featured "panther" above because it's a fresh neutral. Throw it on with a basic tee, add a denim jacket if your running out and a simple pair of flats and you are dressed in seconds.
An ankle chino in some preppy, cheerful colors seem so hopeful right now. These are a nice alternative to a capri. They come in a range of sizes including missy, petite and tall, and plus size here.
Skip the white option – it's too see through.
You need to see this sweatshirt on the model because it's ridiculously cute. I featured it in grey (above) but it's also in a fun leopard, a white and navy stripe ideal for days at the beach, and basic black.
Made of french terry, it's cozy, and the draw string bottom gives it some shape. I'm buying it in stripe and grey.
Lightweight, easy to throw own, better alternative to capris, these linen cropped pants are only $20.
There is no real practical reason to own this jumpsuit, I just think it's sweat and prime for a warm weather vacation. In the gooseberry (above) it looks the sophisticated. Wear it with flat, neutral-to-you sandals, and small clutch for a summer date night local, or somewhere fantastic.
This jacket is selling out fast and for good reason. It's another sorta-like-a-sweatshirt piece but better. Done in a brushed cotton, it feels tailored, so you can wear it with a pair of jeans and sneakers and loafers for a polished but still casual outfit.
I recommend Old Navy's Rock Star Skinny Jeans all the time. At regular price they are $35, on sale for $17.50 they are a steal. They are perfect if you are on a smaller budget, or if you need a few pairs to hold you over. I wore these for a few months after I had my girls. It felt nice to be in a real pair of jeans, without spending a ton on pair I wasn't going to need for long.
This continues to be the best selling dress in the history of this site. It's beauty is how basic it is. Done in a double knit, with a little stretch, you can wear it pretty much anywhere and for anything. I like it with flats like the model, or sneakers and a denim jacket.
It comes in regular and tall, up to an XXL and a plus size version here.
This runs small, I'm wearing the large.
---
Our Content is Inspired by Our Readers
Our readership inspires all of our posts and is not sponsored or paid for by brands or retailers.
Recommendations are based on my experience as a personal stylist View Postand wardrobe consultant for over a decade. I worked with busy, down-to-earth women who wanted to look chic and feel confident but were often confused by so much of retail.
Some links are affiliate links, which means if you purchase via our site, we receive a small commission.
If you enjoy our content and would like to help us grow, please consider following on Instagram and join our Private Facebook Group to access more advice and exclusive in-depth conversations with other like-minded women.
---