The holidays are pretty much here, which means our calendars are locked and loaded with events and get togethers planned from now until the new year. Except for one or two more formal gatherings, my world is casual, but I still want to feel festive, and I don't want to spend a small fortune.
So LOFT (this is not sponsored in any way) is a smart go-to. They are almost always having a sale, and their pieces are updated without being overly trendy.
The trick with LOFT, as with any store, is to mix their pieces with your better basics. This will help make you look less "branded" and more reflective of your personal style.
Whether you are looking for a few holiday-specific outfits, or you'd like a handful of sweaters in seasonal colors, I rounded up my favorite picks below.
* Be sure to click through the links as LOFT offers sizing in petite, missy, plus and tall.
What to Buy at LOFT for the Holidays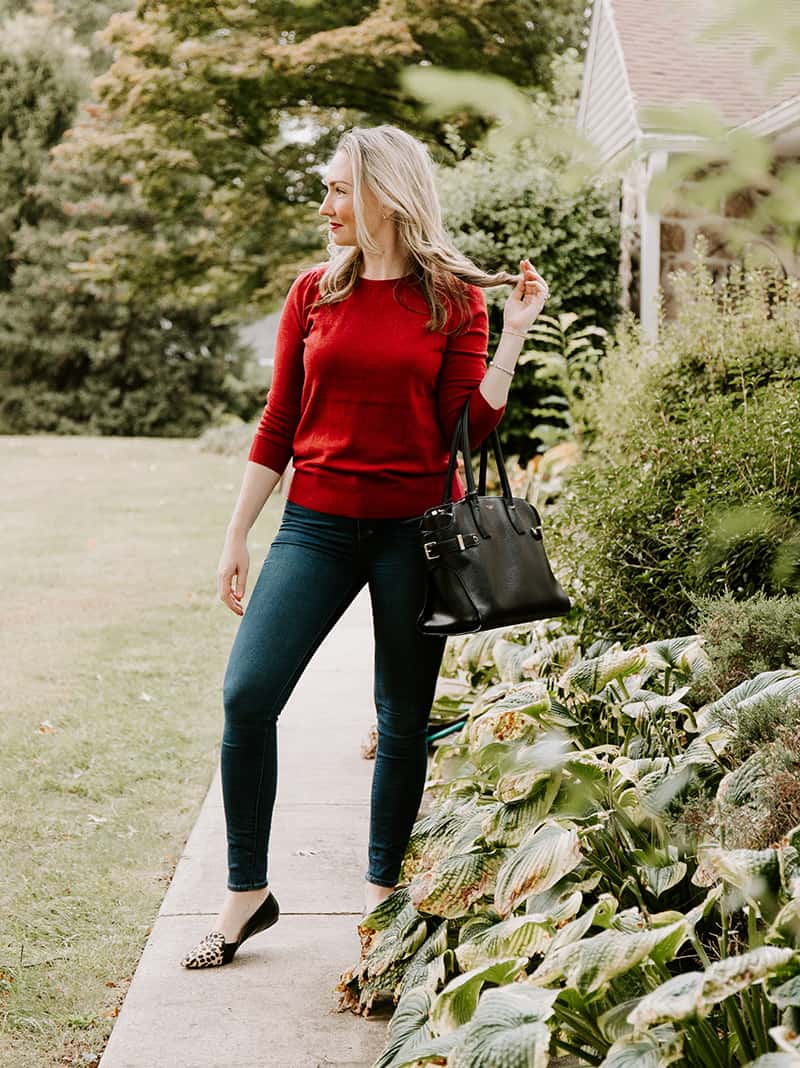 Outfit: LOFT Sweater (JUST SOLD OUT), Jeans: $178, Flats (Old), Bag Henri Bendel (Old)
I've talked before about my LOFT shopping strategy. First, if I know I'm going into the store, I always try to look online first. I find the store to be underwhelming, but the website merchandises the items a bit better, so you can see how you could wear it in real.
Second, I try to stick to only buying neutrals. So I look for black grey, ivory, navy etc. This time of year I'll add a rich tone, like this burgundy sweater (above) or something with a seasonal pattern.
Below are my absolute favorites currently available.
Special Sweaters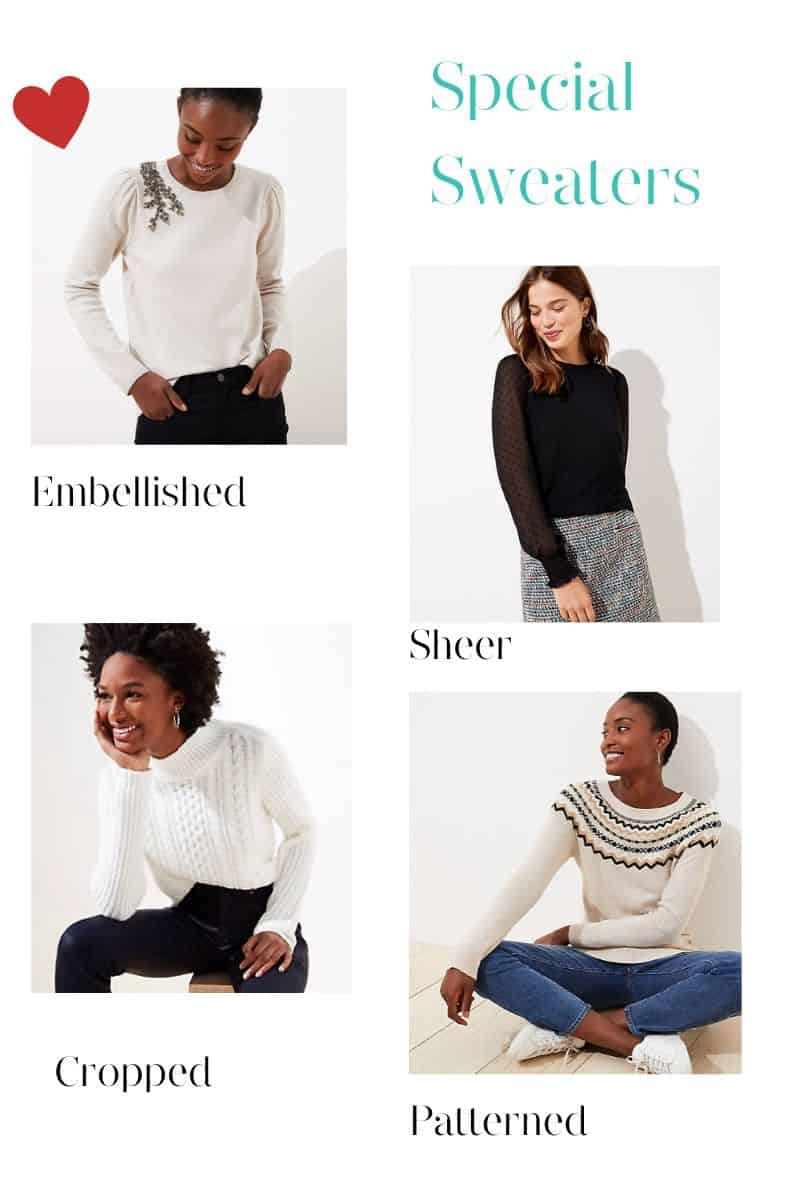 (take an additional 30 – 40% off)
Embellished: Christmas Eve is my favorite day of the year. I love this embellished sweater paired with these velvet ankle pants. It's ideal for being able to move about while still looking appropriate.
Sheer: Another dressy-yet-functional piece is this lovely sheer sleeved sweater with a little shimmer. I'd wear it with a simple black skirt, black tights and boots and let the details of the top stand out.
Cropped: Don't be scared of this being called "cropped." It's a far cry from the mid-drift baring tops my oldest is dying to wear. Instead, this sweater is perfect if shorter sweaters work better for your body type, or anyone can pair it with a high waisted pant or skirt.
Patterned: Longtime readers know patterns are not my jam. But I make an exception for a few, like animal prints, and this time of year: Fair Isle. Pair this sweet sweater with your favorite jeans and ankle boots.
Dresses and Skirts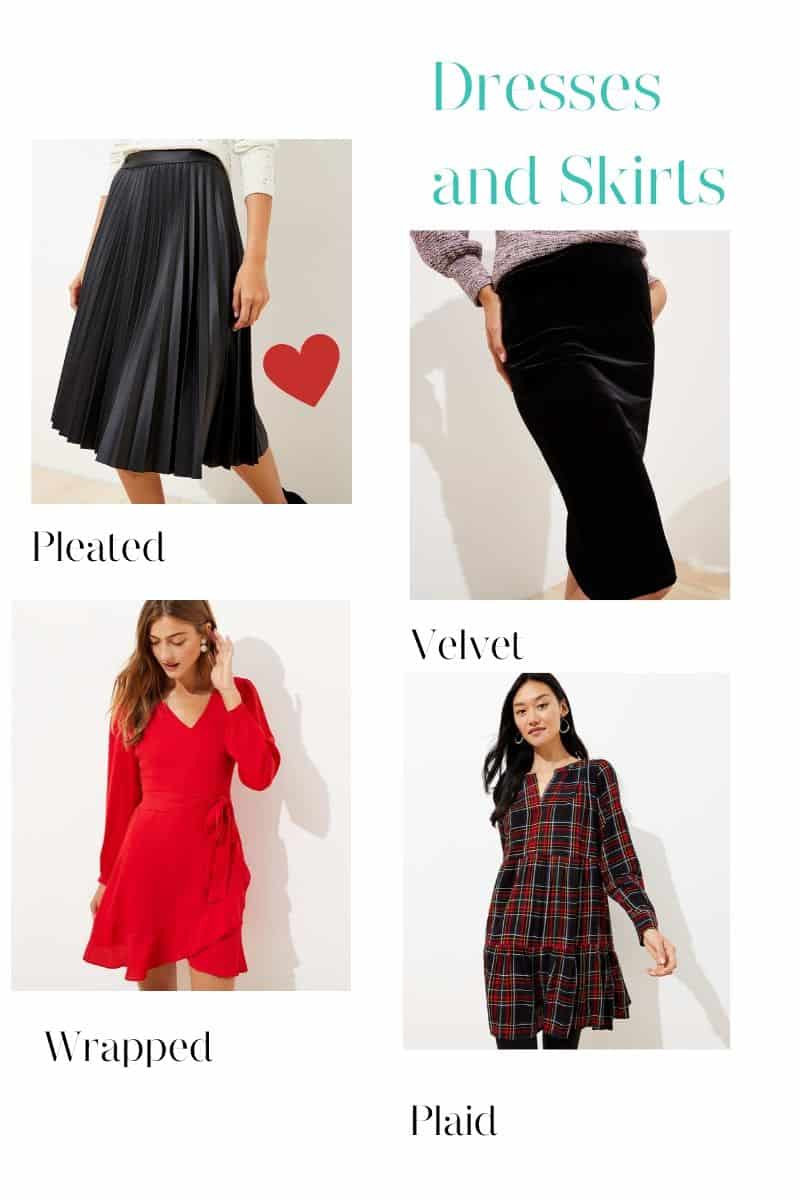 Pleated: I can't tell you how much I love this skirt. Pair it with a simple, lightweight crew or v-neck sweater, half tucked, and a classic pump. Done.
Velvet: Looking for something more fitted? This velvet pencil skirt is classic and a little sexy. I appreciate that they kept it on the long side, but you can always have it hemmed so it hits you at your best length. I like it with a fitted turtleneck, suede heels and a statement earring.
Wrapped: Of course we have a wrap dress pick. This one hits all the right notes with it's crimson color, and feminine details, like the puff sleeve and ruffle bottom. But the best part: it's available in petite, regular and tall.
Plaid: For a change of silhouette, this swing dress in holiday plaid is adorable. Wear it with opaque tights and sleek ankle boots.