Our last stop in our What to Buy at series, is Banana Republic. For their Black Friday sale everything is 50% off so you can stock up on some readers favorites like this silk and cashmere sweater that's under $30. or these always popular cargo joggers in regular and petite sizes.
Today, I gathered up a few items that feel different. Not the same old basic but rather pieces that will elevated the simplest moment without busting your budget this holiday.
What to Buy at Banana Republics Black Friday Sale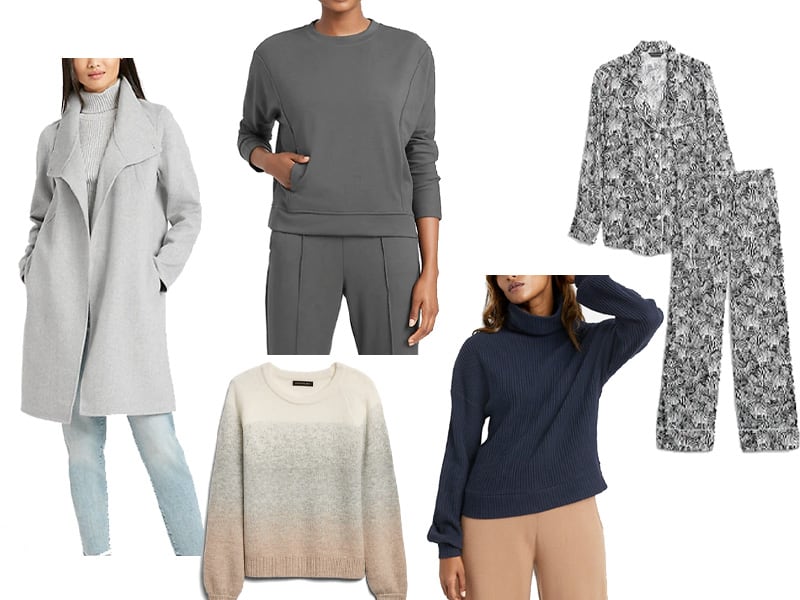 Once again, sale items this year are flying off the shelf because they started with limited inventory.
Ombre Sweater
Ombre Sweater, $55
You have a choice of two gorgeous colors options for this sweater, the Ivory (above) and Black. For the Ivory pair with dark jeans or grey bottoms, and wear the Black ombre with your favorite black pants for an elegant look. Available in XXS – XXL. You'll be able to wear this during the holidays and all winter long.
Pajama Set
Pajama Set, $55
If you plan on spending a day, or a few days, hanging around your house over the holidays, why not make it glamorous? Turn on the fire and sip a mimosa while the kids run wild around you and imagine you're someplace actually relaxing. I ordered these in the Zebra (above); there is also a pretty navy option in XXS – XXL. These would make a lovely gift too.
Scuba-Knit Set
Scuba Knit Set: Sweatshirt, $29.75 and Pants, $34.75
In recent weeks my loungewear has taken a nosedive. To say I need a few fresh pieces is putting it kindly. (What I need a spa day to get plucked, waxed, and painted back to my usual self). For now, an updated sweatsuit will have to do and I love this polished set. It's available in regular and petite, in XXS – XXL. Buy each piece separately,Sweatshirt, $29.75 and Pants, $34.75 , but wear together or mix and match with other casual pieces.
Waffle-Knit Sweatshirt
Waffle-Knit Sweatshirt, $29.75
One thing I learned about our readership this year is that anytime I can highlight an updated sweatshirt, it's a winner. This one is so, so pretty with a waffle-knit texture, oversized turtleneck and full sleeves. You can wear it with everything from joggers to jeans to straight-lined pants. Comes in Blush, Ecru and Navy (above) in XXS -XXL.
Coccoon Coat
Cocoon Coat, $124.50
Sales are also a fantastic time to pick up a statement piece, like a coat. I LOVE coats. L.O.V.E. This Coccoon coat reminds me of something from Eileen Fisher: simple, elegant with a gorgeous drape. It's available in Grey (above) and a Cherry Red. But unlike EF, this version is about a quarter of the price. In sizes regular and petite from an XXS – XXL.
Missed a Post?
Be sure to check out the top sale picks from all our favorite stores below:
What to Buy at : J. Crew Factory, Boden, LOFT, and Nordstrom
---
Our Style Content is Inspired by Our Readers
Our readership inspires all of our posts and is not sponsored or paid for by brands or retailers.
Recommendations are based on my experience as a personal stylist and wardrobe consultant for over a decade. I worked with busy, down-to-earth women who wanted to look chic and feel confident but were often confused by so much of retail.
Some links are affiliate links, which means if you purchase via our site, we receive a small commission.
If you enjoy our content and would like to help us grow, please consider following on Instagram and join our Private Facebook Group to access more advice and exclusive in-depth conversations with other like-minded women.