Many of us grew up with Ann Taylor as a cornerstone in our wardrobes. The brand makes getting dressed easy, with coordinating pieces, colors, and prints to help busy women pull a look together quickly.
But when you dress head to toe from a brand or a single store, you start to lose your personality and authenticity.
While I'm all for a system that helps you create a uniform of sorts, you run the risk of missing out on the opportunity to develop your unique style. You don't want to look like you stepped out of a catalog.
I started our What to Buy at Series to recreate the experience of working with a stylist. These are the pieces I would put in your dressing room. Recommendations are based on everything I know about our readers who are looking for help creating a timeless, classic, modern wardrobe on a realistic budget.
And because I do not represent or receive compensation from the brand on this post, I can tell you what is good and not so good.
Right now, Ann Taylor's inventory levels are abysmal. So you'll click on something lovely and notice that the size options are XS, S, and M.
That's it.
I cannot tell you how unhelpful that is for my business, which tries to be as inclusive as possible.
On the plus side, everything I'm featuring today has a full size range (at the time of going live.)
What to Buy at Ann Taylor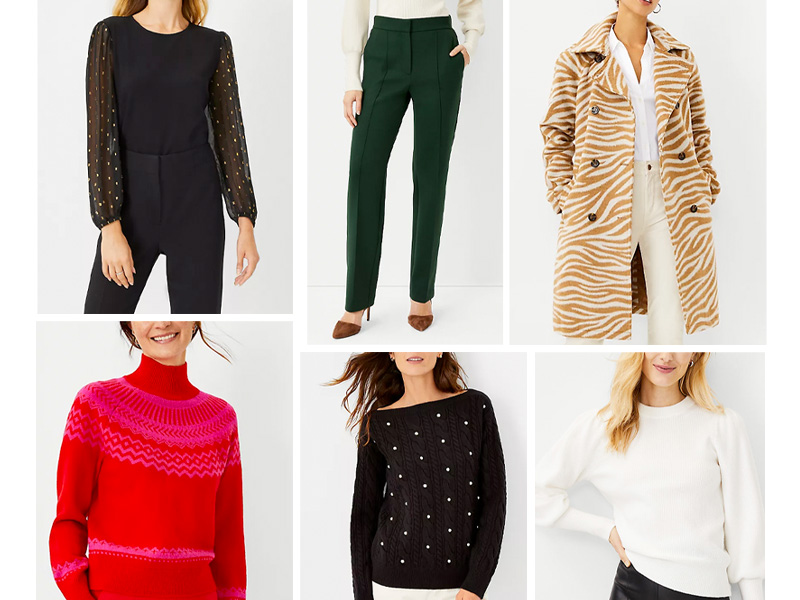 For today's round-up I was obviously thinking about holiday dressing, but in a practical way. For many of us, myself included, I'm often just looking for an extra special top to wear with go-to bottoms. So that's what I focused on: pieces that you put on and your look is instantly elevated.
Also, today, AT has a special discount promotion that varies depending on the category. I made a note by each item. This is a limited sale that will end at the end of the day today 11/15.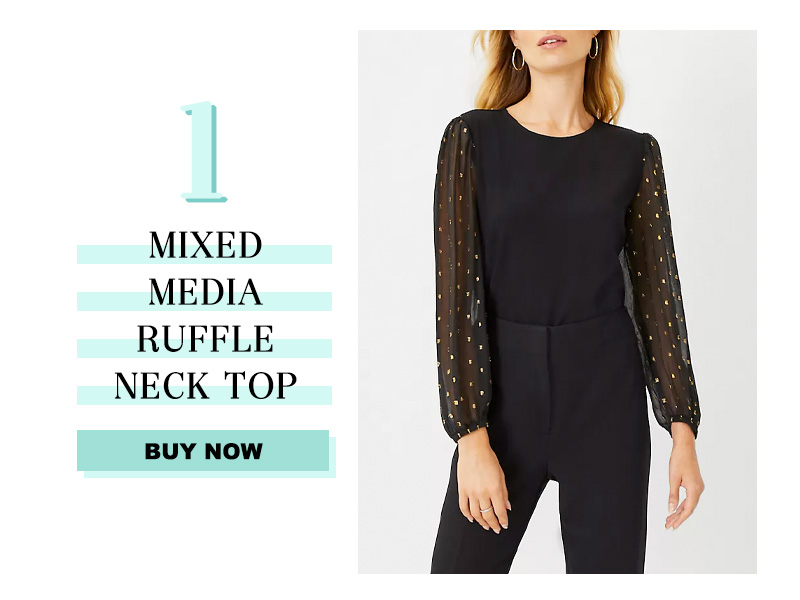 Mix Media Ruffle Neck Top, $64
Let's start with my favorite, this Mix Media Ruffle Neck Top, available in regular and petite from XS -XXL. I love a top you can simply wear with slim black pants and have an outfit. Complete the outfit with gold-tone earrings, suede heels and a clutch. Easy-peasy.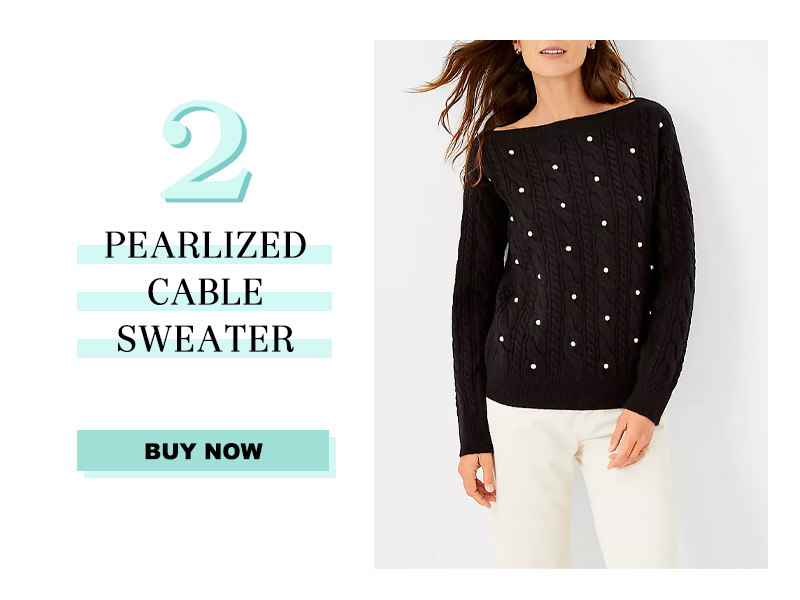 Pearlized Cable Sweater, $98 – ON SALE 40% OFF $58.00
Sweaters are currently 40% off their original price, making this pretty pearl covered Cable Sweater under $60. Style this with any black bottom, like the BR Coated Skinny Jean, or just a simple pair of black jeans and boots. Available in XS – L.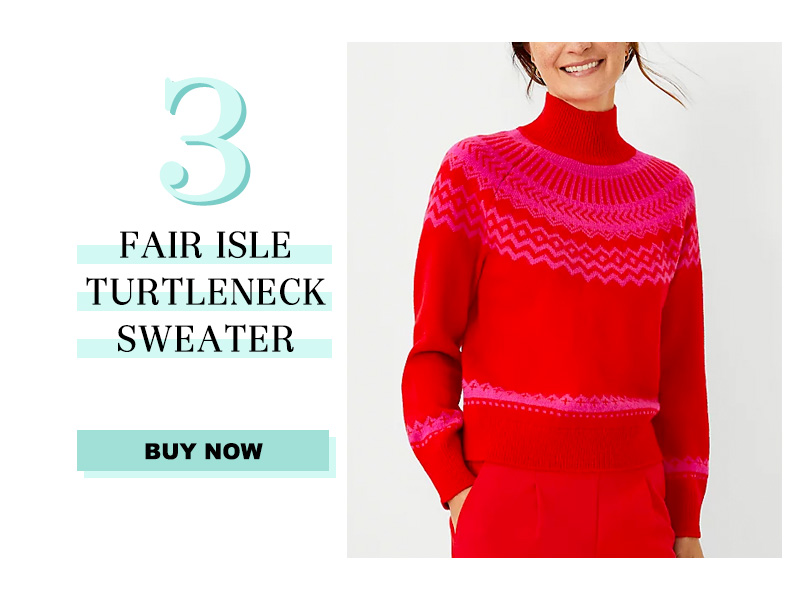 Fair Isle Turtleneck Sweater, $98 ON SALE 40% OFF $58.00
I adore red and pink together, so this sweater (also 40% off) was a no brainer. I'll wear it for Thanksgiving with dark jeans and these light tan boots. If you wanted to dress it up, a pair of winter white trousers would be gorgeous, our you could take some inspiration from the model and have a tonal moment.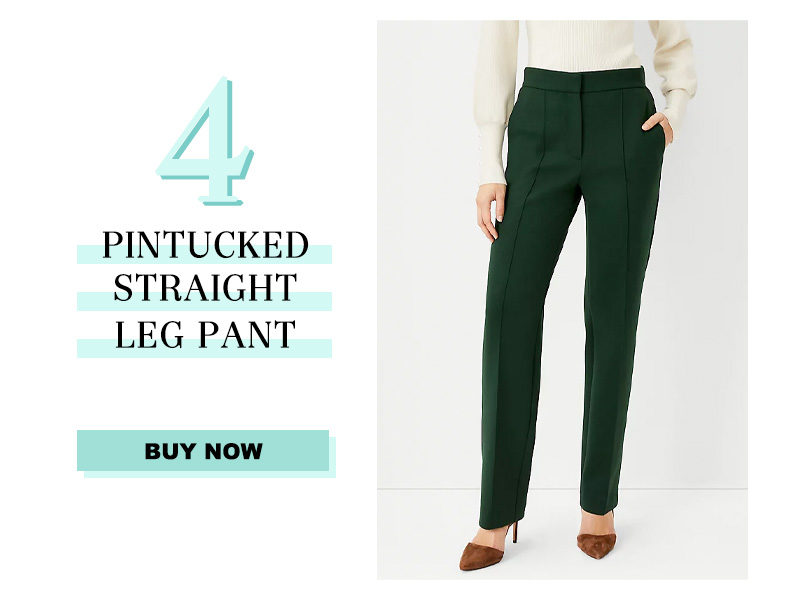 Pintucked Straight Leg Pant, $98
I edited this post last night, and these pants are already super limited. Right now, they are available in regular and petite with limited sizes.
If your size is still available, I love the idea of green bottom paired with neutrals, like cream and ivory, and some fun statement jewelry. It feels festive without being over the top.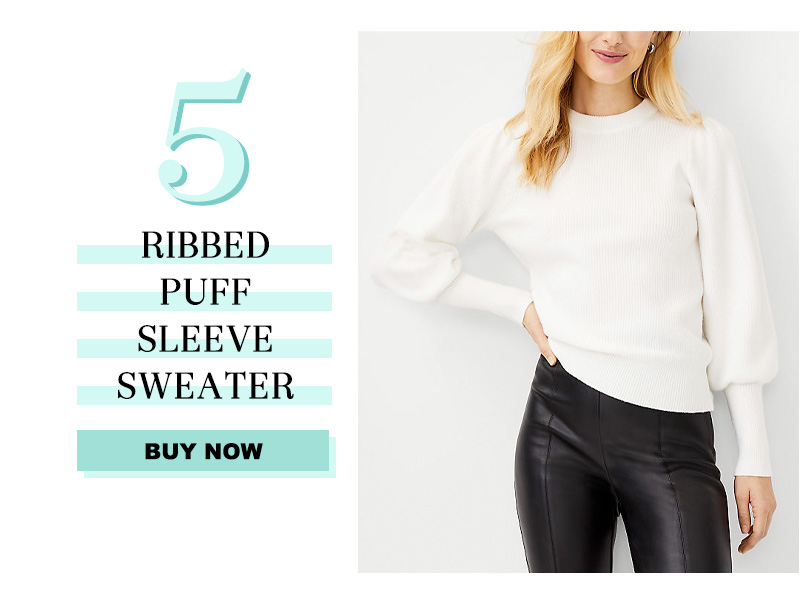 Ribbed Puff Sleeve Sweater, $90 ON SALE 40% OFF, NOW $54.00
I never met a creamed colored sweater I didn't want to buy. They make anything feel a bit more sophisticated and allow other elements of your look to pop, like an accessory or even a bold lip.
Available in XXS -XXL in three colors.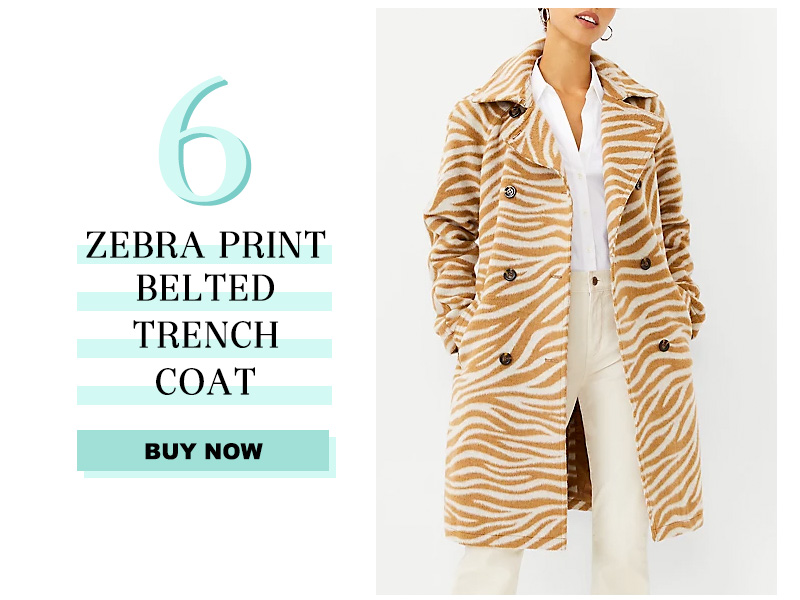 Zebra Print Belted Trench Coat, $225 Take $75 Off, NOW $153
I'm a coat girl, a statement-making coat girl. If your wardrobe is filled with neutrals, these kind of coats can set your look on fire. I bought a similar coat to this Zebra Print Belted Trench Coat and I wear it to death.
Available in regular and petite, XXS – XL.
Shop What to Buy at Ann Taylor
Our Style Content is Inspired by Our Readers
Our readership inspires all of our posts and is not sponsored or paid for by brands or retailers.
Recommendations are based on my experience as a personal stylist and wardrobe consultant for over a decade. I worked with busy, down-to-earth women who wanted to look chic and feel confident but were often confused by so much of retail.
Some links are affiliate links, which means if you purchase via our site, we receive a small commission.

If you enjoy our content and would like to help us grow, please follow on Instagram and join our Private Facebook Group to access more advice and exclusive in-depth conversations with other like-minded women.
Learn about our mission to help women look and feel their very best, every day, here.
Sign Up for Daily Content and Receive Our Free Classic Wardrobe Checklist