Happy New Year My Friends!
I am delighted to welcome a New Year and a New Decade.
If you are new to our site, welcome! I focus on providing busy, grown up women, practical and inspiring fashion, shopping and style advice. So if you want to look great and feel chic, but are tired of retail and fashion being too young or too old for you – you are in the right place.
Our daily content follows a loose format. Think of each post as a page out of a magazine. Each month will feature an array of seasonal content and will continue to be influenced by your thoughts and comments posted here and on social media.
Cheers to Your Decade of Great Style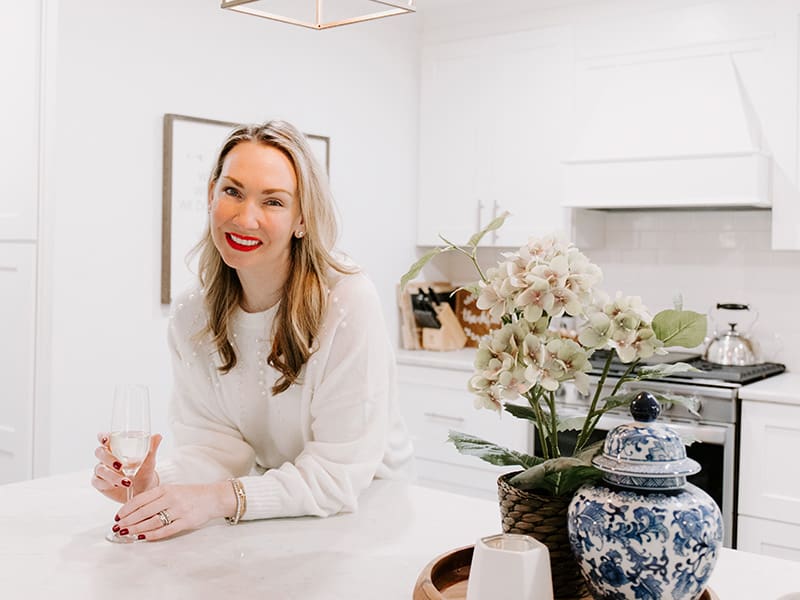 At the start of each month (today), I'll post an editor's letter of sorts. This is my way of staying in touch and saying hello. Outside of that, I'll share more personal content, behind the scenes glimpses and daily outfit posts on Instagram.
Our Facebook Private Group will continue to serve our community as a platform to host live videos and more in depth conversations. What started as a little group has grown in one year to over 1700 engaged members. It's especially fun to be part of during our Wardrobe Challenges (more on that below) but members use it to ask questions all year long.
What to Expect
Every day, our daily post will be delivered to your inbox (if you signed up for the mailing list) and posted on our Facebook page, in our FB group and Instagram.
I'm often asked why I post them across all the platforms, and the answer is simply because many readers only follow us on one site. Our email list, however, is the only way you are guaranteed to see our post, or you can visit the website each morning.
Facebook and Instagram follow an ever-changing algorithm, so even if you like or follow me on social media, you won't necessarily see all my updates in your feeds. (I know, it's so confusing.)
A couple of our long-running series will remain in rotation.
Wednesday will continue to be a weekly feature focused on workwear, though I am going to mix it up with casual office options and a few work-from-home ideas, as well as more traditional business options. Keep your specific questions coming – they truly inspire all of my content.
The Ten List was our most popular series of 2019. I posted it every Monday last year, but in 2020, it will be a monthly post, to make room for more style focused content.
Wardrobe Challenge!
Friday starts our Wardrobe Challenge – four weeks of step-by-step guidance to help you define your style, organize your closet, and begin to build a wardrobe you love. I promise it's possible!
It's completely free, and you don't even need to sign up. Just follow along here. Every Friday for the next few weeks, I'll post challenges designed to walk you through the process that I used when I worked with personal styling clients.
And this year, I'm not only guiding you through the process, but completing it myself. Since I was pregnant for most of 2018 and newborn sleep deprived for 2019, I need a reset, and refresh!
You can take a peek at my disaster of a closet in my Instagram Stories.
I've hosted several of these challenges and each time I build on the last one. Hundreds of women have already participated, and the majority of them do it multiple times.
Our Facebook group is the best place to participate, but all of the challenges will be posted across all of the platforms.
Happy New Year
2020 is a new chapter for me in so many ways. As a mother, I'm finding tremendous joy in watching my older girls become more independent and grow into strong young women (side note: strong young women are exhausting).
I also started motherhood all over again when we welcomed Vivi a year ago. Becoming a mom later in life was so scary and the best thing to ever happen to our family. Though I will say, straddling the worlds of preteens and toddlers is bat sh*t crazy most of the time.
At the end of 2019 I turned 40. I feel young, yet confident in who I am, and not interested in being anything other than that. I simultaneously have a burning sense of urgency to accomplish my goals, and yet open to see how everything unfolds on its own.
Professionally, my biggest achievement has been the community and business I created here. I never thought in a million years this would be where my career would take me, but it makes so much sense to me now. And I'm grateful every day that you stop in, and hopefully find a minute or two of inspiration, and connectedness. I know I do.
So, let's do this 2020.
xoxo,
Meg