All year long, I look forward to December. It is my most favorite season. In the best of times, it's a welcomed break from the hustle of daily life. For a few wonderful days, emails stop, deadlines move to the New Year, and the collective takes a breath.
But 2020 came in and steamrolled us all. Many of us have been treading water for nine months now, myself included. So this December, I'm planning on taking a break at the end of the month. I want to spend quiet time with my kids, clear my head, get organized, maybe bake something … we'll see 😉
Most of all, I want to take a minute to appreciate what I have and celebrate how we, as a family, navigated this year.
Welcome December
This was the photo I was going to use today, me in my bright white kitchen, well manicured, sipping bubbly … but then I thought …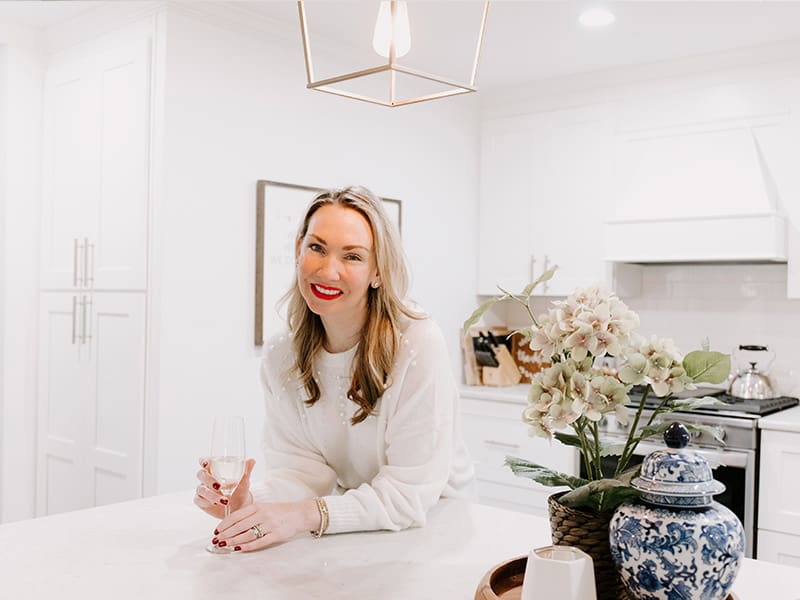 … let's get real. Here's what my morning really looks like:
You don't get more 2020 then this. We're back to virtual learning, our office is a mess, we're all in sweats. I'm pretty sure that's my oldest texting her friends while she's in class.
We are limping to the finish line.
Today I'm finalizing our content for the month. As I start to wrap up 2020 on the blog, here's what you can expect for the next few weeks on The Well Dressed Life:
Lots of holiday outfit ideas that combine comfort with a little glamour.

One Comprehensive Gift Guide.

Our Annual Reader Favorites of 2020 with new ways to wear them.

From December 21st – December 30th, we'll share "The Best of 2020," a round up of the top posts of the year every morning.

Finally, our New Year 2021 Wardrobe Challenge will begin on Friday, January 8th. More details will be shared in the coming weeks.
And, of course, if you have questions or requests, pop them in the comments below.
This has been one wild year, thanks for being a bright spot in it. I can't wait for 2021, when we can get dressed up to go to work, see friends again and generally return to normal.