I discovered this jacket last month when I ordered it as part of my Rent the Runway (RTR) Unlimited Subscription. It's the kind of piece that is just outside my style sphere, so being able to rent it, and try it out with my wardrobe, is such a fantastic option. I found it to be a great alternative to my typical casual blazer and feels edgy but still classic.
One of the options in (RTR) is that you can buy the items you rent at a discount. When I realized it was on sale for $50, I quickly bought it. Because I like it so much, I wondered if it was still available at stores, and turns out; it is, $55 for black, and $33 in Navy.
The only good thing about January is the sales.
I bought both.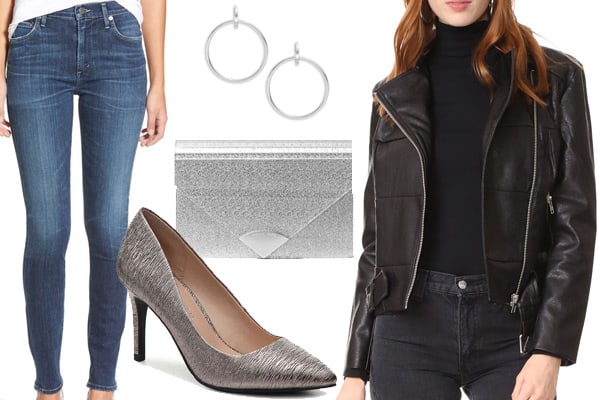 Must Have Piece, $55 | Jeans, $198 | Shoes, $40 | Clutch, $198 | Earring, $38
For me, this is the perfect Saturday night out look. Whether I'm meeting friends for dinner or spending it with Bri, it strikes the right balance of casual and polished. There are a few things to keep in mind when creating an outfit around this jacket. The shape and length work best with either skinny jeans or jeans with a long leg and subtle boot cut. Anything too full and you'll be overwhelmed. (To see a variety of jean options at different price ranges, check out our Denim Closet.)
You can throw this jacket over just about anything, though I love how it looks over a turtleneck. That's right, a turtleneck, I'm such a turtleneck girl. Bloomingdales currently has an array of colors for under $80.
For a night out, I like a pump. These silver fabric pumps at DSW for $40 are affordable and stylish. The jacket as a lot going on, so I would hold off on lots of jewelry and accessories. Keep it in one piece, like a long necklace or these earrings. They are simple, but complement the hardware on the jacket without competing with it. Finally, a silver clutch, like this one by Michael Kors has the right line and shape. It's an investment, so think about how often you'll use it. For a less expensive option, I like this $30 silver envelope clutch.
Shop this Post