This content has been archived. It may no longer be relevant
The idea of a wardrobe staple is that its timeless quality allows it to have a longer shelf life in your closet. I've never subscribed to the concept of, "you'll have it forever."
Clothing, by nature, is disposable. Eventually, any article of clothing will wear out, especially if you wear it with any level of frequency. (There are a few exceptions here, typically in the high-end category, like a Burberry trench, Hermes scarf, or any number of designer bags, but we're not talking about that price range.)
If your wardrobe leans heavily on better basics, start to train your eye to notice subtle details that may date them. For example the turtleneck. I LOVE a turtleneck. They're a staple, for sure, and also gaining popularity in contemporary style.
Maybe you have a closet full of them. If so, be sure they are in good condition and have a modern shape. Otherwise, you'll date yourself and your look without realizing it.
If the turtleneck is faded or stretched out, get rid of it. If it is made from a ribbed or overly stretchy fabric, it's dated, and can go in the donation pile. Also, color plays an important role. While I'm not color adverse a turtleneck in a neutral: black, tan, navy, gray, burgundy or white will always look chicer than something in a bold, bright or neon color.
With all this in mind, let's dive into today's inspiration outfit.
Updated Turtleneck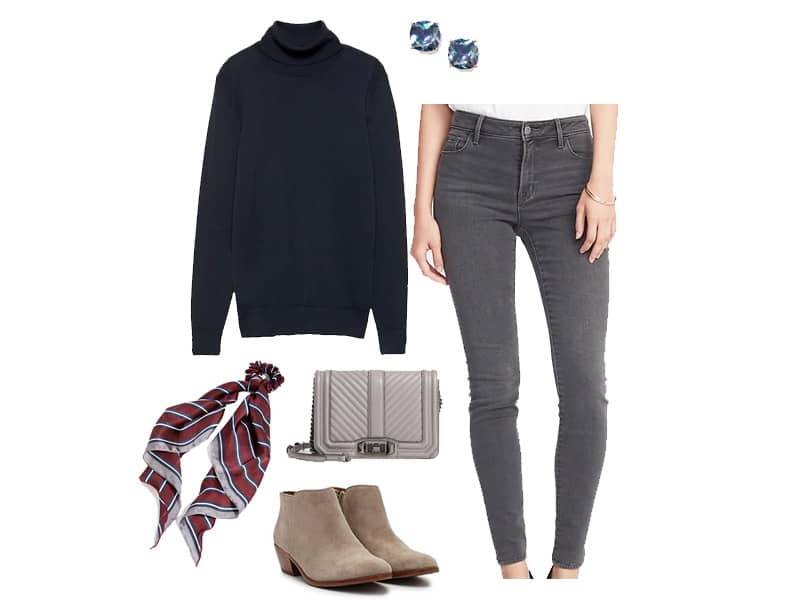 Sweater, $40 | Jeans, $22 | Scarf, $18 | Bootie, $100 | Bag, $195 | Earring, $32
This turtleneck by Banana Republic is the ideal shape and style. It's body shaping, without being skintight. The cotton-stretch blend allows it to drape beautifully. It's soft and cozy, just like it should be. Alternatively, you could look for a similar style in a wool or cashmere blend for some added warmth and luxury. Below are some
Currently, it's on sale for $40 in a nice range of sizes (xxs/000 – xxl/20). We're featuring it in navy. It's also available in other wearable colors, including black, blush and heather gray.
A few of our favorite options:

We paired the navy turtleneck with an inexpensive pair of gray skinny jeans. We've featured versions of these Rock Star skinny jeans from Old Navy dozens of time last year. They are $22 and available in "regular" (up to a size 20), tall and petite.
Shopping Tip: If designer jeans are not in your budget, Old Navy is a fantastic resource that gives a similar look at a fraction of the price. They don't have the longevity of a better brand jean, but will last a season or two before they stretch out.
The "Rocks Star" cut comes in a variety of sizes and washes:

Because this is such a simple look, you can have some fun with accessories. We used these Kate Spade oversized studs, another readers favorite from last year, in a blue stone. The cut of the stone picks up the light and colors of the outfit in a way that adds some sparkle and dimension.
The scarf was specifically made to be worn in your hair. It's a lovely and modern way to wear a scarf without looking stuffy. This one is only $18 and available in seven other color ways.
Since this is a look for the weekend, we found this crossbody bag by Rebecca Minkoff. I'm such a fan of her bags. They are an excellent value for the price. Here, we used the grey since it works so well in the look. It's also available in black. The black option is particularly wearable because there is no additional hardware, it's just all black so you can wear it with gold or silver, depending on your preference.
Finally, these Sam Edelman boots are in so many of your closets. I still can't believe how often I wear them, like, all the time. The putty color goes with pretty much everything. I ordered two new pairs just in case they don't make them next season.
Shop this Post