It's sweater weather, at least it's supposed to be. In the Philadelphia area, we still have humidity and warm temps, but hopefully, soon, we'll start to feel the chill of Fall. Today, I wanted to take a sweater dress and give inspiration for how to wear it on the weekends two different ways.
The Dress
I much prefer an unstructured sweater dress than one that is form fitting. Knits inherently are not the most forgiving. When a sweater dress falls close to the body, you can see bumps and lumps you don't even really have. That's why I look for something cut like, well, a sweater. This funnel neck dress from Caslon at Nordstrom is under $100, comes in grey (below) and black, and has more length than you usually get in a dress like this.
Drinks at Your Friends House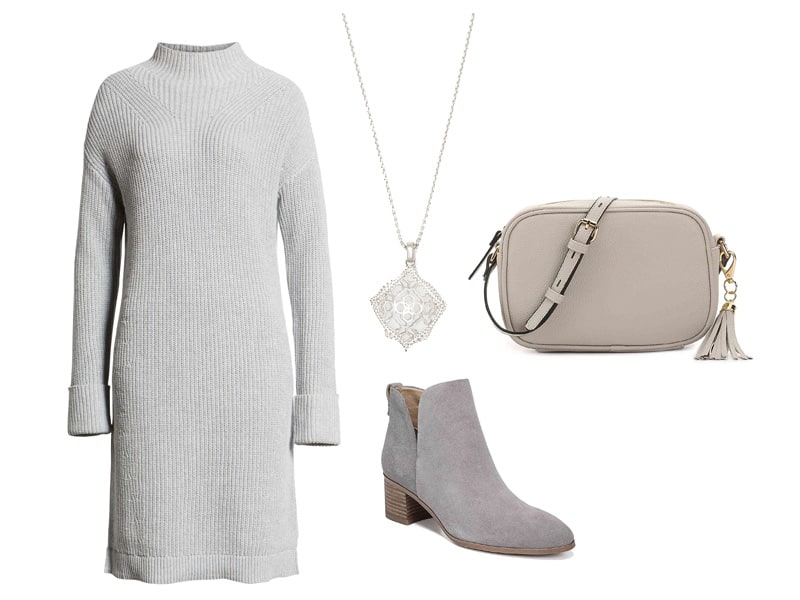 Dress, $79 | Booties, $129 | Bag, $25 | Necklace, $75
Looking for an alternative to jeans? The sweater dress might be your answer. Here, I kept is monochromatic, with every day, comfortable accessories. In my real life, this is something I would wear to a friends house when we order a bunch of pizzas, open up some wine, and let the kids and grown-ups hang out on a Saturday night.
Because the dress has a high neck, your best bet is a long necklace, here in silver to work off the cool tone of the dress. Shoes can be tricky, but a suede ankle boot is just the thing because they balance the weight of the dress. These by Franco Sarto are a nice option available in several colors. While the weather is still mild you can go bare legged. Once it gets cold, you can add a legging under the dress. Lastly, a crossbody bag, like this $25 option at DSW, is just the right size for the weekend, bonus points for keeping your hands free.
Sunday Brunch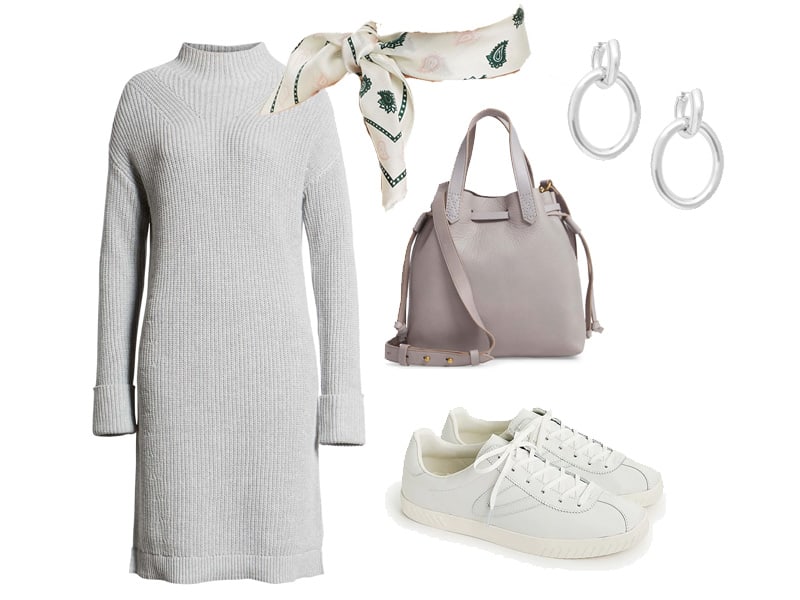 Dress, $79 | Sneakers, $85 | Bag, $128 | Scarf, $35 | Earrings, $104
I can't tell you the last time I met someone for brunch, but it sounds lovely. If I was going to enjoy a mimosa-filled morning, this is what I would wear. Pair the dress with crisp white sneakers for a chic yet sporty vibe. I like these under $100 sneakers available at J.Crew.
Next, an unstructured bag plays off the soft lines of the dress. Madewell made this dove grey satchel. It's smaller than it looks, which works for the weekend since you don't want to lug a work-sized bag around all day if you don't have to. Finally, for accessories, I would pull my hair into a low, messy ponytail and tie this scarf around it. Then, slightly oversized earrings in a classic shape will make you look right on trend without trying too hard.
Shop this Post