This content has been archived. It may no longer be relevant
This outfit is right up my alley these days since I have no waistline to speak of, but even if you're not almost nine months pregnant, how perfect is this for Thanksgiving … or Friendsgiving this weekend? It hits all the right notes, from comfort to chic appeal.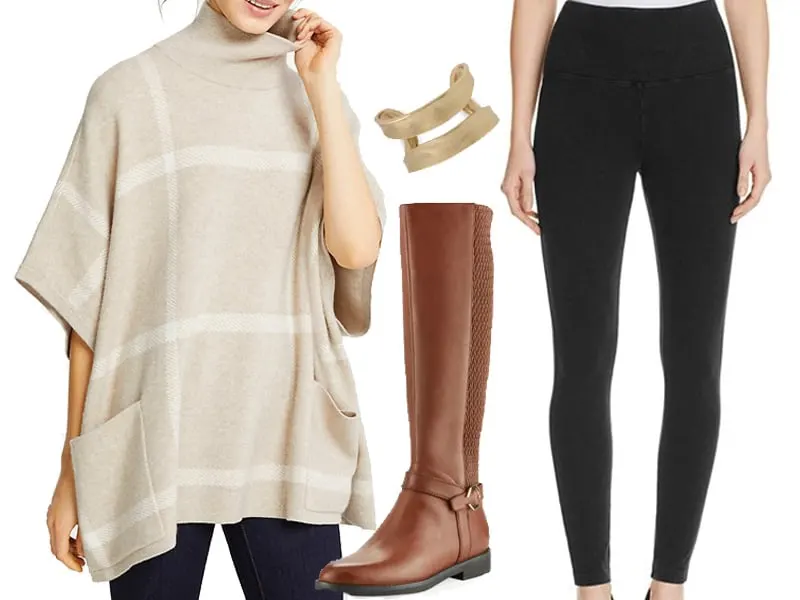 Poncho, $129 | Leggings, $78 Plus Size, $82 | Boots, $144 | Cuff, on Sale $20
I like a poncho sweater this time of year. This one feels fresh with its oversized plaid print, elbow length sleeve, and exaggerated pocket. You can wear it on its own or layer it over a simple long sleeve white tee, depending on your preference. It's also available in white and gray combo. Use code NEWOUTFIT to get 40% off.
Next up is a pair of leggings. Instead of standard black, I went with a dark grey that looks like denim. It's softer than black when paired with neutrals creating a more elegant effect. These are currently on sale for $58. Plus size? They are available at Bloomingdales here.
I still love a riding boot. These by Cole Haan are on crazy sale at Last Call. The color is timeless, so know you'll be able to wear these for years to come. I have a pair of Frye riding boots in black and brown from years ago and I still wear them almost every day. They are by far one of my best purchases. They are currently on sale at Nordstrom.
Finally, a sculptural cuff by Robert Lee Morris Studio plays off the plaid in the poncho.
Shop this Post