There is nothing more utilitarian than a pair of khakis. But, for those of us who grew up thinking Gap was the pinnacle of style, they hold a special place in our hearts. What's not to like? They are comfortable, affordable and a perfect alternative to a pair of jeans.
I mean, Princess Di wore them, right?
Today's interpretation is more casual and sporty. Olive green khakis have become a popular alternative (you can see our recent how to wear post here). For this week's post, though, we're focusing on the traditional, light colored bottom and showing you three different ways to wear them.
A few things to keep in mind: fit, as usual, is essential. You don't want them skin tight, or you'll look like you forgot to put on pants. Conversely, anything too oversized will date you. Focus on a clean and tailored cut.
We're using a slimmer legged version, by Wit & Wisdom ($68 at Nordstrom sizes 00 – 18) with a slight taper since they will look best on most body types. I'm not usually a fan of "chop pockets," but here they add to the casual vibe, and aren't obtrusive.
You want the leg to stop at around your ankle so the line of your leg doesn't get cut off at an awkward point.
Today we're featuring three casual weekend looks. I though about the variety of readers we have, so instead of creating three looks for the same person, I had a few different people in mind as I pulled these together.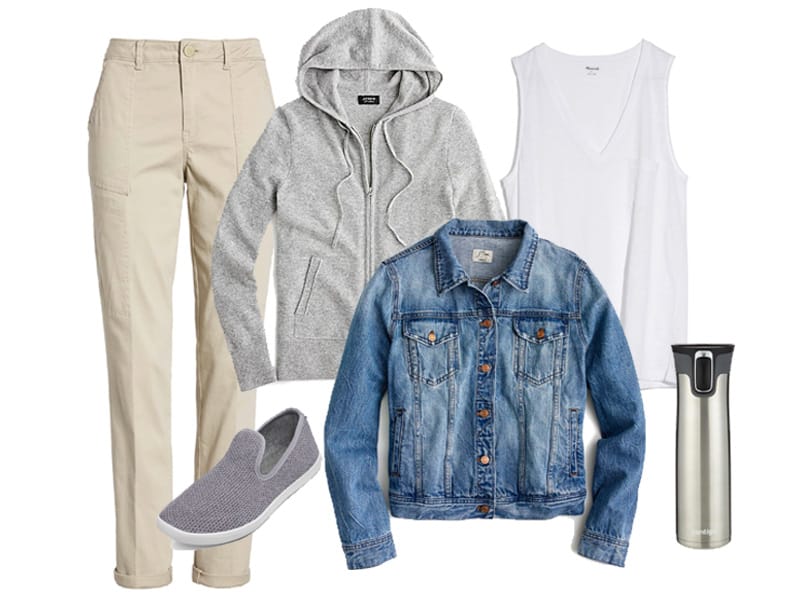 Khakis, $68 | Hoodie, $168 | Jacket, $110 | Tank, $18.50 | Sneakers, $95 | Mug, $28
This first look is for those of us with kid focused weekends. Starting tonight my life is all about softball, with practices every night and Saturday morning games. This is something I would wear on an early Saturday, with a coffee in hand, and there is a chill in the air.
This simple tank by Madewell is a nice base. I wouldn't wear it without something layered over it, though. I add a lightweight gray cashmere hoodie. Personally, I love when something casual is done in a better fabric. For a less expensive option that still has a touch of cashmere, this hoodie by Splendid is on sale for $65, or this one for under $40 at Nordstrom.
Then, add your denim jacket. We like this classic from J.Crew or this one from KUT from the Kloth ($79). Plus size here.
For shoes, instead of your go-to to tie top sneakers, pick up something like these Allbirds slip ons. We did a full review last year, and they are still a favorite. Including them in a casual look pulls it together in a polished way.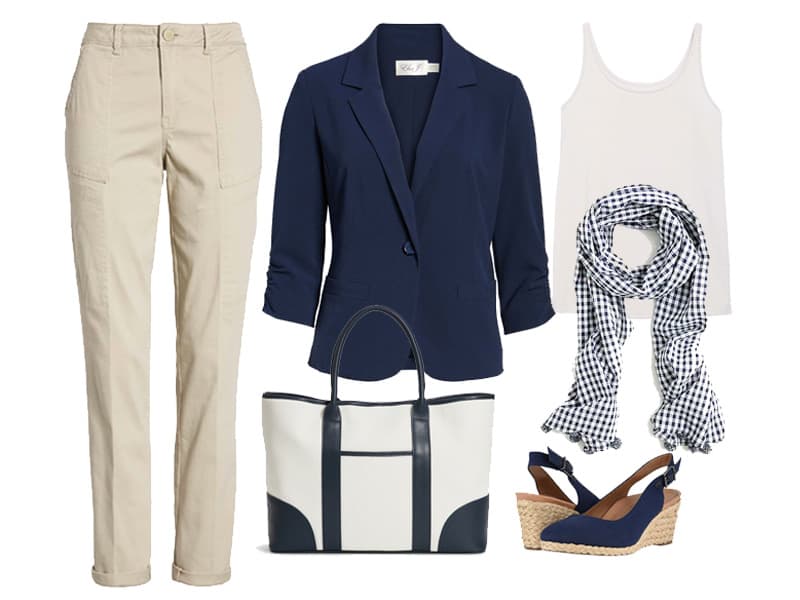 Khakis, $68 | Blazer, $78 | Scarf, $49 | Tote, $198 | Wedges, $120 | Tank, $73
Look number two is for someone heading out to have a day somewhere. Maybe you're meeting friends for lunch and some shopping, or spending the weekend away sightseeing.
For years this Eliza J knit blazer was a client favorite because it's casual but dressed up just enough to elevate your outfit. Use it instead of a cardigan. It has great stretch while still holding its shape, and the ruched sleeves keep it relaxed. Wear this like a top, don't worry about taking it off. It's available in missy sizes in black, blue and white for $78, and in plus sizes in black and blue.
You can wear any white tank as an under piece, just be sure that the neckline is scooped since that works best with the cut of the blazer. We're featuring this one by Eileen Fisher because it's high quality, wears well and lasts a long time.
A gingham scarf adds some interest, you can use any kind of print or pattern you like. Keep it lightweight so it complements the other fabrics – this is another way to keep your look balanced.
Finally, grab a tote. We featured this classic navy and white one from Brooks Brothers last month. A crossbody could work here too if you'd prefer to be hands-free. For shoes, a wedge gives you height without being unmanageable. These espadrille style wedges from Vionic are timeless and comfortable.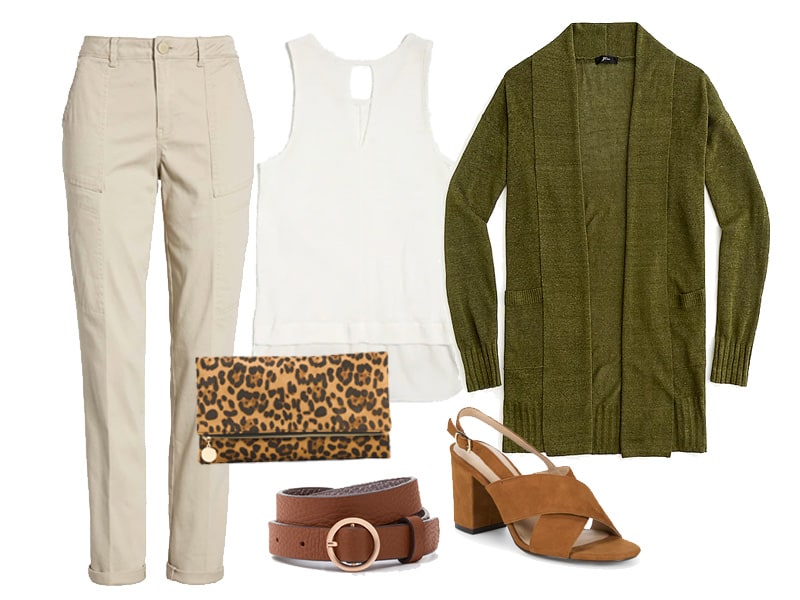 Khakis, $68 | Tank, $18 | Cardigan, $98 | Sandal, $54 | Belt, $38 | Clutch, $20
Rounding out the outfit options is look three, where we used pieces I know many of you already have in your closet. This is an easy, casual look that doesn't feel sporty. While the outfit is basic, a few elements are important to remember.
First, when you are wearing an unconstructed piece like this cardigan it's a nice option for the tank underneath to have a similar drape. I used our favorite J. Crew Factory drapey tank. The way it hangs is perfect if you want an under piece that doesn't cling to your body, and its mixed media detail with a light chiffon trim elevates it.
For those of you who prefer a longer (ish) cardigan, this one by J.Crew hits at a flattering spot for most people. But, again, wear whatever you already have. The takeaway here is when you wear a longer cardigan like this, try to wear a heel to give you height, whether it's a wedge or a block heel like these Pure Navy ones on sale at Off Fifth. A flat shoe will drag the line of your body down and you will look frumpy.
I included a belt in case you wanted to tuck in a different tank. The Eileen Fisher tank above glides over your body and stays put. A belt is a fun element to incorporate if it works for you.
Finally, this inexpensive leopard print clutch ($20) adds some personality and works with the mix of earth tones.