Camo has been a trend long enough now that it's becoming more of a modern pattern you can use like a neutral, similar to an animal print. Like animal print, camo can be perfect in small doses, and terrible when worn head to toe. For today's weekend inspiration outfit, I created a relaxed and casual date night outfit, that becomes cool and edgy with the subtle use of camo.
How to Wear Camo Print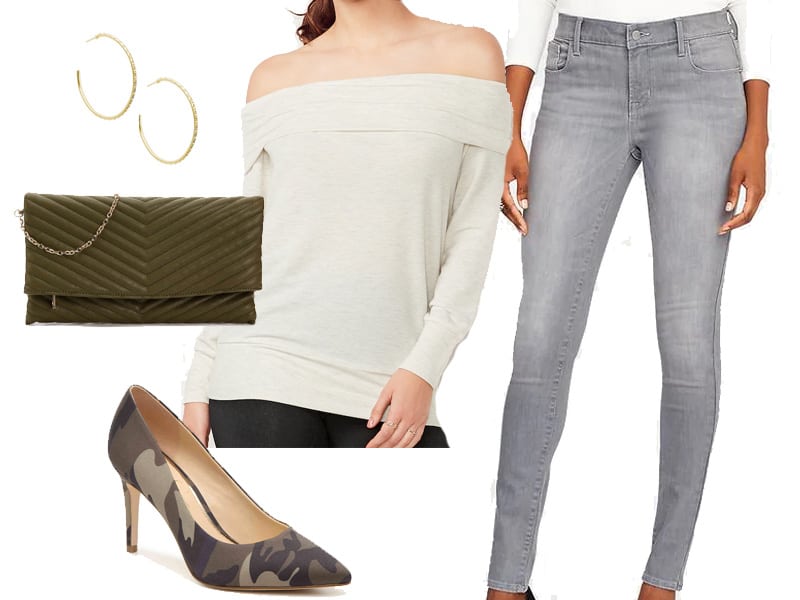 Sweater, $30 | Heels, $60 | Jeans, $35 | Clutch, $30 | Hoops, $70
In our current wardrobe challenge, a few date night and girls night out outfits are a top priority for many of our participant's. It makes sense, by the time we're done buying clothes for work, and daily life, running errands, working out, there's little left in the budget for something fun and sassy. That's why I paid close attention to price points for today's outfit.
The Sweater
One of the things that's hard about getting dressed for a Saturday night is that we tend to try to make our "during the week" pieces translate on the weekend. So our outfit doesn't feel special. This off the shoulder sweater from Kohl's is a trendy, affordable piece you can pick up and not feel bad that you'll only wear it a few times. We featured it in light oatmeal, that looks more like ivory, it would also look great in the gray. Don't be afraid to show off your shoulders. You don't have to wear this as low as the model. In fact, keeping it just hugging the top of your shoulders is perfect.
The Jeans
We've featured these Old Navy jeans a dozen times over the last few months, always in a dark wash. Gray jeans are another alternative. While I often recommend spending on dark blue jeans, I would put any other color jean in the save category. I like these because they look more designer than they are, fit well, and have a sophisticated wash.
The Camo Pumps
When incorporating camo into an outfit, you need to pick the right kind of pattern. This is hard to explain, but you don't want it to look cheap. Focus on the color combination, and pick a print with muted, muddy tones. The next thing to look for is the shape of the shoe. You basically want to choose a classic shape and style, with a conservative heel height. If you go too high or add a platform, your whole look will fall apart. These pumps by Jessica Simpson at DSW are the best example of a sophisticated take on the print in a traditional heel.
The Accessories
When layering accessories on an outfit like, look at some of the details on the clothes, and count them as accessories. The fold at the shoulder on the sweater and the wash of the jeans are extra little details that add depth to the look. To finish it we used a simple hoop earring. It's like old school J.Lo, which I'm down with 100%. Finally, an olive green clutch, with gold chain and quilted pattern, for $30.
Shop this Post