Over the years, many of our readers have shared how challenging it is to dress for casual social events, and I totally relate. Even though I've spent almost all of my 20-year career dressing women, I still find this the most difficult.
Not because I don't know how to do it, it's just that I feel like I don't ever have what I need when I need it. Between my lifestyle always evolving, my body changing, and using my budget for other things, occasion pieces are always on the bottom of my priority list.
But this fall, now that my life feels (kinda?) settled, and the baby is almost one (I can't even deal with that) I've set out to find not only pieces that will work in my busy life but yours as well.
Like so many families, we have a packed fall schedule. This weekend alone, we have a birthday party, a sleepover, at least six (SIX!) field hockey games and softball practice. Bri and I also always try to squeeze in some kind of date night, on Friday or Saturday, though over the last few months they have become more and more low key.
Luckily our neighborhood is minutes away from a handful of bars and restaurants. So we can squeeze in a little quality time with each other, without it feeling too involved.
Having a few tops on hand that I can quickly grab and get dressed in less than five minutes makes life so much easier and going out for an hour or two more manageable.
So when I found this sweet yet simple top for only $29, I scooped it right up.
Weekend Outfit Inspiration: Go-To Top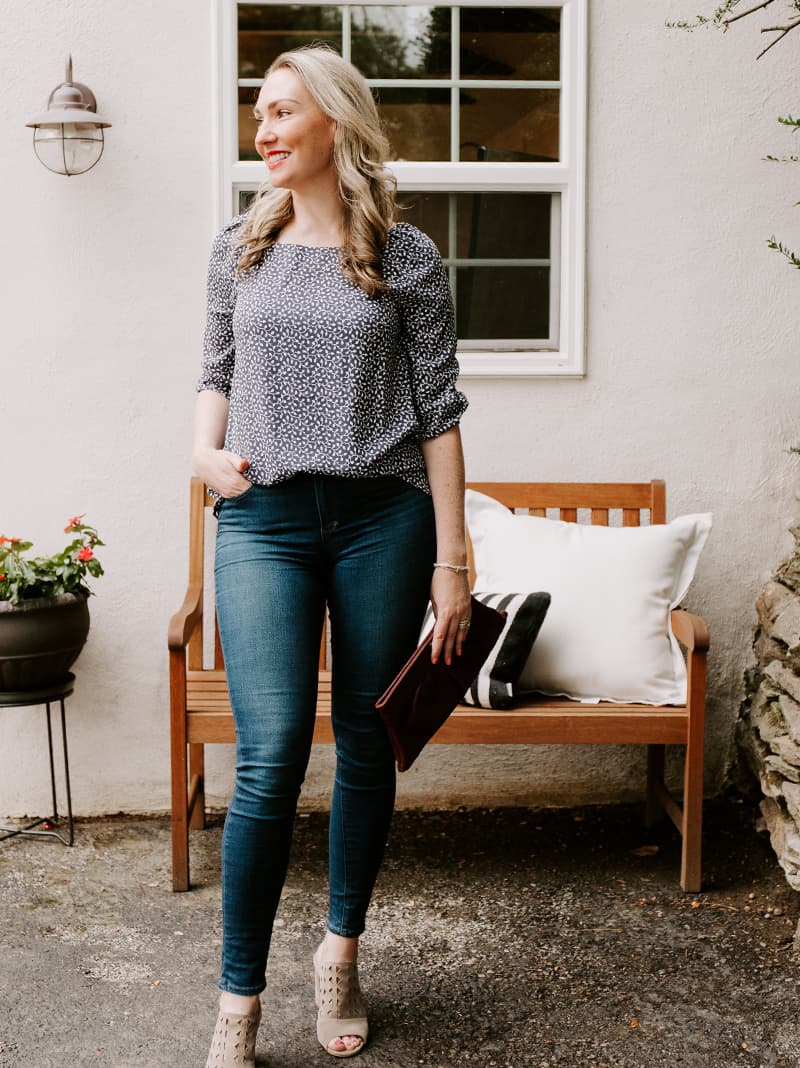 It's the PERFECT top for jeans.
It's simple, yet finished. The neckline is universally flattering, and the sleeve has a slight puff – nothing crazy or over the top, but enough to give it some life. Just throw it on and go.
Here, I half-tucked it into my Paige skinny jeans to give it some shape and keep the line of my leg long. I wore it with an old pair of open toe block heel sandals I picked up at Nordstrom years ago (these are a nice option for the season with a similar feel) and a leather clutch in burgundy. That's it – dressed in 5, no stress, and ready to go.
Since I bought it, I've worn it for a quick night out with Bri (above), a mid-week catch up with some neighborhood moms, and a meeting at my girl's school.
The top is by Lark & Ro, a private label brand on Amazon. It's available in 10 colors and patterns. I'm wearing my standard size 8 it in the Navy Leaf print. I also ordered the black to wear with jeans and joggers. (Last month I featured this wrap dress by Lark & Ro and so many of you LOVED it. )
Sizes include 0 – 16 (Lark & Ro does offer plus size, just unfortunately not in this style.)