This content has been archived. It may no longer be relevant
I love the idea of taking a dress, in this case, an inexpensive one, and finding different ways to wear it. Today's post is a testament to buying multifunctional basics because, while the dress isn't a staple, the supporting pieces are, and they are hanging in many of your closets.
First, let's talk about this dress. Once again, I'm pleasantly surprised by Old Navy. This under $40 dress has a universally flattering sweetheart neckline which is open without being low cut. This helps elongate the line of your body.
If you are average height the length should be fine. For someone like me (I'm 5'10) it's a little on the short side. Depending on where you like your hem to hit, a simple alteration to let the hem down will work wonders and is worth the extra cost – at most you're looking at an additional $10 – $15.
Even though the dress is inexpensive, the quality is there, and the sophistication level can be elevated by incorporating some slightly better pieces.
Don't love the pattern? It's also available in three other prints, including a chic black and white dot that would easily slip right into these outfit ideas. All patterns are available in petite, tall and missy from an XS – XXL and from 1X – 4X here.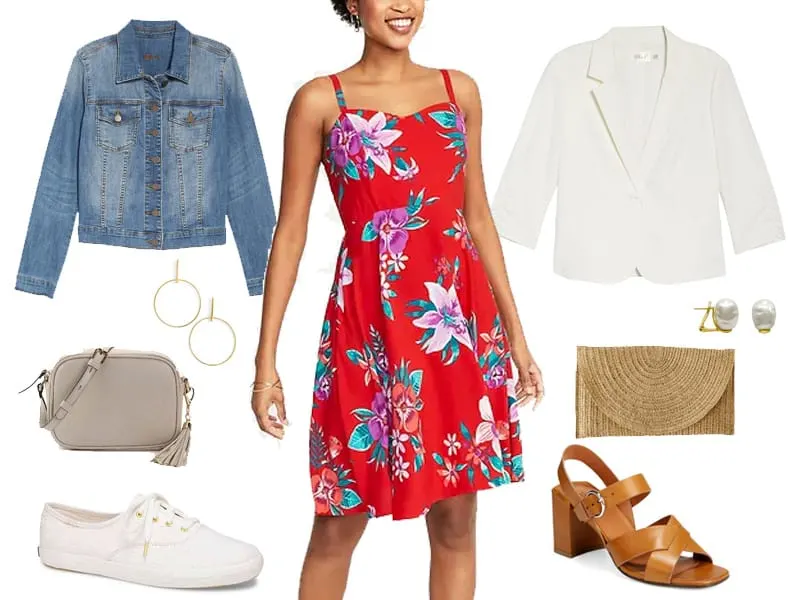 Outfit One: Dress, $17.50 | Jacket, $79 | Sneakers, $50 | Bag, $25 | Hoops, $58
Outfit Two: Dress, $17.50 | Blazer, $78 | Sandals, $275 | Clutch, $51 | Earrings, $100
We went casual for the first look. I love a dress/denim jacket/sneaker combination. (You can see a version of me wearing it here.)
Grab a denim jacket, like this one that I have by KUT from the Kloth, or this one by J.Crew. Either one is a classic that you will turn to for years.
Next, add a sneaker. The thing to remember here is that you are not wearing your gym sneakers. White sneakers are for outfits. Their slim profile and toned down styling balances out the weight of the denim jacket. These Keds have a subtle eyelet detail for some extra femininity.
Finally, a modern gold hoop and a streamlined crossbody bag (for only $25) creates an easy yet pulled together outfit for the weekend or any time you want an alternative to jeans.
The second look can take you from day to night with a few simple swaps. Imagine you're on vacation, you have a day of sightseeing in outfit one, and then with a quick stop back at the hotel, you could be ready for dinner in 5 minutes.
We've featured this Eliza J. one button blazer several times this season. It's been around for so long that I use to put it in clients dressing rooms, and I haven't worked with private clients in almost five years.
The cut and fabric pair perfectly with the dress. It's a true separate jacket, and you'll get a ton of wear out of it.
You could keep in your hoops or switch to these pearl earrings, another popular item from our last few weeks of posts.
A straw clutch adds texture, and makes the whole look feel more "dressed." If you love extra preppy goodness, you can even get it monogrammed.
Finally, I added these block heel sandals from Via Spiga. I have a version of these from about three or four years ago, and they are still one of my most favorite, most worn and most comfortable shoes in my closet. They go with everything. They're more of a considered purchase, but I think they are well worth it considering how much wear I've gotten out of them.
Shop this Post