There are some pieces in our wardrobes that we just love to wear together. For me, it's a pair of jeans, a tank and a long cardigan. It's a straightforward formula that is easy to dress up or down and adjust based on the season.
For today's post we're showing you how to create two weekend outfits to wear now and later, just by changing out the shoes and accessories.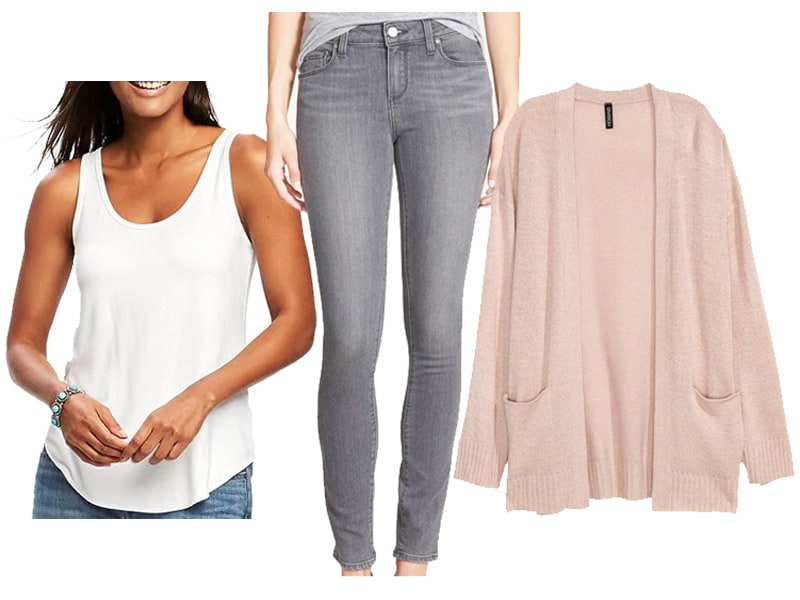 Cardigan, $25 | Jeans, $189 | Tank, $17
Pale pink and gray is a winning combination. It's soft and has a cozy feel. I found this cardigan at H&M. The quality is pretty good. It's one of those pieces you'll get a lot of wear out of, until you can't wear it any more.
Surprisingly, the most impactful component of this look is the tank. Not all tanks are the same. This one drapes off the body and scoops in the front, complimenting the movement of the cardigan. (Pick it up in multiple colors.) It's a little detail with significant impact.
The outfit would not work the same way if the tank were fitted to your body.
Finally, gray jeans. I love Paige, they fit well and are worth the price tag. Looking for something less expensive? These Old Navy jeans are worth checking out.
Wear Now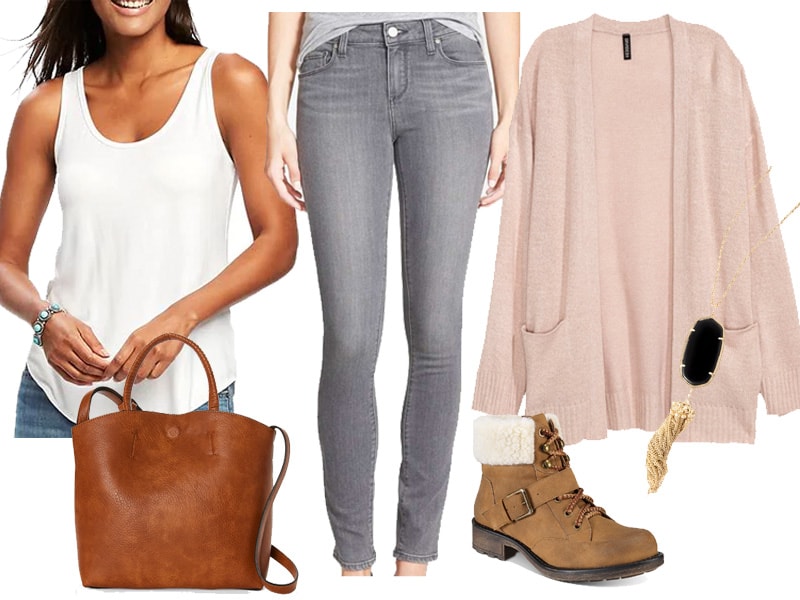 Wear now with: Necklace, $80 | Boots, $45 | Bag, $33
Earlier this week, I woke up around 6:30 with a little sunlight streaming through my bedroom window, and the first sounds of birds chirping. Maybe, just maybe, I thought, we'll have an early spring.
Not the case, since this weekend we're set for more snow. Making this look winter weather appropriate is easy by adding a boot. I tend to lean toward clean lined ankle or riding boots. You can absolutely wear them with this look, or you can wear something like these faux-fur collar chunky boots. At $45 they are a fantastic alternative that won't break the bank.
You need a bag to balance the weight of the boot. This Street Level tote does the job and is super versatile.
Finally, a long necklace adds additional weight and movement. We used the black stone version of the Kendra Scott piece, white would work just as well.
Wear Later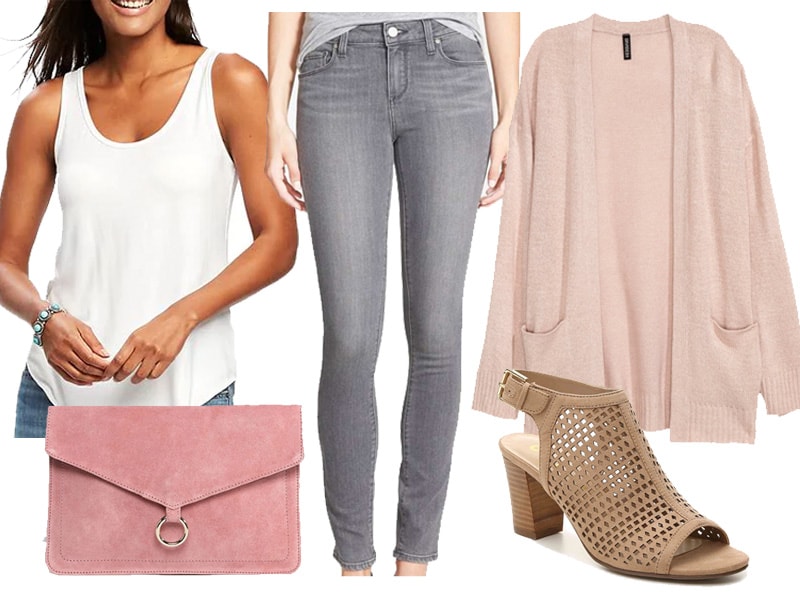 Wear later with: Shoes, $50 | Clutch, $32
The second the weather breaks, you can break out your spring sandals. I wasn't always a fan of the open toe cage shoe, but as the style evolved, they grew on me.
With this look, the cardigan is heavy, so you need the shoe to create balance. The block heel keeps the overall look grounded.
Finally, grab a clutch. I'm CRAZY for this one by ASOS. The pink is darker than the cardigan but still in the same family of color, giving depth and interest without having to add a lot of "stuff" to your look.
Because the shoe is suede, I used a suede clutch. This trick creates cohesiveness and elevates the look even though it's so simple.
Shop this Post