For our last Weekend Inspiration post of 2018, we're featuring corduroy pants, a seasonally appropriate jean alternative in a surprisingly easy to wear burgundy color. This isn't corduroy the way many of us remember it. As a child of the 80s, I can still feel the weight of the heavy wale, and how you could feel your thighs rub together when you walked in them. In the modern interpretation, cords are thin and lightweight giving you the opportunity to play with texture without adding bulk.
We used these slimmer cut pants by KUT, available in nine other colors, in missy and petite for under $50.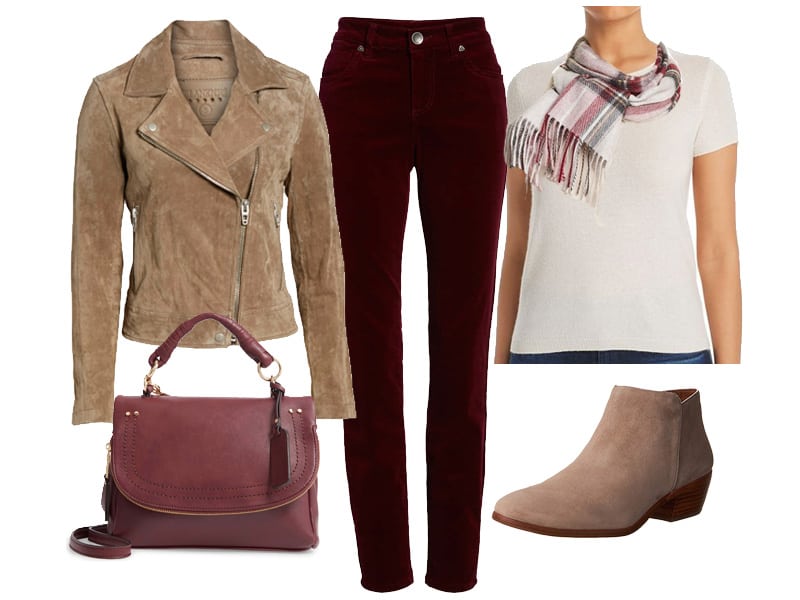 Pants, $50 | Jacket, $126 | Sweater, $83 | Scarf, $104 | Boots, $100 | Bag, $60
To layer underneath, you want something more substantial than a cotton tee shirt or silk shell, so I looked for a short sleeve sweater. Bloomingdales has a lovely line of cashmere, and this simple and chic tee is under $100. For a topper, I used this popular motto jacket we've featured several times that made it to our Readers Favorite list earlier this week.
I'm thrilled with the accessories for this look because they can all be used in different ways outside of one specific outfit. I have these Sam Edelman booties and wear them to death – at least I did until my feet decided to swell to the point that I can only wear slippers. Pregnancy is so glamorous. They wear well and work with just about any casual bottom.
The bag is by Sole Society. I like investing in handbags, but not when it comes to color. For that, I try to keep it under $100. What's extra nice about this bag is that while it's affordable, it's still high quality and the color works as a neutral. To pull all the elements together, I just added a plaid scarf to incorporates all the colors and makes the look feel purposeful.
For more inspiration, check out our most popular Weekend Inspiration Posts of 2018: