This content has been archived. It may no longer be relevant
On Monday we featured these boots on The Ten List. Pretty much everyone went crazy for them, with good reason. They are stunning. I can't tell you how many times I've looked for a pair of boots just like these, and found the perfect pair only to discover they were well over $500, or were reasonably priced but had some kind of deal-breaking logo/hardware on them.
These boots, by Kenneth Cole classic and ideal for this time of year. They're have some height to them, but the block heel makes them wearable. I love anything in cognac, but if you need a black or dark brown boot, they are available in those colors too.
Today, we're showing you how to easily wear these boots two different ways.
Thanksgiving Dinner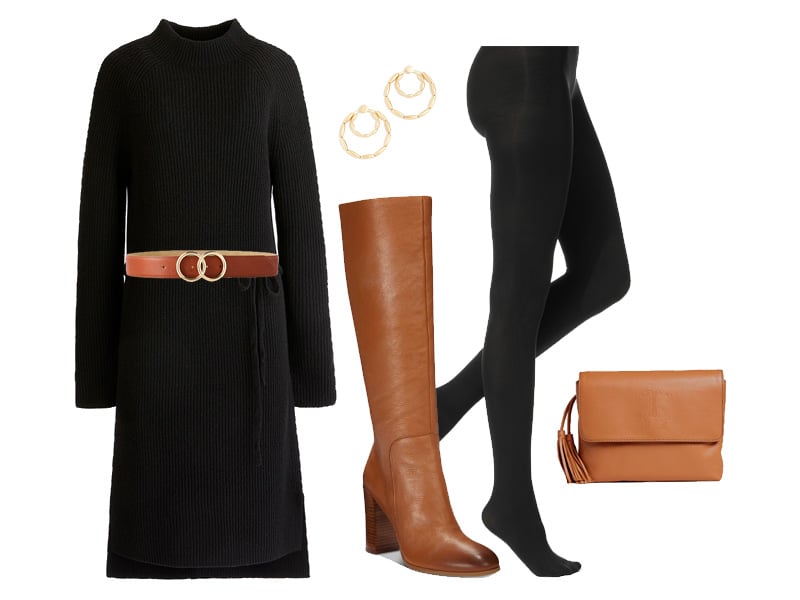 Dress, $120 | Tights, $15 | Clutch, $144 | Belt, $40 | Earrings, $23 | Boots, $199
What else is there to wear on Thanksgiving other than a sweater dress? They're comfy, cozy and let you eat all the pie. This mock turtleneck style, by J. Crew, is slightly body conscious.
It comes with a self tie, which I replaced with a $40 double ring belt by Express. Adding a new belt elevates the outfit. You don't have to wear a belt at all if you don't want to. Then, I added these circle hoop earrings by Rebecca Minkoff to play off the hardware on the belt.
Last week, we featured a different sweater dress that is similar but less fitted that many of you picked up. If you bought that dress, you can easily use it in this look.
For tights, I like Hue Opaque Tights. They are soft and warm, but not too heavy so you can move in them and slip your boots on and off without a lot of drama. Need a clutch? I found this leather cognac bag at Brooks Brothers. (On a side note, I had no idea Zac Posen was working as Brooks Brothers Creative Director, but I'm down with it. I'm very, very down with it.)
Shop this Look
Thanksgiving Weekend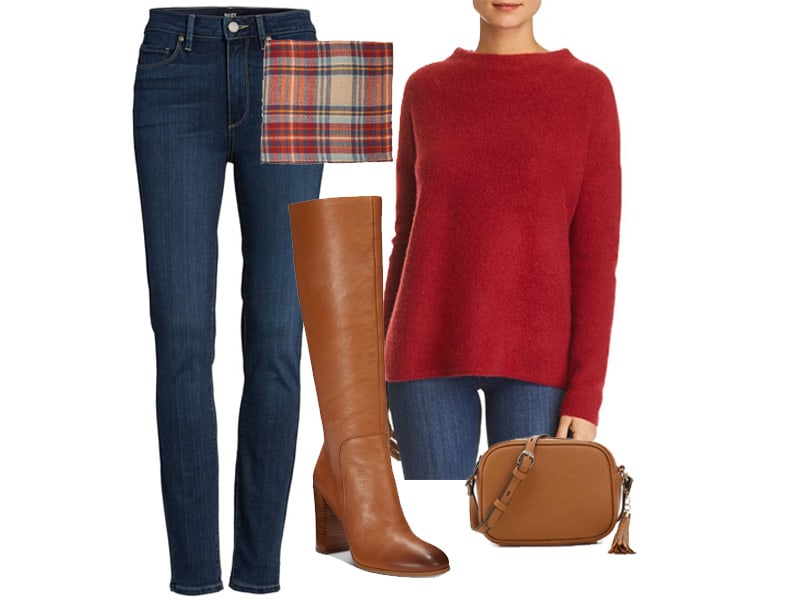 Jeans, $189 | Sweater, $150 | Bag, $25 | Scarf, $20 | Boots, On Sale, $170
Traveling to family? Visiting friends? Shopping? Chances are you're doing something festive over the weekend after Thanksgiving. Get double wear out of your boots by pairing them with a pair of skinny jeans and an autumnal sweater. You know why I love this look? Because the elements are as basic as they come, yet it's so polished and pulled together.
My go-to, "better" skinny jean will forever be Paige. You just can't beat the fit and ink blue wash. If you are wearing a knee high boot with jeans, you have to wear a skinny, other styles won't translate. Don't want to spend? You don't have to, the Old Navy Rockstar jeans we've featured dozens of times, work well too.
Next, a cashmere sweater. I've mentioned C by Bloomingdale's , their in-house cashmere brand,before. It's well priced for the quality with classic styling. This sweater is boxy so keep that in mind if you do order it. The rusty red screams fall. I found this plaid blanket scarf, that adds just the right balance of color, plus the weight of the scarf works with the weight of the sweater.
Finally, a $25 crossbody, in the same color as the boots is all you need for a day out with friends.
Shop this Look