Life changed completely when we brought Vivian home from the hospital in December. My days look so different from even a year ago. There are a dozen balls in the air, and because our kids range from 11 years old to an infant, we have our feet in all different seasons at once.
And honestly, I love it. I love organized chaos, full schedules, and just the feeling that I know I'm smack in the middle of the sweetest days of my life.
But these sweet days can get away from me. Mornings, especially, are crazy. I get everyone up, dressed, fed and set up for their day and next thing you know, it's noon and I look like a wreck.
That wouldn't be a huge deal if I were able to bunker down with the baby all day, but I have to be able to work, take a video conference, pop over to school for different activities, and run errands.
Lately, I've been feeling like I need to take a few extra minutes to pull myself together before the day starts. Nothing too crazy, I just always feel better, and get more done, when I get dressed for the day. So I'm making a concerted effort to wear my favorite cozy pieces with a few elevated staples.
What I love about today's outfit is how easy it is to elevate cozy sweatpants. You just need a few extra layers and accessories and your look goes from sleep deprived mom to sleep deprived mom in chic athleisure.
Weekend Outfit Inspiration: Chic in Athleisure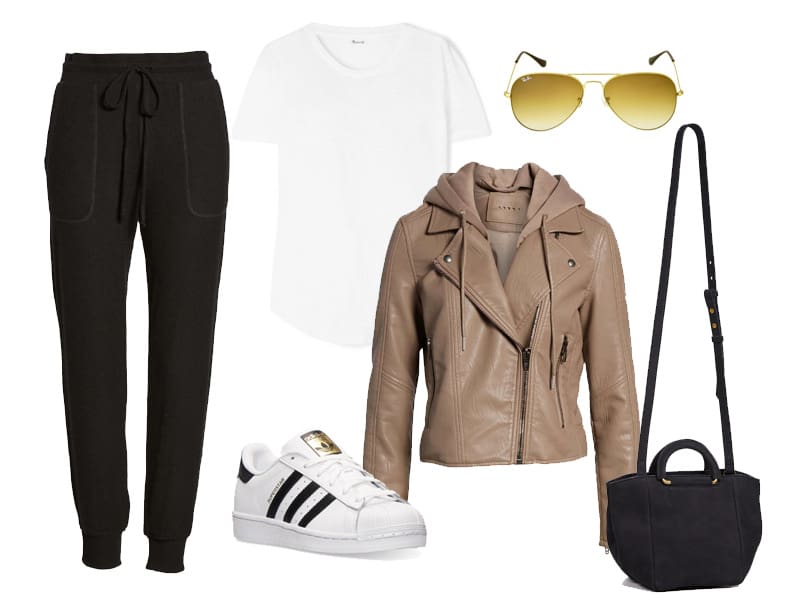 Joggers, $44 | Tee, $30 | Jacket, $98 | Sneaker, $80 | Crossbody, $90 | Sunglasses, $168
I've been living in these joggers by Gibson at Nordstrom. The slimmer leg makes them more polished than a baggy pair of sweats. I have them in black and gray. They come in a range of sizes up to an 18 also in petite.
A good white tee is hard to find. Why tee shirts cost over $100 is beyond my understanding. My top pick is the Whisper Cotton Tee by Madewell for $30. They are slim cut, and feminine. Notice how the scoop of the neckline mimics the scoop of the hem. It's that kind of detail that makes this a better tee.
You can pair it with something like the sweats above, or with jeans and a better blazer and wear it to work.
Here's where it gets fun and easy. Take your basic sweats, and instead of wearing your gym sneakers opt for a fresh pair, like these classic white and black "outfit sneakers" by adidas. Then, swap your hoodie or old denim jacket for a moto jacket. This under $100 faux leather moto with a removable hood is going to make me look infinitely cooler than I am.
Wear the moto for a sporty casual look, and then remove the hood and wear it as a blazer with a great pair of black pants and heels for work, or jeans and boots for a night out.
Throw on a pair aviators. They make everyone look better and never, ever go out of style. Finally, this crossbody bag, also by Madewell, is one of my favorite finds. It's the ideal casual crossbody since being hands-free is a necessity.
Looking pulled together with ease often comes down to having the right pieces on hand. If you need help getting clear on your personal style, want to organize your closet, and figure out the pieces you need to pick up to round out your wardrobe, join us for our FREE Wardrobe Challenge, 4 Weeks to A Better Wardrobe.
We are exclusively offering this in our private Facebook group. We'll get started next week!
Shop this Post