At my core, I am a jeans and tee shirt kind of girl. It's a laid back and casual combination that makes me feel most like myself. But not all jeans and tees are the same. At my age, I try to find something that feels grown up without being frumpy and also doesn't look like I picked it up at CrewCuts. I look for better quality piece but I'm not willing to spending $100+ on a tee shirt.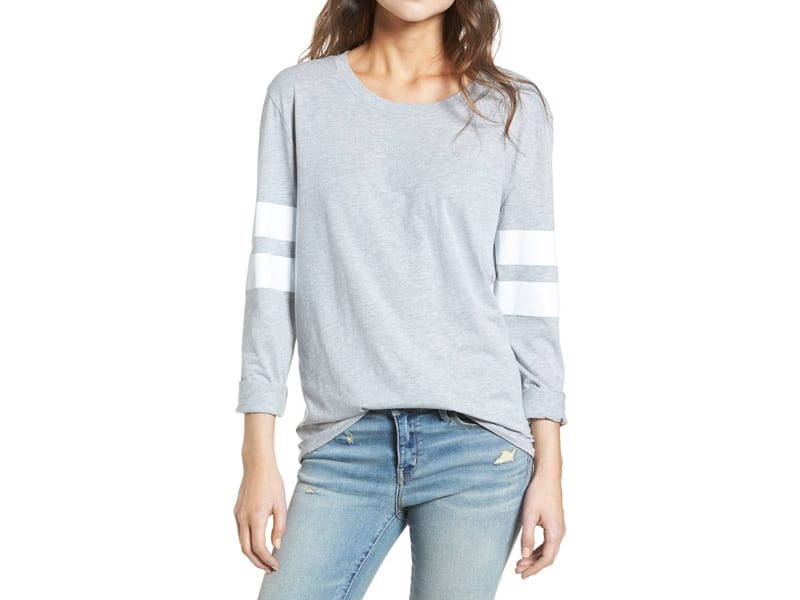 Varsity Tee, $45 Available in 7 other colors here.
Enter this varsity tee by Treasure & Bond at Nordstrom. When I'm working from home, and on the weekends, this is the kind of top I live in. It's long sleeve (the sleeves are rolled in the photo), soft, and sporty. For the next few weeks we'll be featuring a "must have piece" for our Friday post with outfit inspiration for now and into warmer weather. This way, you get maximum wear out of any piece you might pick up. Let's start with how to wear now.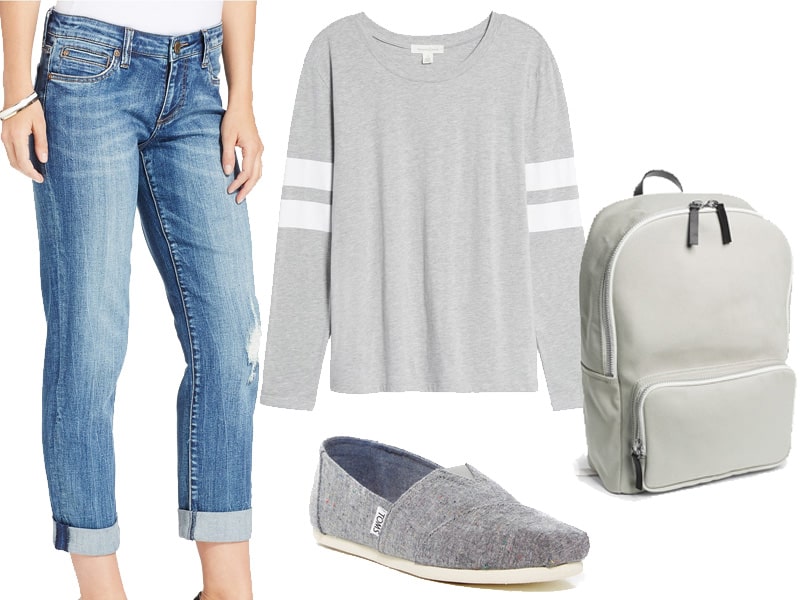 Jeans, $89 | Shoes, $40 | Backpack, $58
Whether you're chaperoning a school field trip or trekking all the way down to Disney, there are certain occasion when you want to look cute but not overdone. Here's how you do it. I paired the tee with cozy boyfriend jeans. These are by KUT, a well priced brand with fantastic fit and quality. Don't like the distressing on the leg? I know you don't. Our Denim Closet has dozens of different style options for any kind of jean you like best.
For a casual, sneaker alternative, don't overlook Toms. They have a slim profile, a nice alternative to most heavy, chunky sneakers. You could also wear a slip on sneaker, which were super popular on the blog last year. For a bag, I'm NUTS for this small backpack from Everlane. There is nothing better if you need to be hands free but want to look chic.
Moving to the summer …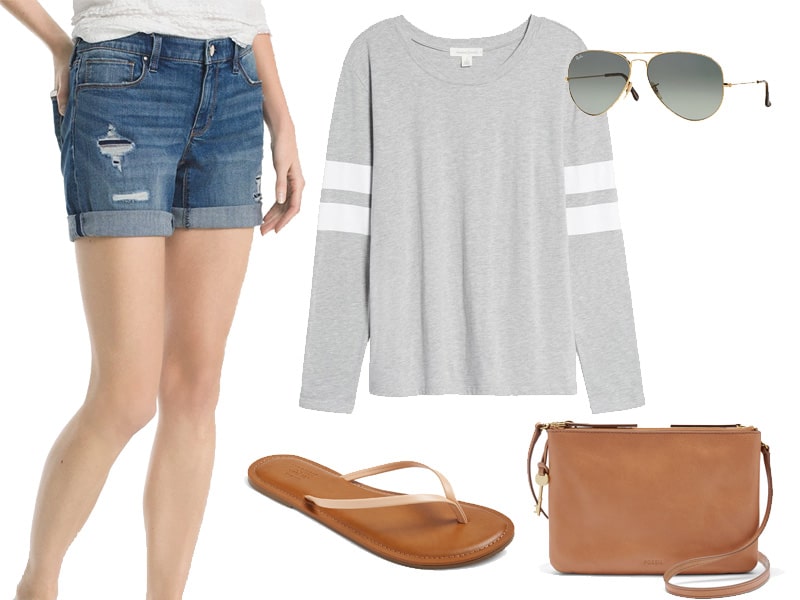 Shorts, $74 | Flip Flops, $8.50 | Crossbody, $128 | Sunglasses, $168
If you run into me in Cape May this summer, I will be in some version of this outfit. I'm 38 years old and I'm still wearing shorts. I don't care. I think I can pull them off, and what is my alternative? Capris? No. These shorts are from White House Black Market. The distressing makes them feel cool, and the 5″ length is a winner. (Available in sizes 00 -16.)
Since I am all limbs, when I do wear shorts, I always wear a long sleeve or 3/4 sleeve top. It balances out my proportions and feels a little more sophisticated. To make this feel like a cohesive look, the flip flop (under $10!) and crossbody are rather important. The British Tan color adds a richness and grounds the overall look. Finally, aviators, because nothing says summer like a cool pair of sunglasses.
Shop this Post