As someone who flies all the time, I try to create simple strategies to get out the door quickly and make getting to the airport as straightforward as possible. Keeping my overhead in my closet filled with packing cubes, an makeup bag filled with essentials at the ready, and a small cabinet stocked with travel size products are all part of making my pre-trip routine efficient.
Having an airport uniform, the outfit you wear every time you travel, hanging in your closet at all times, is also essential. For me, it's usually a pair of stretchy jeans, a tank, blazer, scarf, and flats. But in the warm weather, or for extra long overnight flights, that particular combination can be uncomfortable.
When I originally ordered this dress, I was pretty sure it was going to look like a sack, but something made me bring it in anyway. Yes, it's unstructured, but it works so well as a column that could stand alone or work with layers. It's like pajamas, only not.
The high/low hem keeps it from feeling too frumpy, and it's slightly defined in the waist. I like that the straps are thick and the back is high, so you're not showing your bra, and the neckline is flattering without being too low. You can curl up like a cat in your seat and not be a wrinkled mess when you deboard.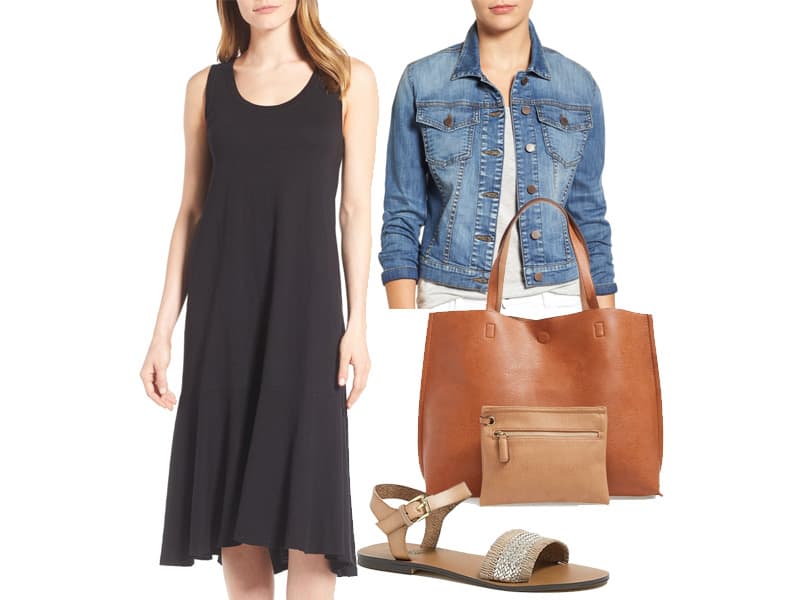 Dress, $33 | Jacket, $79 | Bag, $49 | Sandals, $27
I pair it with my denim jacket, since airplanes are notoriously freezing when it's actually hot out. Plus, if you are bringing it anyway, you free up some space in your suitcase. I picked these flats up at J. Crew Factory earlier in the season and have worn them quite a bit. I thought they would be uncomfortable because they are so flat, but surprisingly, they're not terrible. I even wore them with a sundress to a beach wedding and danced all night in them.
For my recent flight home from Boston with my mom, I swapped out the sandals for a crisp pair of tennis shoes. I was extra comfortable, but it still looked cute.
This Street-Level tote is a regular on the blog (be sure to add this organizer to give it extra structure). The tote is the best $50 I've ever spent on a bag. I cannot destroy this thing, and it definitely takes a beating.
Hope everyone has a great weekend. We are FINALLY moving into our new home office tomorrow. You can see some before and afters in our Instagram stories. It's still a work in progress, but I'll take it! I can't remember the last time I sat at my desk and kicked out a few hours of work.