This content has been archived. It may no longer be relevant
Happy Friday Ladies! We're headed into the craziest time of year. And as of today, I am three weeks away from baby #3, so my to-do list is even more than a typical December.
I'm starting to miss my old body. Just yesterday I was thinking about how being pregnant leaves me in awe of how strong women are and how grateful I am for what my body can do. It also makes me appreciate my non-pregnant body even more. I'd like to be able to finish a sentence without running out of breath, I miss the feeling of accomplishment and endorphins after a sweaty workout, and my waistline – ugh, all I want is to put on a pair of skinny jeans.
So today's weekend inspiration is what I would wear for day out with the kids, maybe picking up the tree, or looking at Christmas lights.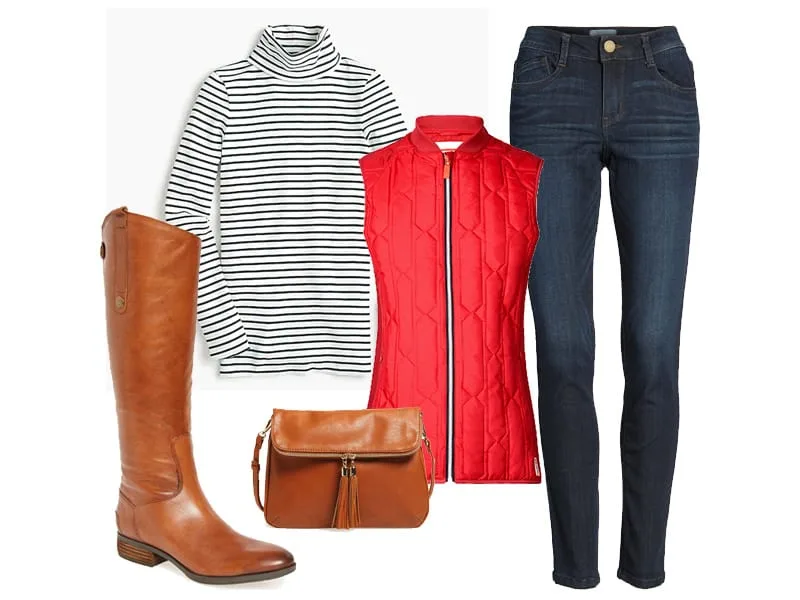 Turtleneck, $40 | Boots, $150 | Jeans, $65 | Vest, $100 | Bag, $30
How sweet is this outfit? I love everything about it, including the price points of each item. I ordered this striped turtleneck from J. Crew, so I have it ready to wear in January. It feels very Audrey Hepburn. Pair it with skinny dark jeans and boots for the weekend or black ankle pants and loafers for a casual office outfit. Right now, if you use code SNUGGLE, you get an additional 40% off. Cheers to J. Crew for offering sizes up to 3X.
This year many of us discovered Wit & Wisdom jeans. They fit so well and are only $65. If you want something better than Old Navy's Rockstar Jeans, but less than Paige or AG, give these a try. They are slimming, and there wash is pretty much perfect. Available in missy and petite here and plus sizes here.
Looking for a casual pair of riding boots? These Sam Edelman's are gorgeous and $150. They come in black and whiskey (above). I always go for the brown option for boots like this. They work as a sophisticated neutral that you can wear with anything, including black. While you don't have to be matchy-matchy this inexpensive crossbody bag works well with the whole look. It's especially nice to be hands free on a day out with the kids.
Finally, I found this cheerful red vest by Hunter that kicks these simple basics into casual holiday look. Want to add a sccarf? This seasonal plaid is under $30 and would bring all the elements of the outfit together.
Shop this Post