This content has been archived. It may no longer be relevant
With every passing year, September becomes more and more bananas. I go from one-day longing for the routine of a new school year to the next wondering how we are going to pull it all off. This week I sat with all of the girls' activity schedules to put on our master calendar, plus work commitments, travel days, and a handful of social events and that took us right to the first week of December – when the new baby arrives and hopefully (pretty please, fingers crossed, knock on wood) our house is completed.
I'm trying to find ways to make getting everyone out the door more manageable, which is even more of a challenge since our house is wholly upended with construction. Everything is everywhere.
One strategy I find helpful is organizing all of our clothes ahead of time. If we have a party on a Saturday night, I get our outfits together a few days out, so we don't end up leaving something we want at the dry cleaner. Now that we are in full fall sports season, I needed to pull together a few things so I can roll out of bed and load the kids up in the car for a day of running back and forth … literally.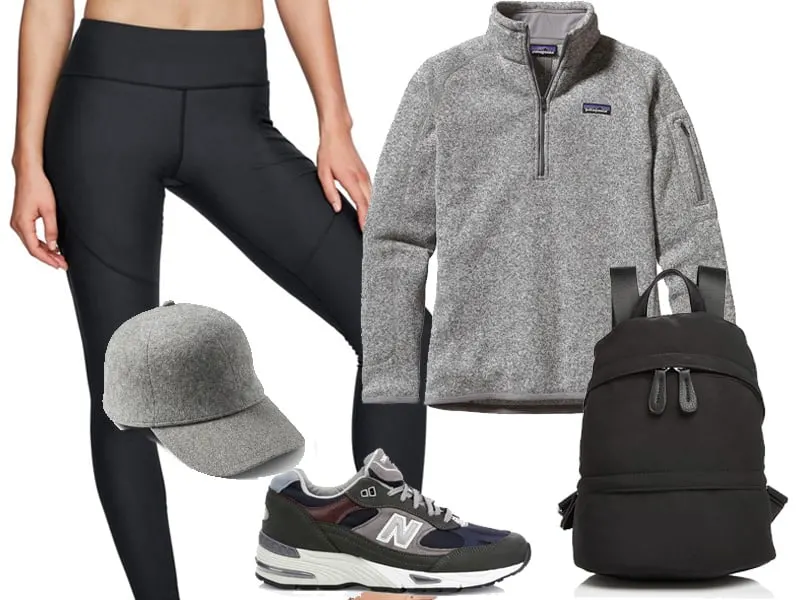 Sneakers, $180 | Leggings, $20 | Sweatshirt, $99 | Backpack, $45 | Hat, $48
Fall sports are tricky. One afternoon can feel like summer while the next will be freezing cold. I don't necessarily lay my weekend outfits out, but I do organize a few options in my closet so I can grab and go. Thinking ahead about what you might need for the day is practical, saves a lot of time and doesn't take a lot of effort on the front end.
Here are some of the pieces I stocked up on so we can get to where we need to be one. This doesn't prevent us from being a hot mess, we still are, but at least we're kinda pulled together.
Leggings
We often recommend Zella leggings. They are thick, comfortable and work well with sweaters and booties. But, for being active, I love Under Armour. They breathe and move with you, and wear well. These are on sale for $20 at Lord & Taylor so I stocked up. (I can still pull of non maternity bottoms, just sizing up one.)
Half Zip
Last year, I picked up this Patagonia fleece and it is easily one of my favorite purchases of the year. I wore it to death. So much so that I'm thinking I need a new color for some variety. One chilly days I wear a simple workout tank underneath and wear it like a shirt.
Vests
For a layer, you can remove if the temps get too high a vest is your best bet. I have the handful of inexpensive quilted vests from J. Crew factory. They always have them for around $50. I also picked up this Barbour "Betty" quilted vest since I can wear it over my bump and then put it right back on after the baby is born. I usually wear them over long sleeve tees I pick up at Old Navy.
Backpack
My kids run cross country, which means you also run cross country. As they run their path, parents sprint up and down hills to see them at certain points. I learned early on that running with a tote is stupid, so I switched to a backpack. I stuff it with water bottles, sweat shirts, and anything else they had me over the course of the morning, so I can keep up with them. You could spend a small fortune on one, but I wanted to keep it under $50. Luckily, Street Level, who also makes my favorite tote, had the perfect option right in my price point.
Hat and Sneakers
In my book, there is nothing better than a baseball hat. You barely have to do your hair. Just pop one on, slip on some sunglasses and maybe, maybe wear a lip gloss and no one will see how exhausted you actually are. This one from Banana Republic is polished, sporty and will keep you warm.
Finally, new kicks. I have a terrible habit of wearing my sneakers too long, to the point that I am sliding all over the place in class. I've always loved the look of New Balance and these are functional and chic (for a sneaker). The combination of suede and leather of these really elevate the look.
When getting ready for a busy sports season don't stop getting organized once you have the kids set up. Take 15 minutes to figure out what you need. You might not even have to buy anything new, or maybe you just have to refresh a few things. Pull together the pieces you need to grab and go, and then buckle up for another busy fall.
Good luck mammas!